Which NHL mascot would you want with you in a bar fight?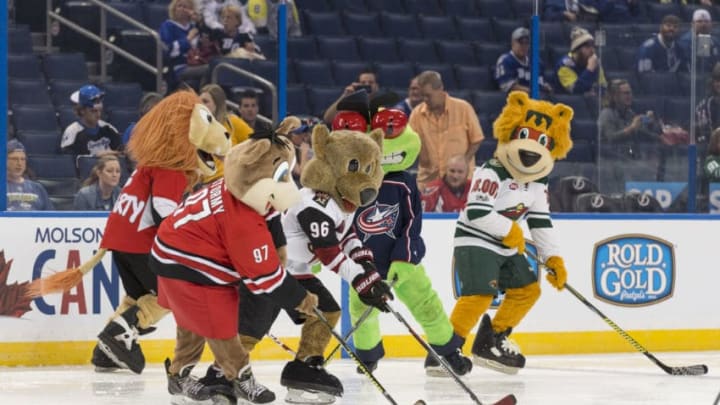 TAMPA, FL - JANUARY 28: Carolina Hurricanes' mascot Stormy avoids the stick-check by Arizona Coyotes' mascot Howler the Coyote during the mascot game prior to the NHL All-Star Game on January 28, 2018, at Amalie Arena in Tampa, FL. (Photo by Roy K. Miller/Icon Sportswire via Getty Images) /
SAN JOSE, CA – DECEMBER 21: San Jose Sharks mascot S.J. Sharkie excites the crowd during the game against the Vancouver Canucks at SAP Center on December 21, 2017 in San Jose, California. (Photo by Rocky W. Widner/NHL/Getty Images) /
8. S.J. Sharkie (San Jose Sharks)
The Sharks have been playing hockey since the early '90s. They joined the National Hockey League as an expansion franchise in 1991. Ironically, the San Jose Sharks began their history by playing some less than perfect hockey in the San Francisco. When they finally swam to San Jose, things began to turn around.
As The Hockey Writers wrote, the Sharks improved by 58 points in 1994. As a reward, they began their first playoff appearance against the mighty Detroit Red Wings. Detroit won the President's Cup for the most team points in the season. San Jose didn't wear dog masks like the Super Bowl 52 champion Eagles, but still pulled off one of the biggest upsets in history by dispatching the Red Wings in the first round.
After some lackluster seasons, the San Jose Sharks have been very competitive over the course of their existence. Even though they haven't hoisted Lord Stanley yet, they came very close two years ago, when they fell short against the Pittsburgh Penguins.
S.J. Sharkie has been lurking in San Jose since the genesis of the franchise. If you have ever been to a Sharks home game, you will know that Sharkie has no fear. According to NHL.com, Sharkie performs "death defying" actions every single night. Who wouldn't want a person who isn't afraid of the outcome?
S.J. is considered the "hardest working fish in sports." He outranks dolphins, marlins and other sea mammals. If Sharkie is similar to Jaws, then you better rapidly swim for land.