Which NHL mascot would you want with you in a bar fight?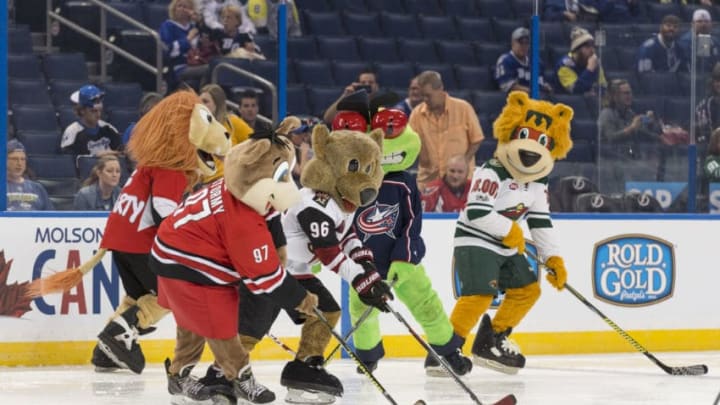 TAMPA, FL - JANUARY 28: Carolina Hurricanes' mascot Stormy avoids the stick-check by Arizona Coyotes' mascot Howler the Coyote during the mascot game prior to the NHL All-Star Game on January 28, 2018, at Amalie Arena in Tampa, FL. (Photo by Roy K. Miller/Icon Sportswire via Getty Images) /
LOS ANGELES, CA – JANUARY 25: Mascot Wild Wing of the Anaheim Ducks looks up before the game against the Los Angeles Kings during the 2014 Coors Light NHL Stadium Series at Dodger Stadium on January 25, 2014 in Los Angeles, California. (Photo by Jeff Vinnick/NHLI via Getty Images) /
5. Wild Wing (Anaheim Ducks)
The Mighty Ducks of Anaheim joined the National Hockey League in 1993. Believe it or not, Walt Disney founded the team. Mickey Mouse, Goofy and others finally had a hockey team to root for. The name of the team was inspired by Disney's The Mighty Ducks.
After 11 years, The Walt Disney Company sold the Mighty Ducks to Henry and Susan Samueli. During early 2006, the Associated Press reported that the new owners were eliminating the Mighty from their team name. It was a head-scratching move since they had become a very popular franchise because of The Mighty Ducks films.
Anaheim may have dropped the Mighty, but no one questioned how mighty they were in 2007. After 15 years, Lord Stanley finally called Anaheim home. A strong blue line that was anchored by Scott Niedermayer and Chris Pronger resulted in the Ducks' first Stanley Cup. They also had some help from their buddy, Wild Wing.
Wild Wing was named the franchise's first and only mascot. He is one of the coolest-looking mascots in all of sports. He still sports the sweet-looking goalie mask designed for a duck. Wild Wing can get punched in the face and it will cause damage to the opponent. He also has the ability to fly, so he will be tough to grab. Gordon Bombay told his team that "ducks fly together." Wild Wing is one of the most loyal birds, so he will never bail on you when things get tough. If all else fails, The Flying V is known to be effective in bar fights.