Which NHL mascot would you want with you in a bar fight?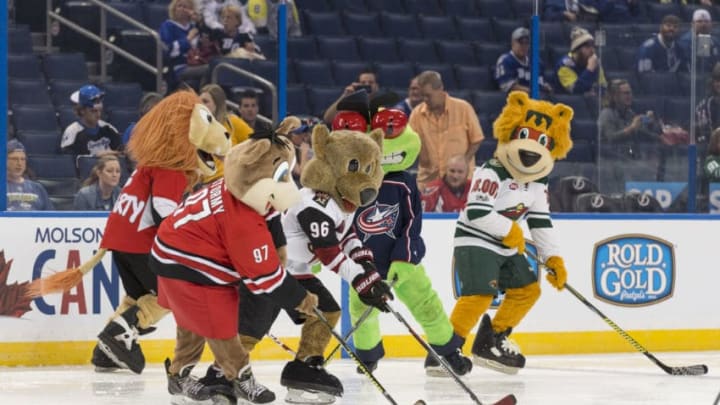 TAMPA, FL - JANUARY 28: Carolina Hurricanes' mascot Stormy avoids the stick-check by Arizona Coyotes' mascot Howler the Coyote during the mascot game prior to the NHL All-Star Game on January 28, 2018, at Amalie Arena in Tampa, FL. (Photo by Roy K. Miller/Icon Sportswire via Getty Images) /
OTTAWA, ON – JANUARY 29: The Boston Bruins team mascot, Blades shows off his Stanley Cup Championship ring during the Mascot Skate at the Ottawa Civic Center on January 29, 2012 in Ottawa, Ontario, Canada. (Photo by Dave Sandford/NHLI via Getty Images) /
2. Blades (Boston Bruins)
How about the success of the city of Boston? There are countless cities that can only dream about winning as many championships as Beantown. It's not Los Angeles, but there are superstar who made a name for themselves in Boston. Bobby Orr, Tom Brady Larry Bird and many more have all achieved immortality status in this city. If that wasn't enough, Boston is responsible for one of the most popular television sitcoms in history, Cheers. But Sam Malone will never be as famous as this anthropomorphic bear.
His name is Blades and he is the official mascot of one of the original six teams, the Boston Bruins. He isn't a normal bear. Most bears will hibernate once the temperatures begin to dip. Blades refused to take a long nap because of his love for hockey, according to NHL.com. There was no way Blades would miss a single puck drop. He enjoys playing hockey with children on frozen ponds throughout the state of Massachusetts. Don't let his willingness to assist kids on the game of hockey fool you. Blades is still a bear.
He is extremely big and powerful. He truly is the immovable object. Blades has plenty of experience in bars. Boston is loaded with bars (that includes Cheers.) Norm is a big man. Blades is the only bear that could carry the man home. If there was any trouble in the famous bar, Sam, Diane, Coach and Woody would rush to the phone and dial Blades' number.
The Boston Bruins' mascot has been one of the longest tenured in the sport. National Geographic states that big brown bears can eat all day and weigh well more than 1,000 pounds. A fight doesn't have to break out in Boston for Blades to be there. If he shows up, there isn't a single soul who could throw him out of the bar. Blades should be the first mascot you call if you are in trouble, unless this next one is accessible.