Which NHL mascot would you want with you in a bar fight?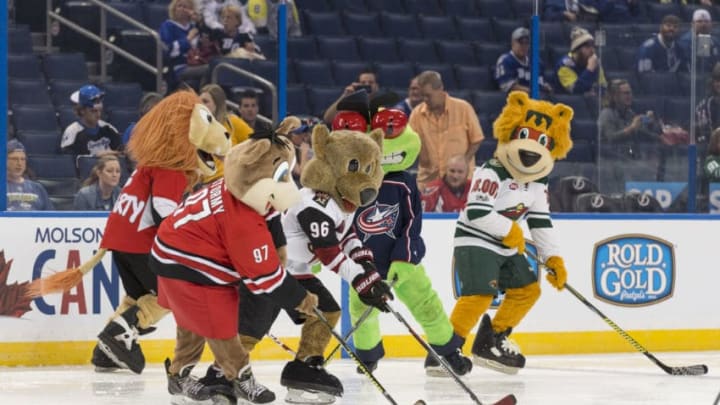 TAMPA, FL - JANUARY 28: Carolina Hurricanes' mascot Stormy avoids the stick-check by Arizona Coyotes' mascot Howler the Coyote during the mascot game prior to the NHL All-Star Game on January 28, 2018, at Amalie Arena in Tampa, FL. (Photo by Roy K. Miller/Icon Sportswire via Getty Images) /
OTTAWA, ON – DECEMBER 15: Spartacat skates during the 2017 Scotiabank NHL100 Classic Eugene Melnyk Skate for kids on Parliament Hill on December 15, 2017 in Ottawa, Canada. (Photo Minas Panagiotakis/NHLI via Getty Images) /
22. Spartacat (Ottawa Senators)
This lion from Ottawa's name is Spartacat. He looks like a wingless, watered down version of King Moonracer from Rudolph the Red-Nosed Reindeer. Despite his appearance, he is a very noble and kind feline. He is a little too busy to get intervene in a random showdown at a bar.
Spartacat enjoys spending his time cheering on the Senators and visiting the Sens Zone at the Children's Hosptial of Eastern Ontario. His entire life revolves around putting smiles on kids' faces. If push comes to shove, he would want to take the high road rather than rearranging a someone's face in a pub.
If Spartacat was more like Scar from The Lion King, he would be on speed dial. Who in their right mind would want to take on a lion? Unfortunately for Spartacat, he's more like Mufasa, which lands him at No. 22 on this list.
The city of Ottawa should be proud of Spartacat. He's done so much for the community. As Ian Smith of FanSided.com stated in his 2016 article, Spartacat "serves as a nice ode to Roman history, and has been with the Senators from the very beginning of their current incarnation".