DraftKings NBA Picks March 28: Attack the Brooklyn frontcourt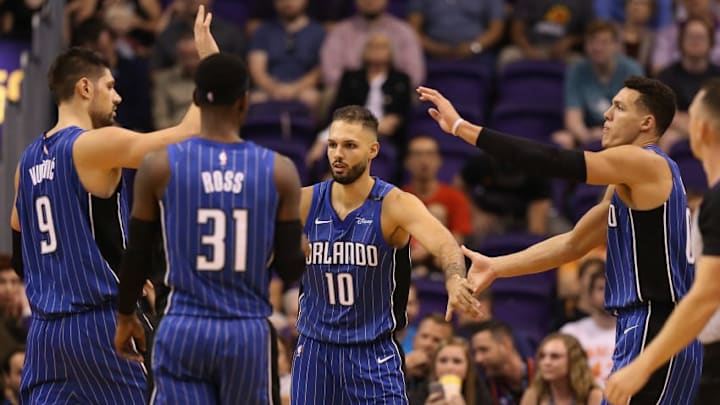 PHOENIX, AZ - NOVEMBER 10: Aaron Gordon #00 (R) of the Orlando Magic high fives Nikola Vucevic #9, Terrence Ross #31 and Evan Fournier #10 after scoring against the Phoenix Suns during the second half of the NBA game at Talking Stick Resort Arena on November 10, 2017 in Phoenix, Arizona. (Photo by Christian Petersen/Getty Images) /
NEW YORK, NY – FEBRUARY 10: Allen Crabbe #33 of the Brooklyn Nets defends against Jrue Holiday #11 of the New Orleans Pelicans in double overtime during their game at Barclays Center on February 10, 2018 in the Brooklyn borough of New York City. (Photo by Abbie Parr/Getty Images) /
DraftKings NBA Picks March 28: Attack the Brooklyn frontcourt
We have another eight game night in the NBA. Once again, the DraftKings pages are littered with little red "O"s. Hey, better that than the Q's! I would rather know who is out before hand and not have to leave it to chance when the full lineups lock. With all these players out, there is a ton of value out there. Who can help us place? Who will pull a Tarik Black (in all fairness, Black had a solid fourth quarter)? Let's try and figure that out.
More from DraftKings
The money line was back down to 266. I missed it by 2.5 points thanks in large part to a disappointing 40 from Jordan and failed Rockets value. If I would have used Nene in this lineup, it would have placed. The other had a Love/LeBron stack, which was a monumentally horrible flop.
The winning lineup was actually up a few points to 366.25. He built around a couple of monsters from Lillard and Jokic and pulled a triple double from Jrue Holiday. HOw did he afford that? Superb value from Ariza, Olynyk, Nene, Gerald Green, and Ibaka.
If you would like to try DraftKings for the first time, use this link for the referral bonus! It is good for a $20 free play in the MLB season opener with a minimum initial deposit of $5.

Point Guards:
Best Bets:
Ben Simmons ($9,300): Simmons will still start somewhere no matter how hot Fultz gets. At any rate, no matter where Simmons plays, he is a top option against the Knicks. The Knicks have been involved in some high scoring affairs lately. This should be no exception. That leaves Simmons with a lot of room to put up big numbers. Simmons has four triple doubles in the last eight games. In three more of those, he missed a triple double in the points column. There is a whole lot of potential here.
Kemba Walker ($8,500): Walker is tired of laying meaningless games in March. I get it. However, they aren't meaningless yet! The Hornets are not eliminated from playoff contention just yet, but of their final seven games, five are against teams over .500. A hot Hornets team could sneak in if Miami continues their free fall. Walker put up 74.25 DraftKings points in the first two meetings with Cleveland. Charlotte needs a win. Can Kemba come up big for them again?
Honorable Mention:
Lonzo Ball ($8,000): Ball has played very well lately against teams that don't defend the point well. He gets another team, the fourth straight, in the bottom third of the league against the point. With Ball's price this high, it's hard to get much over 5x value, but the upside is still there. Ball has finished two rebounds away from a triple double in each of the last two games.
Dennis Smith Jr. ($6,500): Surprisingly, the Lakers have now allowed the most fantasy points to point guards in the season. The Suns or Bulls have been in last for most of the last four months. Smith has averaged 31.4 DraftKings points in the first three contests with the Lakers. He should have no problems hitting that total tonight.
D'Angelo Russell ($6,300): Russell struggled against Cleveland after his monster triple double game over the weekend. We would like to see more consistency, but I fully trust Russell in this matchup with Orlando. The Magic are among the worst teams in the league defending the guard slots even when fully healthy. There is good potential for Russell tonight.
Dark Horses:
Shelvin Mack ($4,300): Mack's upside isn't anywhere near what Augustin's is, but I much prefer his stable output to Augustin's huge swings. Augustin is for GPP only. You can use Mack in cash games if you really need a cheap guy. I like Mack at this price as a value punt in GPP's as well. Mack has at least 20 DraftKings points in five straight games.
Tyler Ulis ($4,200): Ulis seems to be back in the Suns' favor, at least for now. Elfrid Payton is the one losing minutes now. Ulis has topped 10x value twice in the last three games. That shows that he is a complete crapshoot. Ulis wont really catch anyone by surprise now, and 10x value isn't going to happen at this price, but 7x is certainly possible.
Shabazz Napier ($3,800): Damian Lillard dismantled the Pelicans, and now is flying home for the birth of his child. That will leave Napier as a chalk play against a Grizzlies team that may as well not even send anyone out on the court anymore. Napier is going to be very widely owned, but the potential is so high at this price that I can't even see fading him as a contrarian play. You need this kind of value.
My pick: Isaiah Taylor (Schroder out)(PG), Napier(SG), Mack(G); Walker(PG), Taylor(G), Napier(UTIL)
LOS ANGELES, CA – DECEMBER 23: CJ McCollum #3 of the Portland Trail Blazers dribbles upcourt during the second half of a game against the Los Angeles Lakers at Staples Center on December 23, 2017 in Los Angeles, California.(Photo by Sean M. Haffey/Getty Images) /
Shooting Guards:
Best Bets:
Donovan Mitchell ($7,500): Mitchell's price is getting out of the comfort zone against a team like Boston, but their defense takes a hit without Marcus Smart. Mitchell put up 36.25 DraftKings points in the first meeting against Boston. The potential is here for at least that tonight considering Smart is out.
C.J. McCollum ($7,500): McCollum has 81.5 DraftKings points in two games against Memphis so far this year. The only thing that worries me about this is a potential blowout. That's why I'm not going to use Lillard at his price. C.J. has a much better chance of hitting value in the 25-28 minutes that he is in there.
Honorable Mention:
Andrew Wiggins ($6,800): Well, you don't have to be worried about a blowout here since the Timberwolves lost to the Grizzlies at home on Monday. While that is great for those of us playing DFS games, that shows just how young and inconsistent this team can be. That applies to using any Minnesota players in DFS as well. So, yeah, Wiggins is a risk, but this is a great matchup against a poor Atlanta defense.
Austin Rivers ($6,000): I'm not a huge fan of Lou Williams at his price against the Suns. There are just too many variables there, not the least being his workload against one of the worst teams in a major professional sports league. However, I'm all over Rivers at this price. Rivers has enough upside to warrant using in GPP formats tonight.
Jeremy Lamb ($5,500): Lamb still played well enough to hit value even with Batum back. Charlotte seems committed to using Lamb as the preferred sixth man off the bench. Lamb is easily the most accomplished scorer on the second unit, so while he doesn't have a ton of upside, his output is usually consistent. The fact that Lamb has 60.5 DraftKings points in two games against Cleveland so far this year means he is a safe play tonight.
Yogi Ferrell ($5,500): Many are going to be on Trey Burke after his huge performance on Monday, but there is no way I'm taking him against the Sixers. Their defense, especially at the point, is too tough for Burke to hit value. I will drop down to Ferrell, who will still see 30 minutes or more with Barea out against a poor Lakers defense.
Dark Horses:
Troy Daniels ($4,400): Considering that Devin Booker's hand wasn't feeling well enough for him to practice yesterday, it seems likely that Booker is out again. That makes Daniels a preferred value play. He is one of those players that makes for a good value play at this price, but he isn't actually good enough to make the Suns win. It's a win-win for the tanking Suns and DFS players alike.
Damion Lee ($4,000): The Hawks are throwing Lee out there for 25-30 minutes per game. He is definitely a work in progress like we saw against Houston on Sunday, but he makes for a solid value pick if you are trying to separate yourself from the high ownership of Daniels.
Markelle Fultz ($3,800): Fultz dazzled in his brief return to the Sixers lineup. Fultz racked up 26.5 DraftKings points in just 14 minutes of court time. Of course, the opponent had something to do with it, but Fultz gets an equally apathetic defense in the Knicks tonight. There is great value potential here.
My pick: N/A; McCollum(SG)
NEW YORK, NY – MARCH 25: LeBron James #23 of the Cleveland Cavaliers dribbles down the court in the third quarter against the Brooklyn Nets during their game at Barclays Center on March 25, 2018 in the Brooklyn borough of New York City. (Photo by Abbie Parr/Getty Images) /
Small Forwards:
Best Bets:
LeBron James ($11,600): James has abused Charlotte this season with 134 DraftKings points in just 76 minutes. With the way he is playing right now, I'm not sure it's even safe to fade him. Unless some sort of news comes out that the Cavs are going to rest him. Cleveland would love to keep the three seed in the East, so they still have something to play for. Expect LeBron to be out there and doing what Kings do.
Kyle Kuzma ($7,200): As of right now, Brandon Ingram is still listed as questionable. I'm pretty sure that we wont have official word before the brilliance of full contest lock rears its ugly head, so that makes Kuzma a huge risk. His numbers are going to take a sizeable hit if Ingram plays. If not, Kuzma has averaged 33.3 DraftKings points in 31 minutes per game against the Mavs this year. There is still a chance for him to hit value at this price, but it's not a very good one.
Honorable Mention:
Josh Jackson ($7,100): T.J. Warren is like still out since he didn't practice yesterday, so that means extended run for Jackson again. Jackson has seven straight games of more than 30 DraftKings points, so he is providing a stable floor, but it's difficult for him to get much over value here. Only once in that span Has Jackson hit 6x value.
Taurean Prince ($7,100): Prince doesn't have the floor that Jackson has, but he has a much higher ceiling. That makes him more attractive in GPP formats. However, Minnesota defends the wings pretty well, even with Jimmy Butler out. I'm not sure that Prince can outscore Jackson against this defense, but that's why you use him in GPP formats. On the chance that he can in lower ownership.
Harrison Barnes ($6,400): Look, I like Hardaway, but there is no way I trust him against Philadelphia's defense. Not when the Sixers still have something to play for. This Barnes pick is also contingent on Ingram not playing. If Ingram is in there, I like Barnes a lot less. The potential is still there, but it isn't nearly as high.
Dark Horses:
Michael Beasley ($5,900): Robert Covington also sits at this same price, but Beastley has done much better against Covington than the other way around. Beasley has averaged 36.1 DraftKings points per game against Philly to Covington's 26.9. And if Philly decides to give Fultz more minutes, it will come at the expense of either Redick or Covington. There is a little more risk attached to Covington than usual, so Beastley is the better option in all formats.
Caris LeVert ($5,100): The Nets are at full strength and employ a large rotation, so LeVert will always see between 25 and 30 minutes per game. That isn't always conducive to big fantasy numbers, but it's not every game that he gets to play Orlando. I usually reserve LeVert for cash games, but there is enough GPP upside tonight.
Jeff Green ($4,400): Green is starting for the Cavs lately, and putting up between 20 and 28 DraftKings points per outing. That makes him a very nice salary relief in cash games. Tonight he could have GPP upside as well if Kevin Love is still feeling the after effects of taking an elbow to the noggin last night. Love did return, but only long enough to notch 1.75 DraftKings points in the blowout loss. The Cavs will play it safe with Love, so there is chance at a lot of run for Green tonight. The good news is that this is an early tip, so we should know either way for sure before the contests lock.
My pick: James(SF), LeVert(UTIL); Jackson(SF), Beastley(F)
NEW ORLEANS, LA – FEBRUARY 18: Aaron Gordon #00 of the Orlando Magic competes in the 2017 Verizon Slam Dunk Contest at Smoothie King Center on February 18, 2017 in New Orleans, Louisiana. (Photo by Gerald Herbert – Pool/Getty Images) /
Power Forwards:
Best Bets:
Aaron Gordon ($8,300): Gordon had a huge game against Phoenix on Saturday. There is a chance that he could do the same tonight. In two games against Brooklyn this year, Gordon has 103.5 DraftKings points. If you can get 50 DraftKings points for this price, you're ahead of the game. Gordon is coming off a huge game, has four days rest, and is looking to finish on a high note. I like him a lot tonight.
Julius Randle ($8,100): Randle has averaged 46.3 DraftKings points in 33 minutes per game against Dallas this season. The Mavs don't have anyone that can handle Randle, so look for another big game here tonight.
Honorable Mention:
Tobias Harris ($7,300): We saw Gordon have his way with the Suns over the weekend. Harris is a similar player to Gordon. We saw Harris stack up 60.5 DraftKings points in the first meeting with Phoenix. The Clippers have nine games left and are 2.5 games out of the final playoff spot in the West. They need a win, so expect a lot of run from Harris here.
Al-Farouq Aminu ($6,100): Aminu has not had the privilege of playing the Grizzlies yet this year. Is he in for a treat! The Grizz barely resemble a NBA team taking the court right now. If it weren't for Marc Gasol, they would look like your neighborhood G League team. Gasol can't be everywhere, so a huge game could be on tap for Aminu here.
Dark Horses:
Taj Gibson ($5,600): Taj picked up 35 DraftKings points in the first meeting with Atlanta this year. The Hawks don't have much for size up front. We have seen Gibson take on some more of the scoring load with Butler out, but he still isn't a big contributor. However, with the cost this low and an opponent like Atlanta, there is potential for Gibson tonight.
Derrick Favors ($5,300): It's no secret that Boston has struggled against power forwards this year. Favors is playing well right now. He had at least 30 DraftKings points in three straight games leading up to the blowout win over the depleted Warriors in which he only played 24 minutes. Expect Favors to be out there his normal 32 minutes tonight, and to flirt with 6x value.
Dragan Bender ($3,800): The Suns rotation usually reads more like a roulette wheel, but Bender has received a constant 30 minutes per game for the whole month of March. That doesn't always translate into value, but Bender has a decent matchup here with the smaller Clippers. Bender is a solid option if you need to go really cheap.
My pick: Gordon(PF), Favors(F); Randle(PF), Favors(C)
CHICAGO, IL – FEBRUARY 09: Karl-Anthony Towns #32 of the Minnesota Timberwolves rebounds against the Chicago Bulls at the United Center on February 9, 2018 in Chicago, Illinois. The Bulls defeated the Timberwolves 114-113. (Photo by Jonathan Daniel/Getty Images) /
Center:
Best Bets:
Karl-Anthony Towns ($9,500): Towns is one of the most volatile high priced players. It doesn't matter how good the matchup is or which teammates are in or out of the lineup. That makes it really hard to build a lineup around him for DFS purposes. He picked up 42.25 DraftKings points in the first game against Atlanta. Over the last ten games, Towns has one game in the 20's, three in the 30's, two in the 40's, three in the 50's, and one over 60 DraftKings points. Good luck!
Dwight Howard ($8,600): This is not a slight on Embiid at all. I like Embiid a lot, but he has not played 30 minutes in a game in nearly two weeks. The Sixers are taking advantage of a series of lopsided wins to rest their star with an injury history like Ted Bundy's rap sheet. This game against the Knicks looks like another blowout, so pivoting to Howard against a weaker Cleveland front seems like a good idea.
Honorable Mention:
DeAndre Jordan ($8,400): Jordan averaged 33.2 DraftKings points per game in 28 minutes per game against Phoenix in three games earlier this year. Now that he is mostly the focal point of the offense, Jordan's output should be higher, but this game reeks of a blowout. It's hard to trust Jordan at this price, though if he plays 30 minutes, Jordan will have no issues making value.
Nikola Vucevic ($7,800): Come on, he's playing the Nets. No other explanation is needed. The 93.25 DraftKings points in 67 minutes against Brooklyn this year just proves my point. Vucevic is one of the stronger plays of the night.
Marc Gasol ($7,400): No Tyreke Evans. No Andrew Harrison (probably). No anyone else with an offensive pulse. It's Gasol and crickets in Memphis. He has 87.25 DraftKings points in two meeting with Portland so far this year. So long as Gasol plays 30 minutes, he should have no trouble reaching value in spite of the wreckage around him.
Dark Horses:
John Collins ($5,100): The return of Collins put and end to the value on Dedmon and Muscala, but playing Collins at this price against Minnesota may not be a bad idea. Minnesota is not a great defensive team on the inside, but Collins will be fighting an uphill battle with a size disadvantage and in his first game back from injury. There is a lot of risk involved here.
Alan Williams ($3,400): Oh, yeah, another Suns big. That's a great idea. Well, the Suns want to see if Williams is fully recovered from knee surgery. And they are still actively trying to lose. Williams is one of the few that is assured minutes for Phoenix. Williams is going to take a little bit of playing time from Len and/or Chriss. Instead of playing with fire there, take the sure 18-20 minutes from Williams! He put up a solid 14.25 DraftKings points in just 16 minutes against Boston.
My pick: Vucevic(C); N/A
Next: DraftKings Opening Day MLB Picks
Stay tuned for our FanDuel/FantasyDraft picks! We even have some EPL and PGS picks coming your way! And don't forget about NHL DFS and the Euro League! We have all of your daily fantasy needs covered.