What each NFL coach's everyday job would be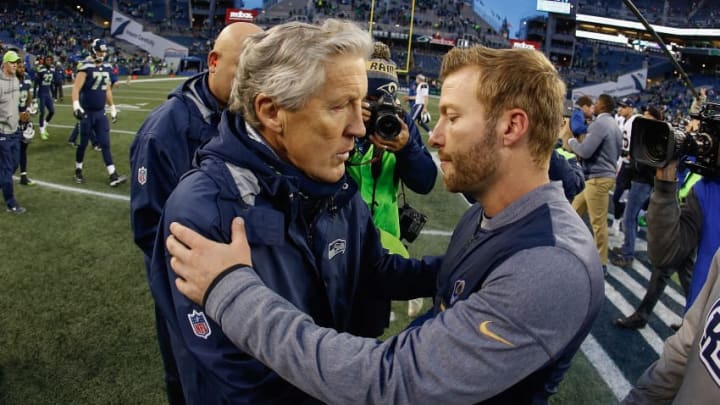 SEATTLE, WA - DECEMBER 17: Head coach Pete Carroll (L) of the Seattle Seahawks is congratulated by head Coach Sean McVay of the Los Angeles Rams at CenturyLink Field on December 17, 2017 in Seattle, Washington. The Rams beat the Seahawks 42-7. (Photo by Otto Greule Jr/Getty Images) /
If the NFL's 32 head coaches were making a living doing something else, perhaps these would be their preferred professions.
The paths to an NFL head coaching job are varied. Some get into the profession after NFL careers of their own. Others may have played in high school or college but transitioned into coaching as twentysomethings. Others, still, simply took up the family business.
While none of the league's 32 head coaches would likely envision themselves doing anything else, these jobs aren't lifelong appointments. Just like players, coaches need to have career backup plans. So what would NFL head coaches be doing to earn a living if coaching was off the table?
We decided to get creative and make a few guesses.
Bill Belichick: Crossing guard
Football is a sport, a game: It should be fun. But no NFL head coach seems to have less fun while enjoying so much sustained success than the New England Patriots' Bill Belichick. So, why not take something with the potential to be fun—working with children—and turn it into something often dour, humorless and demanding of by-the-book adherence to (his own) rules?
Crossing guard seems like a perfect new career for Belichick, who can parlay being cold and calculating into keeping children safe but yet seeming like he cannot possibly enjoy a minute of it. He can steer all the little Rob Gronkowskis carefully across the street while simultaneously tuning out the inherent joy of childhood. He'd also have the summers free for all the boating he can handle.
Sean McDermott: Drivers test administrator
In Buffalo, New York, if you want to cross a key threshold of teenage life—earning a driver's license—Sean McDermott is the ultimate gate-keeper. The most strict of road test administrators, a hand just slightly between "nine" and "ten" on the steering wheel is grounds for failure. Forget it if you hit a cone—and forget it if you come within one inch, or as McDermott likes to say, "three centimeters"—the test ends immediately.
It's not that McDermott is a stickler for the rules. It's simply because he dislikes teenagers, particularly on the roadways. A longtime gripe resulted in McDermott seeking out the road tester job and his anti-youth agenda is legendary in Western New York.