What each NFL coach's everyday job would be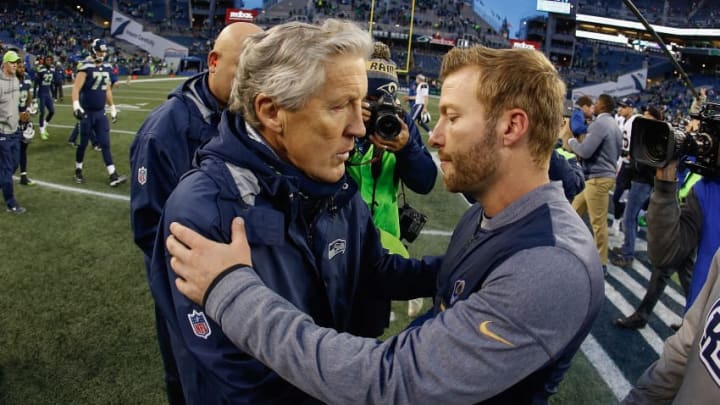 SEATTLE, WA - DECEMBER 17: Head coach Pete Carroll (L) of the Seattle Seahawks is congratulated by head Coach Sean McVay of the Los Angeles Rams at CenturyLink Field on December 17, 2017 in Seattle, Washington. The Rams beat the Seahawks 42-7. (Photo by Otto Greule Jr/Getty Images) /
NASHVILLE, TN – DECEMBER 24: Head Coach Sean McVay of the Los Angeles Rams on the sidelines during a game against the Tennessee Titans at Nissan Stadium on December 24, 2017 in Nashville, Tennessee. The Rams defeated the Titans 27-23. (Photo by Wesley Hitt/Getty Images) /
Sean McVay: Long-lost Voltaggio brother
Frequent viewers of food television and culinary competition or just followers of the nation's restaurant scene are likely well aware of the Voltaggio brothers, Michael and Bryan. However, there is a third brother, rarely talked about, hidden from the spotlight: Sean McVay.
Why the different last name? Because McVay wanted to allow his kitchen-genius brothers the spotlight to themselves, willfully changing his last name to the wink-and-a-nod "McVay." But the resemblance is uncanny, and McVay has long been a hidden partner in his brothers' ventures.
While not an investor, per se, McVay can often be seen helping out on the line at Bryan's restaurant, Volt, or Michael's Ink.Well. He handles social media for his brothers, as well. Otherwise, he can be found taking on his favorite hobby, kitesurfing, or refurbishing vintage motorcycles, his most regular form of income.
Pete Carroll: Self-help guru
Pete Carroll has long been known for taking his new-agey ways to the football field, using self-help techniques, psychological coaching and spiritualism to help guide his players to perform as best as possible. So it's not much of a stretch to assume that Carroll's self-help leanings would translate to a career in that arena were he not coaching football.
In fact, Carroll already has a self-help empire that would only be further-reaching if he pursued it as his full-time career. He and psychologist/surfer Dr. Michael Gervais—who has been assisting the Seahawks for years—have already started Compete to Create, which provides "high performance mindset training and coaching."
With football coaching cast aside, "mindset coaching" would easily be a new full-time gig for Carroll. He can take his show on the road, selling out minor arenas and spreading his message all the way to a true self-help empire—and to having a hefty chunk of change in his bank account.