What each NFL coach's everyday job would be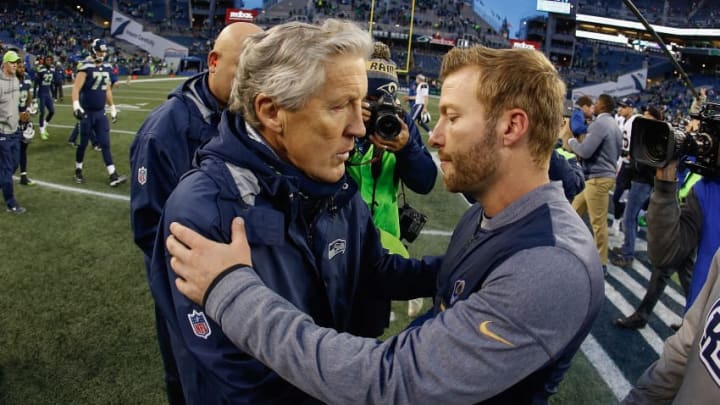 SEATTLE, WA - DECEMBER 17: Head coach Pete Carroll (L) of the Seattle Seahawks is congratulated by head Coach Sean McVay of the Los Angeles Rams at CenturyLink Field on December 17, 2017 in Seattle, Washington. The Rams beat the Seahawks 42-7. (Photo by Otto Greule Jr/Getty Images) /
Kyle Shanahan: High school science teacher
There's one thing that makes Kyle Shanahan happier than anything else on earth. No, it's not trying to please his father and former NFL head coach Mike—it's teaching high school students about the amazing power of science. From the mechanisms that cause earthquakes and volcanos, to proper safety precautions for using bunsen burners, from creating tornadoes in wind boxes to dropping bricks and feathers off of the school's roof to demonstrate gravity, the wild world of 10th grade general science is the younger Shanahan's true happy place.
His professional goals are modest—he'd like to be promoted to Advanced Placement science teacher after Ms. Greene retires in two years. But, privately he'd like to have one of his students eventually win a Nobel Prize. It's not something he himself has ever admitted to wanting to achieve; rather, he would prefer to be a source of inspiration to one of his charges, which he considers winning the greatest prize of all.
When asked for comment, his Super Bowl-winning father simply said, "Harumph."
Steve Wilks: Writer, mystery novels
Steve Wilks was bitten by the mystery bug early in life, when he discovered his grandmother's collection of Agatha Christie novels during a summer visit. Wilks devoured the books one by one, eventually graduating to a library card and reading nearly everything enclosed in the "mystery" section, both vintage classics as well as new releases. As a teenager, he dabbled in mystery stories for English class assignments, but save for a creative writing seminar as a junior in college, he chose the path his father had laid out for him, as an accountant.
After 20 years pushing paper, though, Wilks decided once again to pick up the pen; he had never put down the mystery novels, after all. He found the work enjoyable; crafting the perfect whodunit was more of a mental exercise than arranging numbers in columns and the shady characters he invented were more engaging than the clients at his office.
Wilks' first published novel, Where is David's Place?, was such a success the publisher optioned five more. His new career had been cemented. Wilks is now the author of 64 mystery novels as well as a cookbook based on his popular "Johnny Knight" series. That series is set for a theatrical release. Wilks still does his own accounting.