What each NFL coach's everyday job would be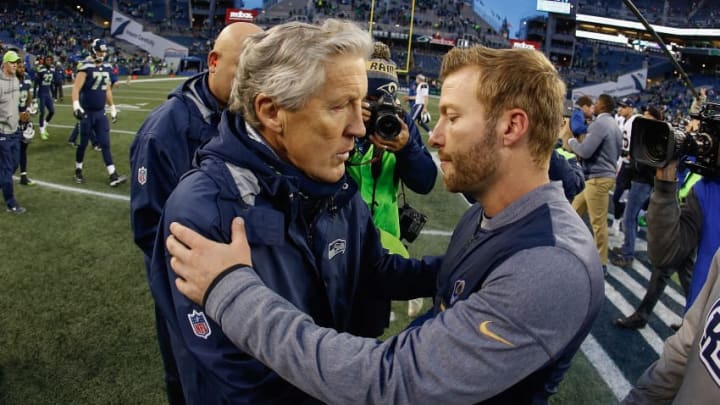 SEATTLE, WA - DECEMBER 17: Head coach Pete Carroll (L) of the Seattle Seahawks is congratulated by head Coach Sean McVay of the Los Angeles Rams at CenturyLink Field on December 17, 2017 in Seattle, Washington. The Rams beat the Seahawks 42-7. (Photo by Otto Greule Jr/Getty Images) /
Vance Joseph: TV morning show host
There is one major requirement for anyone tapped to host a television morning show: That they provide a pleasant wake-up personality to the viewers, who have just stumbled from pleasant dreams into the grey of 5:30 AM on a Monday with an interminable commute ahead.
But Vance Joseph, who recaps the overnight news, provides weather and traffic on the eights and introduces adorable puppies available for adoption as well as cooks with local chefs who have gotten two hours of sleep, is the perfect man for the job. His welcoming smile and lilting voice is the perfect accompaniment to a harried cup of coffee before tackling a day's work pushing papers.
Jon Gruden: Used car salesman
After nearly 10 years away from coaching, Jon Gruden has returned to take over the head job for the Oakland Raiders. This certainly makes him intimately knowledgeable about retreads, but that's not the only reason Gruden's alternate career as a used car salesman suits him. It's also the cheesy enthusiasm, the believe that every car is the best car he's ever seen, that makes his case for "Why you need to be behind the wheel of this 1998 Honda Accord, right now!" more compelling than buying it from that Crazy Tony guy your dad swears has never, ever once cheated him.
Your dad has Crazy Tony. You, you have Crazy Jon. "Y banana in the tailpipe?! I couldn't say," added Gruden. No refunds.