Ichiro deserved the hero's welcome the Mariners gave him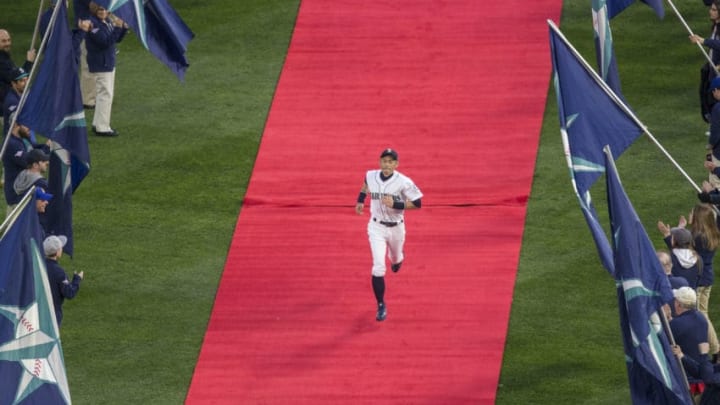 SEATTLE, WA - MARCH 29: Ichiro Suzuki /
The Seattle Mariners welcomed back baseball and Seattle legend Ichiro Suzuki with a red carpet pregame ceremony on opening day.
Baseball made its triumphant return yesterday as fans everywhere took in their favorite team on opening day. Few things move the needle like opening day baseball, it's a tradition as American as fireworks on the Fourth of July.
Opening Day is always chock-full of storylines and excitement. One of the best storylines from this year was the Mariners re-uniting with Ichiro. The 44-year-old signed a one-year deal this offseason with the Mariners to return to where his MLB career got started.
For the first 11 and a half years of his MLB career, he was a 10 time All-Star with Seattle. He hit an impressive .322 with the Mariners and was one of the biggest Japanese stars in the game.
After leaving Seattle, now six years ago, he spent time with the Yankees and Miami Marlins. Just last year he collected his 3,000 hit at the MLB level adding another milestone to his historic career. Last night, Seattle welcomed him home.
With a red carpet and fog machine on display, Ichiro was given a fantastic ovation from the crowd when his name was called:
You don't see many players get the red carpet rolled out for them, but if anyone deserves it it's Ichiro. Counting his days in Japan to now the man has 4,358 hits over the course of 26-years. Playing a sport at the highest levels for two and half decades is unfathomable. Ichiro is one of the lasts of his time.
You very rarely see a player stick around into their 40's anymore, not only in baseball but in all of the major sports. To see someone in their mid 40's compete like Ichiro is a testament to his athleticism.
Next: How hot each MLB manager's seat is entering 2018
Despite going 0-for-2 it was still a night to remember for Ichiro and Seattle fans. The Mariners won by a score of 2-1 over the Indians and they have a full season of nostalgia in-store with their familiar left fielder.