MLB DFS Picks and Pivots – Thursday April 5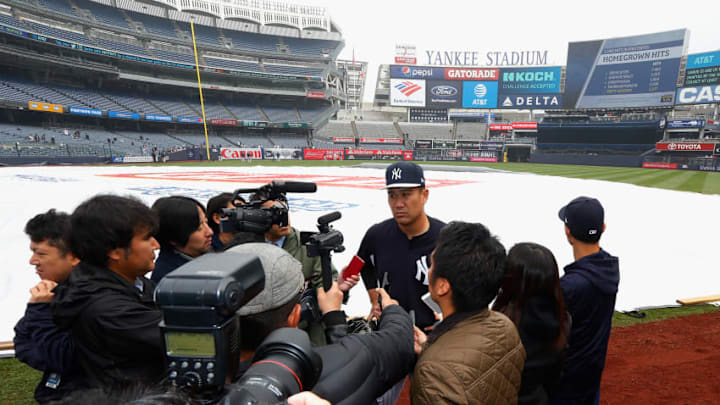 NEW YORK, NY - APRIL 04: Masahiro Tanaka /
NEW YORK, NY – APRIL 04: Masahiro Tanaka MLB DFS /
Welcome to the Thursday edition of MLB DFS Picks and Pivots, a fantasy baseball column focused on helping you find the best core lineup for this slate of DFS action!
For those of you finding us for the first time, the concept behind MLB DFS Picks and Pivots is to give you a first look at the day's MLB DFS slate, including our top picks, plays and pivots, using FantasyDraft pricing as a reference, to help you build your best line-up and win big!
Picks and Pivots is not a simple "best plays" column but rather it focuses on slate strategy and roster construction to help give you insight into how I will look to play this slate.
Wednesday's MLB DFS Main Slate was dominated by pitching as our top two Picks and Pivots SPs also happened to be the top two scoring plays on the entire slate as Carlos Martinez (38) was dominant, striking out 10 in 8.1 shutout innings and Jon Gray (30) struck out 7 in 7 scoreless innings as this was a great example of building around high K upside arms that have the ability to set the cash line by themselves.
Picks and Pivots is not a simple "best plays" column but rather it focuses on slate strategy and roster construction to help give you insight into how I will look to play this slate. The goal of this article is to dig through the slate, highlight our top plays and  help you identify the best slate strategy across your MLB DFS line-ups.
If you are looking to try out a new DFS site, head on over to FantasyDraft and enter my referral code for 10% rake back on your entries.
Below you will see the scoring for FantasyDraft which is very similar to my experiences on DraftKings with perhaps the biggest difference being the roster build with allows for the most flexible roster construction across the major sites as you are required to roster two SP's, 3 IF's, 3 OF's and 2 UTIL spots.
As always, we will look to update our final lineup thoughts throughout the day on our twitter account @FantasyCPR so make sure to give us a follow for all the late breaking lineup news.
Without further ado, let's get into today's slate!
SEATTLE, WA – SEPTEMBER 21: Starting pitcher James Paxton /
MLB DFS – Early Slate Pitching:
Today's MLB DFS slate is a bit choppy as we have an elite pitching duel at 1PM EST with Jacob deGrom versus Stephen Strasburg and a 2PM EST Rays/Red Sox battle that are left out of the 6 game early slate which kicks off at 3:05PM EST on FantasyDraft. If you want to get exposure to guys like deGrom or Strasburg you can play the All-Day slate on a site like FanDuel but I tend to avoid slates like that where the sole reason to play it is exposure to 1-2 guys as the ownership will be inflated in those instances.
As such let's dive into the Early Slate on FantasyDraft which actually looks to be the better slate to play as the Main Slate includes only 3 games. James Paxton ($18.6K) looks to be the Carlos Martinez of this slate where he is the highest priced pitcher but after a rough Opening Day start, game log watchers may be hesitant to roster him today. For every reason I was on C-Mart last night, I will go right back to Paxton here as he has the highest K rate (28.3%) of any starter on this slate and that is the upside you are shooting for with your SP choice.
Now there are some dangerous bats in this Twins line-up from the right side as Miguel Sano and Brian Dozier are both scary bats to go against as they both had ISO's over .400 and wOBA's over .400 last year against LHP but the rest of the team is largely average when facing a southpaw so it becomes a situation where Paxton has to navigate around these two bats. You can even make the argument if you are fading Paxton to make Sano/Dozier your first two hitters in as a leverage play over those who do play Paxton.
Masahiro Tanaka ($17.6K) is going to be THE pitcher to build around today as a massive -240 home favorite against the Orioles after his impressive debut where he struck out 8 Blue Jays over 6 innings of work. Tanaka in Yankee Stadium was basically a lock last season as he pitched to an ERA nearly 3 runs lower than on the road while his K rate jumped from 21.9% to 29.7%. Tanaka faced the Orioles one time last season at home, striking out 8 batters over 7 innings and logging over 25 fantasy points and interestingly enough he also has some serious PvB history as only one Orioles batter is hitting over .250 (Adam Jones) against him in 130 plate appearances across the team.
Both Paxton and Tanaka are facing powerful offenses in the Twins and Orioles that have the ability to put up crooked numbers so there is risk here no doubt but what you are also paying for are the two pitchers with the highest strikeout rates on the slate and the price points honestly feel underpriced as the lineups they are facing seem to have depressed the price a bit too much. You can easily fit in both top arms on this slate and have about $8K per batter to fill out your line-up.
NEW YORK, NY – APRIL 03: Didi Gregorius /
MLB DFS – Early Slate Offense:
The Yankees check in with the highest implied run total on the slate as they take on Andrew Cashner in Yankee Stadium with the winds projected to be blowing out to RF at roughly 15 MPH. As if the batters on this squad need more help from Mother Nature, this could be a spot to go home run hunting with the Yankees bats today.
The interesting thing about Cashner is that he has been pretty dominant against RHB in his career with a .65 HR/9 rate and a 27% hard contact rate so it has been the lefties that have really touched him up with a 1.2 HR/9 rate and over a 33% hard contact rate. In his first start of the year he gave up 3 HR's in only 5 innings of work with 2 of them coming against left-handed bats. Most of the pricey power bats on the Yankees hit from the right side so this could be a good spot to go to some of the left-handed secondary bats like Didi Gregorious ($9.3K), Brett Gardner ($8.3K) and Neil Walker ($6.6K). 
If you are stacking the LHB on the Yankees, I wouldn't mind including Aaron Judge ($9.6K) as a reverse splits option who led all of MLB last season in ISO and HR/FB rate against right-handed pitching.
Do not feel like you simply HAVE to stack the Yankees here as we have two other teams with projected run totals above 5 with Oakland (5.2) and the White Sox (5.1) both expected to hammer opposing starters Martin Perez and Jordan Zimmermann.
Perez is one of the best SP to attack with right-handed heavy teams as he gives up tons of homeruns (1.28 HR/9), has a low strikeout rate (12%) and gives up a ton of hard contact (34%). You know what the A's have a lot of? right-handed bats – so this is looking like the top stack on the board to me today!
Khris Davis ($8.3K) has owned Perez going 8 for 18 with 2 HR's and this price point is simply too cheap considering the multi-home run upside here as the cornerstone of any Oakland stack. Matt Chapman ($7.1K) had a .209 ISO and .346 wOBA versus LHP last season and much like the rest of the A's lineup they are priced very reasonably which makes them an easy stack to build around with a Tanaka/Paxton line-up. In fact, Khris Davis is the only Oakland bat priced over $9K so you can easily build around this A's stack with some top end pitching and some of the pricey Yankee bats.
On the other side of this game, the Rangers bats could be an interesting game stack option as Daniel Mengden looks to be an arm with some serious regression coming his way as evidenced by his 4.67 xFIP compared to his 3.14 ERA last season. Mengden was hit hard in his opening start giving up 5 ER's and a crazy 47% hard contact rate so picking and choosing a few power bats like Joey Gallo and/or Adrian Beltre could be a nice way to mini-stack this game.
MILWAUKEE, WI – MAY 25: Robbie Ray /
MLB DFS – Early Slate Sample Line-Up and Slate Overview:
The line-up below is meant to be illustrative only to further back-up the logic laid out in previous slides and is not meant to be an optimal line-up or a roster you simply plug and play on your own! 
More from FanSided
SP: James Paxton ($18.6K)
SP: Masahiro Tanaka ($17.6K)
IF: Didi Gregorious ($9.3K)
IF: Neil Walker ($6.6K)
IF: Matt Chapman ($7.1K)
OF: Brett Gardner ($8.5K)
OF: Khris Davis ($8.3K)
OF: Aaron Judge ($9.6K)
Util: Marcus Semien ($7.4K)
Util: Adrian Beltre ($7K)
Slate Overview: With the Main Slate being only three games, my official position is to ignore/play super light on that slate and focus your time and bankroll on the early slate. The Main Slate is basically Robbie Ray and a bunch of horrendous SP2's and on a slate that small the margin for error is simply too risky to put meaningful bankroll on it. The Early Slate is actually pretty interesting as you can build a solid roster around Tanaka/Paxton as a result of the cost-effective A's bats and secondary Yankees bats.
Also do not forget that today is the start of The Masters so make sure you get your DFS Golf Rosters set!
Next: DFS Golf - The Masters Top Plays and Picks
Best of luck in your MLB DFS contests and stay tuned to Fantasy CPR for all the latest DFS news and analysis across FantasyDraft, FanDuel and DraftKings!