WrestleMania 34 preview: Daniel Bryan returns to the ring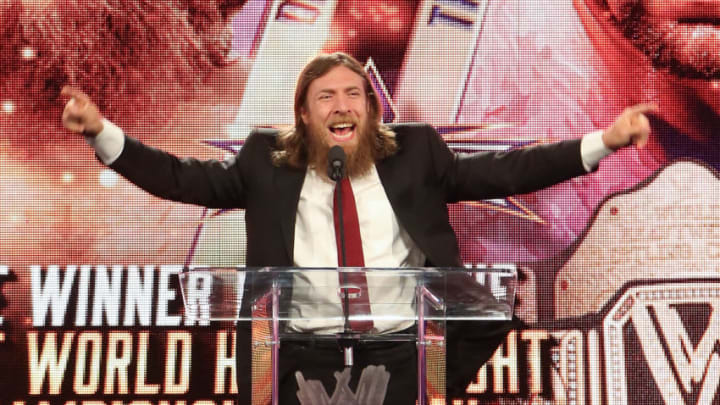 NEW YORK, NY - APRIL 01: Daniel Bryan attends the WrestleMania 30 press conference at the Hard Rock Cafe New York on April 1, 2014 in New York City. (Photo by Taylor Hill/WireImage) /
In what is likely to be the most emotional match of the night, Daniel Bryan returns to an active wrestling role after two years away from the ring.
This Sunday is going to provide one of the greatest moments in WrestleMania history when Daniel Bryan makes a triumphant return to wrestling. Around this time two years ago, many fans assumed they would never see Bryan in the ring ever again. He was being forced to retire due to concussion related issues. Seeing how tricky concussions can be, it made plenty of sense that Bryan was done for real. This wasn't a storyline or something to gain sympathy. This was the health of a man that had been wrestling for 15-plus years at that point.
Hit the fast forward button to this Sunday and it's a happy coincidence that WrestleMania 34 is in the same city where Bryan had the defining moment of his career. At WrestleMania 30 in New Orleans, Bryan defeated Triple H and then both Randy Orton and Batista to win the WWE World Heavyweight Championship.
As excited as the crowd is going to be about just Bryan, there is actually a good match that should take place. Bryan is teaming with Shane McMahon to take on the team of Sami Zayn and Kevin Owens. The stipulation is if Owens and Zayn win, they get their jobs back on SmackDown. If Bryan and McMahon win, those two remain fired.
This feud has been simmering for quite a while now. It's really came to a head at the Fastlane pay-per-view. Both Owens and Zayn were in the six-pack challenge with the WWE title on the line. McMahon was ringside and he cost both Zayn and Owens the win at different spots. This led to McMahon being assaulted on the next episode of SmackDown, and McMahon hasn't been seen since. He is dealing with a real life illness. He was hospitalized with a bout of diverticulitis in the interim.
The following week, Bryan announced his return to the ring only to be spoiled by Owens and Zayn sending him out on a stretcher after he fired them. This is really the crux of the match. Zayn and especially Owens are excellent heel wrestlers. They're the perfect dance partners for Bryan in his return match. The crowd at WrestleMania will be behind Bryan like is rarely seen. There are very few performers who could be on the other side of that and do their jobs admirably. Owens and Zayn are going to be able to pull it off with no issues at all.
Next: 50 Best Professional Wrestlers Of All-Time
WWE is doing a reasonable job trying to create some suspense over the outcome of this match. Regardless of Owens and Zayn's job status, there is only one real way for this match to end. Shane is likely going to take the beating while Owens and Zayn mock Bryan relentlessly while he waits for the hot tag. When Bryan comes into the ring, the roof is going to blow off the place. WWE would be doing a disservice to their fans if there is any other outcome other than Bryan winning this match.