WATCH: UFC 25th Anniversary Press Conference live stream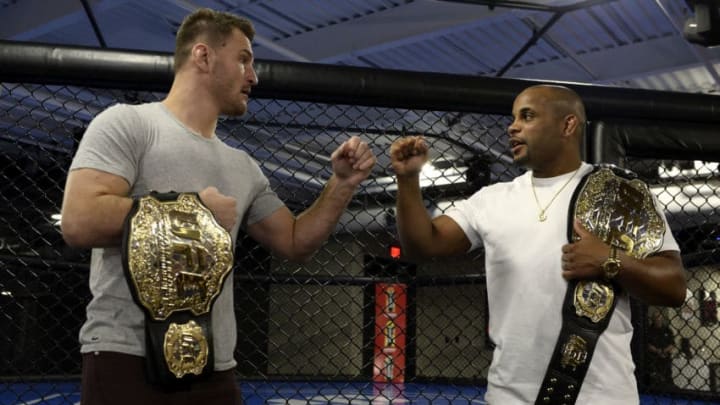 LAS VEGAS, NV - FEBRUARY 02: (L-R) Stipe Miocic and Daniel Cormier bump fists during the The Ultimate Fighter: Undefeated Cast /
The UFC's 25th Anniversary Press Conference will feature fighters from some of the organization's upcoming events.
The UFC returns to Brooklyn, New York for UFC 223 this weekend, but there's a lot more than just the fight card to look forward to.
After the UFC 223 competitors take the stage for the ceremonial weigh-ins on Friday evening, the UFC will host a 25th Anniversary Press Conference to hype up some of the big fights that have been announced for upcoming events.
Fighters scheduled to appear include the UFC 226 headliners; UFC heavyweight champion Stipe Miocic and light heavyweight champion Daniel Cormier before they square off on July 7.
UFC women's bantamweight champion Amanda Nunes and Raquel Pennington, who are scheduled to meet at UFC 224, co-main eventers for that event, Colby Covington and Rafael dos Anjos, who will fight for the interim welterweight title, along with Darren Till and Stephen "Wonderboy" Thompson, who will headline the UFC's first trip to Liverpool in May, are also scheduled to take the stage at the press conference.
Next: 9 UFC fighters to watch in 2018
The organization hosted a 25th Anniversary Press Conference prior to January's UFC 220 event in Boston. Tony Ferguson, Khabib Nurmagomedov, UFC featherweight champion Max Holloway and Frankie Edgar took the stage to answer questions from the media. In fact, when the question was asked in terms of a "backup plan" in case either Ferguson or Nurmagomedov couldn't make it to Saturday night's UFC 223 headliner, Holloway gave a sound bite saying that he would be willing to step in if that were to take place. Fast forward two-plus months later and that's exactly what happened when Ferguson was injured and pulled from the fight.
What moments will stick out at this press conference? Find out by watching the live stream above on Friday at 6:30 p.m. EST (3:30 p.m. PST).
Here is a snapshot of every fighter expected to be in attendance during the press event:
WHO:          
Dana White – UFC President
Edson Barboza – No. 4 UFC lightweight (UFC Fight Night Atlantic City)
Kevin Lee – No. 7 UFC lightweight (UFC Fight Night Atlantic City)
Amanda Nunes – UFC women's bantamweight champion (UFC 224 – Rio de Janeiro)
Raquel Pennington – No. 4 UFC women's bantamweight (UFC 224 – Rio de Janeiro)
Kamaru Usman – No. 7 UFC welterweight (UFC Fight Night Santiago)
Santiago Ponzinibbio – No. 10 UFC welterweight (UFC fight Night Santiago)
 Stephen Thompson – No. 1 UFC welterweight (UFC Fight Night Liverpool)
Darren Till – No. 7 UFC welterweight (UFC Fight Night Liverpool)
Jimmie Rivera – No. 4 UFC bantamweight (UFC Fight Night Utica)
Marlon Moraes – No. 5 UFC bantamweight (UFC Fight Night Utica)
Robert Whittaker – UFC middleweight champion (UFC 225 – Chicago)
 Yoel Romero – No.1 UFC middleweight (UFC 225 – Chicago)
Stipe Miocic – UFC heavyweight champion (UFC 226 – Las Vegas)
 Daniel Cormier – UFC light heavyweight champion (UFC 226 – Las Vegas)
                        *Additional fighters may be added to participate