MLB DFS Picks and Pivots – Sunday April 8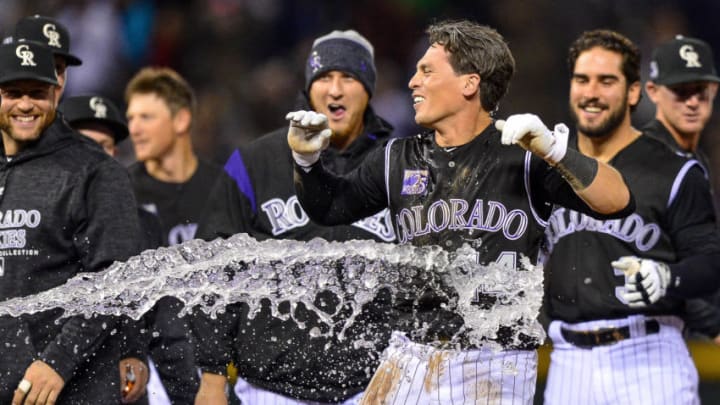 DENVER, CO - APRIL 7: Tony Wolters #14 of the Colorado Rockies celebrates and is doused with water after earning a base on balls with the bases loaded for a walk off RBI walk against the Atlanta Braves at Coors Field on April 7, 2018 in Denver, Colorado. (Photo by Dustin Bradford/Getty Images) /
DENVER, CO – APRIL 7: Tony Wolters MLB DFS /
Welcome to the Sunday edition of MLB DFS Picks and Pivots, a fantasy baseball column focused on helping you find the best core lineup for this slate of DFS action!
For those of you finding us for the first time, the concept behind MLB DFS Picks and Pivots is to give you a first look at the day's MLB DFS slate, including our top picks, plays and pivots, using FantasyDraft pricing as a reference, to help you build your best line-up and win big
Picks and Pivots is not a simple "best plays" column but rather it focuses on slate strategy and roster construction to help give you insight into how I will look to play this slate.
Saturday's full day of MLB DFS action was a tale of two slates for me personally as it related to the cash line but there was one constant as my SP choices (Darvish/Bauer and Cole/Minor) were all top five scorers on their respective slates with Darvish/Bauer coming in at 4/5 on the Early Slate and Cole and Minor coming in 1st and 3rd on the Main slate.
The difference in my cash position between the two slates really came down to the bats as the Yankees stack fell short early but on the Main Slate the Oakland stack with a big one-off night from the Angels Justin Upton helped drive a big night.
My takeaway from Saturday's slate was to continue to build your rosters around pitching as the high floor/foundation they build for you puts you in position on every slate to live right at the cash line and what I love about MLB DFS is that all you need to do sometimes is find that one bat that homers (Upton last night) that pushes you above the cash line.
Picks and Pivots is not a simple "best plays" column but rather it focuses on slate strategy and roster construction to help give you insight into how I will look to play this slate. The goal of this article is to dig through the slate, highlight our top plays and  help you identify the best slate strategy across your MLB DFS line-ups.
If you are looking to try out a new DFS site, head on over to FantasyDraft and enter my referral code for 10% rake back on your entries.
As always, we will look to update our final lineup thoughts throughout the day on our twitter account @FantasyCPR so make sure to give us a follow for all the late breaking lineup news.
Without further ado, let's get into today's slate!
SAN FRANCISCO, CA – SEPTEMBER 29: Clayton Kershaw /
MLB DFS: Starting Pitcher Overview:
First off, I LOVE how FantasyDraft setup Sunday's Main Slate as it covers 14 of the 15 games (excluding the Sunday Night Mets-Nationals contest) and gives us a full day of MLB DFS action. I am truly puzzled as to why on FanDuel, where they have late swap, they have opted to exclude the games starting after 2:15PM EST and therefore we miss out on some of the best games of the day.
We have a ton of great pitching options, a game in Coors Field and what looks to be a snow game in Minnesota as 1-2 inches of snow is expected right during the Twins-Mariners game (so keep an eye on this).
Clayton Kershaw ($24.7K) is the clear top dog on this slate as the highest priced pitcher with a great match-up on the road against the Giants in San Francisco. Kershaw through his first two starts has been good but not the Kershaw we are used to as he is sporting a 25.5% K rate (compared to 29.8% last year) and a 6% walk rate which is up 1.5% from last season. For the most part the underlying metrics – velocity and his ability to induce swinging strikes – show that this is the same elite pitcher we have become accustomed to seeing but with only decent fantasy showing in his first two games I do wonder how willing people will be to pony up the $24.7K today to lock him in.
Kershaw's numbers in AT&T Park over his career are simply insane as he has a 1.30 ERA, 0.80 WHIP and .178 BAA in 152 innings so fading him against a mediocre Giants line-up feels like a foolish move. With the fact that his numbers through his first two starts have simply been decent and with some prime offensive spots to target is it possible that people balk at the price tag today? As I said in the open, if there is one thing I took away from yesterday that it was to always err on the side of pitching in your roster build so if we can find the salary, I simply see no reason to move away from the best arm on the slate.
One of the reasons I love how FantasyDraft setup this Sunday Main slate is that the two arms I want to roster most are in the later afternoon games with Kershaw and Shohei Ohtani ($15.1K). After a rough spring training Ohtani has come out so far in the regular season flashing big power at the plate and impressing in his opening start as he threw 6 solid innings and struck out 6 Oakland batters and will get the exact same match-up today.
When you dig into that game a little more, you will see some impressive metrics as the 27% K rate versus a 4.6% walk rate put him on par (and actually slightly better) than the numbers Mr. Kershaw has put up this season. Now obviously people this is a small sample size and I am in no way saying Ohtani is Kershaw but consider for a second that Ohtani is nearly $10K cheaper than Kershaw today and is the 11th highest priced arm on the slate.
I mentioned this in his opening start but I recommend using Ohtani early and often in DFS this year before the league sees him a few times and the tape starts to give major league batters a good idea of what to expect. The fact that the A's had a near 20% swinging strike rate in the first game tells me that they were struggling to see the ball cleanly and even when they did make contact they had a 6.7% hard contact rate!
If you opt to lock in Kershaw and Ohtani on FantasyDraft today you still have $7.5K per bat which is more than enough to build a solid line-up and you are capturing arguably the two highest strikeout upside arms on the slate while both are -170 to -180 favorites. Thank you FantasyDraft for including these games on the Main Slate so I can lock in both Kershaw and Ohtani and move on.
ARLINGTON, TX – SEPTEMBER 1: Mike Trout /
MLB DFS – Top Hitting Spots:
Another slate and another hitting rundown with all the usual suspects as we have a game in Coors Field with an 11.5 total and the Yankees and Astros the only other teams projected to score 5+ runs. Every single day the Yankees/Astros are going to be a top stack and with a game in Coors Field you can bet the masses will go running to roster the bats from the Rockies and Braves but there are some other spots I think I want to go first as crazy as that may sound.
I mentioned this yesterday but Matt Rogers who writes our FanDuel MLB articles and I were talking the other day about how nobody ever seems to want to stack the Angels yet they have the second most runs in all of baseball so far. Yesterday on a five game main slate, outside of Mike Trout the ownership on these guys was crazy low as Justin Upton at 8% was a true difference maker for me.
Now we get a much larger slate tonight with all the chalk spots mentioned above and I could see another scenario where the Angels bats are flat-out ignored and against Kendall Graveman that could be a huge advantage for those of us who choose to build around them.
Graveman so far this season has been brutal giving up 15 hits, 9 ER and 4 HR in 2 starts over 10 IP while only striking out 2 batters. One of those starts came Opening Day against this very same Angels line-up where they lit him up for 5 ER and 3 HR's from Zack Cozart, Albert Pujols and Kole Calhoun.
Graveman is a low strikeout arm (14.8%) with a miniscule 6% swinging strike rate and that inability to miss bats means batters are going to put the ball in play and when you consider that the weather in this game will be 72 degrees and sunny you have a hitting environment that is going to be substantially better than the 30-40 degree temperatures around basically the rest of the slate.
Mike Trout ($11.1K) is the obvious top bat here but look at the rest of the prices for guys like Zack Cozart ($9.3K), Justin Upton ($8.2K), Kole Calhoun ($6.5K) and Albert Pujols ($6K) and a 1-5 Angels stack here is incredibly viable even if you pay up at pitcher. There is also some serious BvP for tis crew as they have homered 8 times in 112 AB versus Graveman if you are into that sort of thing!
If you are going to fit in Kershaw and Trout you are going to need some value bats as well and on FantasyDraft there are a couple of spots that jumped out to me at first glance. Jonathan Schoop at $6.9K simply wears out left-handed pitching to a tune of a .300 ISO and near .400 wOBA last season and will take on Jordan Montgomery today in Yankee Stadium. The other bat that just continues to be WAY too cheap in my opinion is Adrian Beltre at $5.7K batting clean-up in Arlington against LHP Jaime Garcia. In both cases you can home run hunt with your one-off plays with the platoon advantage all while using their depressed price points to pay up in other spots!
OAKLAND, CA – MARCH 29: Shohei Ohtani /
MLB DFS – Sample Line-Up and Slate Overview: Main Slate
The line-up below is meant to be illustrative only to further back-up the logic laid out in previous slides and is not meant to be an optimal line-up or a roster you simply plug and play on your own! 
More from FanSided
SP: Clayton Kershaw ($24.7K)
SP: Shohei Ohtani ($15.1K)
IF: Zack Cozart ($9.3K)
IF: Albert Pujols ($6K)
IF: Jonathan Schoop ($6.9K)
OF: Mike Trout ($11.1K)
OF: Justin Upton ($8.2K)
OF: Kole Calhoun ($6.5K)
Util: Adrian Beltre ($5.7K)
Util: Lucas Duda ($6.5K)
Slate Overview: I have said it a few times now but I love how this slate sets up on FantasyDraft with the inclusion of the late afternoon games on the Main Slate as you get exposure to Coors Field, Clayton Kershaw and Shohei Ohtani which literally changes the slate in my opinion to how you would approach it on FanDuel for instance. With cold temperatures on the East Coast and frankly the majority of the US right now, there is merit to continuing to build around starting pitching in MLB DFS early and often in the baseball season. Enjoy your Sunday all!
Best of luck in your MLB DFS contests across FantasyDraft, FanDuel and DraftKings and stay tuned to Fantasy CPR for all the latest DFS news and analysis!