MLB DFS Picks and Pivots – Wednesday April 11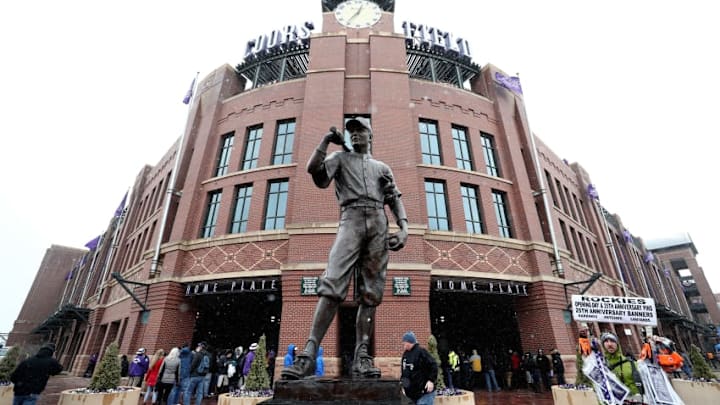 DENVER, CO - APRIL 06: Fans enter the stadium before the Colorado Rockies home opener against the Atlanta Braves at Coors Field on April 6, 2018 in Denver, Colorado. (Photo by Matthew Stockman/Getty Images) /
DENVER, CO – APRIL 06: Fans enter the stadium before the Colorado Rockies home opener against the Atlanta Braves at Coors Field on April 6, 2018 in Denver, Colorado. (Photo by Matthew Stockman/Getty Images) MLB DFS /
Welcome to the Wednesday edition of MLB DFS Picks and Pivots, a fantasy baseball column focused on helping you find the best core lineup for this slate of DFS action!
For those of you finding us for the first time, the concept behind MLB DFS Picks and Pivots is to give you a first look at the day's MLB DFS slate, including our top picks, plays and pivots, using FantasyDraft pricing as a reference, to help you build your best line-up and win big
Picks and Pivots is not a simple "best plays" column but rather it focuses on slate strategy and roster construction to help give you insight into how I will look to play this slate.
Tuesday's MLB DFS slate once again had some big time pitching performances from guys like Stephen Strasburg (35), Hyun-Jin Ryu (32), Joey Lucchesi (30) and Aaron Nola (28) as four of the top six performances on the night came from our starting pitcher choices. Hitting really made the difference on this slate and it was not Coors Field or another popular stack that really made the difference, in fact it was one of plays against elite arms as Mookie Betts (43) and Justin Bour (32) put up elite performances against some of the best arms on Tuesday's slate in Luis Severino and Jacob deGrom.
Picks and Pivots is not a simple "best plays" column but rather it focuses on slate strategy and roster construction to help give you insight into how I will look to play this slate. The goal of this article is to dig through the slate, highlight our top plays and  help you identify the best slate strategy across your MLB DFS line-ups.
If you are looking to try out a new DFS site, head on over to FantasyDraft and enter my referral code for 10% rake back on your entries.
As always, we will look to update our final lineup thoughts throughout the day on our twitter account @FantasyCPR so make sure to give us a follow for all the late breaking lineup news.
Without further ado, let's get into today's slate!
MILWAUKEE, WI – MAY 25: Robbie Ray /
MLB DFS – Early Slate Pitching
Wednesday's MLB DFS action gives us two really nice looking seven games slate to play so this looks like a great day to play multiple slates and maybe dive a bit deeper into your bankroll. The early slate is fascinating to me as we have three clear top arms in Robbie Ray, Lance McCullers and James Paxton with really only one obvious offensive spot on the board in Coors Field so the debate of whether to spend up on pitching or hitting will likely drive your roster construction early.
If you have read Picks and Pivots at all so far this MLB DFS season you will know that I tend to embrace the variance with major league hitting and have been looking to build around elite pitching early in the season rather than pay up for the big bats. Today's early slate gives us three elite K arms to choose from so my builds are going to start with them today and I will look to find the salary savings when digging through my hitters later.
Robbie Ray ($24K) is the priciest investment at pitcher but metrics wise he is seemingly worth every penny as his 33% K rate and 14% swinging strike rate over 2017-2018 are the top marks of any pitcher going on this slate. The issue with Ray is always the hard contact he allows but with a match-up in San Francisco against a mediocre line-up in a ballpark that suppresses power this could be a spot where Ray puts up a huge game. In his career Ray has made four starts in AT&T Park, coasting to a 1.46 ERA, striking out 33 batters in 24 innings so I am all for paying the freight to capture his upside tonight as I could easily see him being the top raw points performer on this slate.
Lance McCullers ($21K) may not have the same strikeout numbers (27%) as Ray over the last season + but so far this year he is showing off some pretty spectacular stuff as his 38.6% K rate and 70% ground ball rate are highlighting the explosive upside he has on any given start. McCullers is a solid road favorite at -151 against the Twins today and with their two biggest bats in Brian Dozier and Miguel Sano getting the wrong side of the platoon splits, this looks like a line-up McCullers could dominate with four guys in the projected line-up sporting a 25% K rate against right-handed pitching.
James Paxton ($20.3K) sits just a step below McCullers price wise and actually has the second highest K rate on the slate (28%) behind Robbie Ray so if you need some salary relief I could see dropping down from McCullers to Paxton as your SP2. My only issue with Paxton is that in his first two starts his velocity is a tick down across every single one of his pitches and his K rate is only at 24.4%. When you add in the fact he takes on a Royals team with 5-6 batters that have a K rate below 20% this seems like more of a solid run prevention spot than an elite K environment and personally if I am paying up for pitching I want the upside of McCullers/Ray first.
MLB DFS /
MLB DFS – Early Slate Hitting:
The early slate from a pure hitting perspective is pretty straightforward as Coors Field is the obvious top play by a mile with an 11.5 run total that is 3 runs higher than any other game on the slate. If you pay up for pitching then the Nolan Arenado's of the world will be out of your price range and you will be forced to look towards a cheaper Padres stack against German Marquez, a pitcher who has surrendered .8 HR/9 with a 25% HC to lefties at home in his career. Before you go jamming Padres hitters into your line-up ask yourself – if this game was ANYWHERE other than Coors would you even be considering it?
With the mindset of paying up for pitching, it means I will be looking to other game environments with cheaper price points and the spot I like the most is in St. Louis as the Cardinals and Brewers play in a game featuring Adam Wainwright and Junior Guerra with temperatures in the high 60's and winds blowing straight out at 12-15 MPH.
As a Mets fan, that Adam Wainwright curveball to Carlos Beltran still give me nightmares and part of me wants to stack against home every damn time out in the hopes I can get some revenge all these years later. Even last year, Wainwright was exceptional against RHB, giving up .7 HR/9 and only a 29% hard contact rate but against lefties the numbers spiked to 1.34 HR/9 and 34% HC rate. With that in mind a mini-stack of Travis Shaw ($7.5K) and Eric Thames ($7.2K) allows you to attack the right side of the platoon splits here with big time power bats at reasonable price points. Both Shaw and Thames have exceptional metrics against RHP with .375+ wOBA's, .250+ ISO and 40%+ hard contact rates so you can make the case to lock both in here today in any format.
The Cardinals bats on the other side who in his career has really shown no significant platoon splits with 1.2 HR/9 rates and 32% hard contact rates or more to hitters from both sides of the plate. The beauty of the Cardinals bats here today is that they are insanely cheap and you can easily stack the top four in this line-up while paying up for pitching as Matt Carpenter ($6.7K), Dexter Fowler ($6.7K), Tommy Pham ($7.7K) and Marcell Ozuna ($7.5K) make for a cost-effective sneaky team stack to pair with the high-end arms on this slate.
Last but not least we have James Shields on the mound a pitcher with a 5+ SIERA/ERA, giving up 42% hard contact and sporting a TWO PERCENT strikeout rate so far this year. That is not a typo. Now the Rays offense is not one I would want to necessarily stack, mostly because I don't think I could name their starting line-up if you gave me internet access, a team media guide and access to their manager but this is less about their players and more about wanting any player with a bat in their hand with guaranteed at bats versus James Shields in 2018.
In 2017 Shields gave up 2.82 HR/9 to LHB with a 33% hard contact rate and will pitch in a park that is one of the best in all of baseball to left-handed power. The issue is that the Rays have very few left-handed bats with Denard Span, Kevin Kiermaier and Joey Wendle but you can honestly make the case for any/all of them in this spot today. The right-handed bats here are not slouches either as Shields gave up a 34% hard contact rate and 1.55 HR/9 rate to RHB last season so you could easily roll out someone like Carlos Gomez ($5.7K) here who has a team high .353 wOBA against RHP with a .227 ISO and 42% hard contact rate.
HOUSTON, TX – APRIL 06: Lance McCullers Jr. /
MLB DFS – Sample Line-Up and Slate Overview: Early Slate
The line-up below is meant to be illustrative only to further back-up the logic laid out in previous slides and is not meant to be an optimal line-up or a roster you simply plug and play on your own!  
More from FanSided
SP: Robbie Ray ($24K)
SP: Lance McCullers Jr. ($21K)
IF: Matt Carpenter ($6.7K)
IF: Travis Shaw ($7.5K)
IF: Eric Thames ($7.2K)
OF: Dexter Fowler ($6.7K)
OF: Tommy Pham ($7.7K)
OF: Marcell Ozuna ($7.5K)
Util: C.J. Cron ($6K)
Util: Carlos Gomez ($5.7K)
Slate Overview: Stud pitching or Coors Field – plant your flag and move on. For me, I will side with the elite arms on this early slate and look to get my offensive firepower elsewhere with the Cardinals/Brewers looking like an under the radar game stack with two exploitable arms in Wainwright and Guerra. Keep an eye on the lineups as they are released as we routinely get value in day game slates after a night game which could help us pay up in additional spots.
MLB DFS /
MLB DFS – Main Slate Pitching
After three straight slates including today's Early Slate with nothing but elite K arms to choose from the Main Slate feels like a bit of a letdown as although we have some great real life arms, the DFS player in me feels a tad bit underwhelmed.
Alex Wood ($22K) is probably by favorite option to pay up for on this slate as a massive -200 home favorite against the Oakland A's. Wood has been solid to start the year with 5K's in each of his first two starts and was simply incredible at home last season with a near 60% ground ball rate with a sub 25% hard contact rate so Wood looks to be the cash game pitcher to build around and a solid SP1.
Although we have other great real life pitchers like David Price versus Masahiro Tanaka and Jon Lester at home versus the Pirates, I actually like the idea of going down for my SP2 – and I mean all the way down to a GPP play only in LHP Jarlin Garcia ($9.3K). Garcia will make his first start for Miami but has already pitched 10 innings out of the pen for the Marlins with 8K's and although the Mets are red-hot to start the season this is a team that is striking out a ton as we saw another LHP Caleb Smith strike out 7 Mets last night in only 5 innings of work.
With Garcia what I am looking for here is a decent outing with K upside to pay off this dirt cheap price. The Mets even with their hot start are struggling to get their big right-handed bat in Yoenis Cespedes going who has publicly stated he is battling flu-like symptoms so really outside of my boy Wilmer Flores, there is not much I am worried about against left-handers in the Mets line-up right now.
If you can get an outing similar to what we saw Smith deliver last night – 5 innings, 7 K's and 3 ER's – I would be more than happy with that at this price point and it would allow you to stack up some big time bats on this slate.
OAKLAND, CA – MARCH 30: Mike Trout /
MLB DFS – Main Slate Hitting:
Every single slate it seems like the Angels are my top stack and today again in Arlington they get to face a horrendous left-hander in Matt Moore, a pitcher who has had a 45% FB rate last year with a 33% hard contact rate and 1.3 HR/9 to right-handed hitters outside of AT&T park. The Angels have a lethal line-up against lefties and although Ian Kinsler will likely not return until Thursday, the rest of the Angels big bats are in play here as a top stack.
Zack Cozart ($9.3K), Mike Trout ($11.2K) and Justin Upton ($9.1K) are a pricey trio but this is the core stack I want to build around and it is one of the main reasons I am ok dropping down with my SP2 on this slate to ensure I can afford it.
On the other side of this game, the Rangers will take on RHP Jaime Barria who has only registered 16 innings above Double A and considering this is a pitcher with a 20% minor league K rate, his inability to miss bats could present a big problem in this ballpark. The Rangers/Angels game has a Coors-like game total at 10.5 so this looks like a great spot to run a game stack with the Rangers left-handed power bats like Joey Gallo ($8.2K), Nomar Mazara ($6.7K) and Shino-Soo Choo ($6.8K).
One of the added benefits of dropping down to Garcia as my SP2 as I can not only stack the best hitting spot on the Main Slate but I can easily add top end power one offs and we saw last night that targeting elite hitters against elite pitchers gave us tournament winning upside at low/no ownership.
Giancarlo Stanton ($9.2K) has scuffled out of the gate and I doubt many will want to go out of their way to target him against LHP David Price but this is the kind of one-off play that could take down a tournament with a multi-HR day. The BvP special today is Gary Sanchez ($7.8K) who is 5 for 11 in his career off Price with FOUR of those hits going for home runs.
MLB DFS /
MLB DFS – Sample Line-Up and Slate Overview: Main Slate
The line-up below is meant to be illustrative only to further back-up the logic laid out in previous slides and is not meant to be an optimal line-up or a roster you simply plug and play on your own!  
More from FanSided
SP: Alex Wood ($22K)
SP: Jarlin Garcia ($9.3K)
IF: Zack Cozart ($9.3K)
IF: Gary Sanchez ($7.8K)
IF: Joey Gallo ($8.2K)
OF: Mike Trout ($11.2K)
OF: Justin Upton ($9.1K)
OF: Shin-Soo Choo ($6.8K)
Util: Nomar Mazar ($6.7K)
Util: Giancarlo Stanton ($9.2K)
Slate Overview: The Main Slate looks like a great one for GPP's as the SP2 choices could really help differentiate you if you are willing to take on some risk. There are some slit hitting spots with the Angels and Rangers bats looking like the core build at first glance in a game that could end up beating out Coors for total runs scored across both slates!
Best of luck in your MLB DFS contests across FantasyDraft, FanDuel and DraftKings and stay tuned to Fantasy CPR for all the latest DFS news and analysis!