NHL playoffs 2018: Lightning vs. Devils TV schedule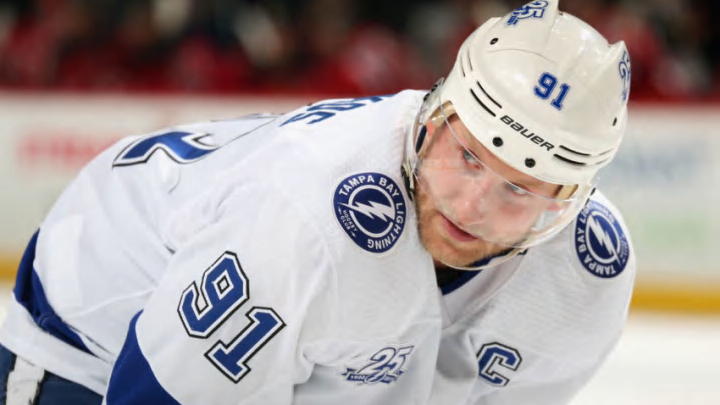 NEWARK, NJ - MARCH 24: Steven Stamkos /
In the first round of the NHL playoffs, the Tampa Bay Lightning face the New Jersey Devils. Here is the series schedule and how you can watch and stream every game.
After missing the playoffs last season, the Tampa Bay Lightning finished first in the Eastern Conference. The Lightning were first in the East from start to finish behind the play of Hart Trophy candidate Nikita Kucherov and a healthy Steven Stamkos.
With a strong defensive core built around Victor Hedman, the Bolts are one of the favorites to win the Stanley Cup. Expect Lightning head coach Jon Cooper to match Hedman up against New Jersey superstar Taylor Hall.
In the first round of the playoffs, the Lightning face the New Jersey Devils, who qualified for the playoffs for the first time since 2012. The Devils are in the postseason in large part because of the play of Hall, who will likely be a finalist for the Hart Trophy. Hall had a career season, scoring 39 goals and 93 points.
To put Hall's importance to the Devils in perspective, he finished the season with 41 points more than second-leading scorer Nico Hischier. While Hischier had an excellent rookie season, questions remain if he can provide enough secondary scoring in the playoffs.
Lightning vs. Devils TV Schedule
*If necessary. All times in ET.
Game 1: Thursday, April 12, 7:00 p.m. @ Tampa Bay
TV: NHLN-US, SUN, MSG
Game 2: Saturday, April 14, 3:00 p.m. @ Tampa Bay
TV: NBC, CNBC
Game 3: Monday, April 16, 7:30 p.m. @ New Jersey
TV: CNBC, MSG+, FS-F
Game 4: Wednesday, April 18, 7:30 p.m. @ New Jersey
TV: GOLF, MSG+, SUN
*Game 5: Saturday, April 21, TBD @ Tampa Bay
*Game 6: Monday, April 23, TBD @ New Jersey
*Game 7: Wednesday, April 25, TBD @ Tampa Bay
Live Stream: You can also watch every game live on Fubo.TV. Sign up now for a free trial.
A hot goalie in the playoffs can often be the difference between winning multiple rounds in the playoffs or being eliminated in the first round. Keith Kinkaid and Cory Schneider split time in the New Jersey goal evenly. However, both goalies were just average in net this season. Tampa goalie Andrei Vasilevskiy has emerged as one of the best young goalies in the NHL, posting a .920 save percentage.
Next: 10 reasons Stanley Cup playoffs are better than NBA playoffs
For more from the NHL playoffs, make sure to follow FanSided and stay tuned to our NHL hub for all the latest news and results.