MLB DFS Picks and Pivots – Thursday April 12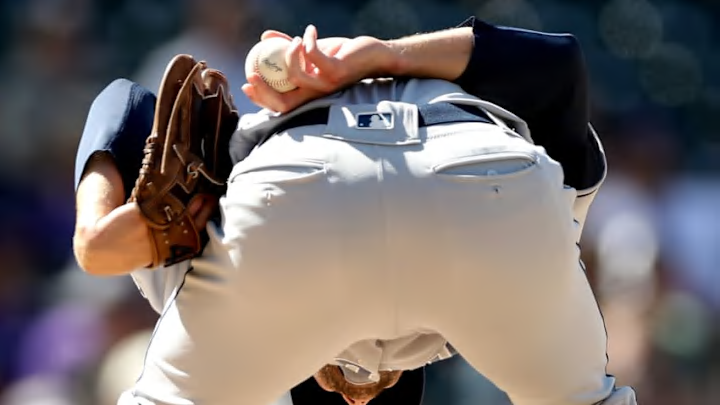 DENVER, CO - APRIL 11: Adam Cimber /
DENVER, CO – APRIL 11: Adam Cimber MLB DFS /
Welcome to the Thursday edition of MLB DFS Picks and Pivots, a fantasy baseball column focused on helping you find the best core lineup for this slate of DFS action!
For those of you finding us for the first time, the concept behind MLB DFS Picks and Pivots is to give you a first look at the day's MLB DFS slate, including our top picks, plays and pivots, using FantasyDraft pricing as a reference, to help you build your best line-up and win big
Picks and Pivots is not a simple "best plays" column but rather it focuses on slate strategy and roster construction to help give you insight into how I will look to play this slate.
Wednesday's MLB DFS split slate was a wild one as the early slate chalk pitcher in Lance McCullers got absolutely rocked by the Twins and the Rockies/Padres game turned into a UFC match that got many of the highly owned bats on the slate tossed out of the game early. Thankfully the Main Slate came along to save my day as Gary Sanchez knocked two home runs and put up 39 fantasy points alongside a 1% owned Jarlin Garcia who no-hit the Mets for 6 innings and then was pulled – no seriously he was pulled with 77 pitches thrown. The funny thing about yesterday's results was I made a point to pay up for Robbie Ray and Lance McCullers and took the "safe" route with Alex Wood as my SP1 on the Main Slate only to see them all dud and my 1% dart throw put up the best pitching performance of anyone I rostered – gotta love the variance in MLB DFS!
Picks and Pivots is not a simple "best plays" column but rather it focuses on slate strategy and roster construction to help give you insight into how I will look to play this slate. The goal of this article is to dig through the slate, highlight our top plays and  help you identify the best slate strategy across your MLB DFS line-ups.
If you are looking to try out a new DFS site, head on over to FantasyDraft and enter my referral code for 10% rake back on your entries.
As always, we will look to update our final lineup thoughts throughout the day on our twitter account @FantasyCPR so make sure to give us a follow for all the late breaking lineup news.
Without further ado, let's get into today's slate!
MLB DFS /
MLB DFS – Starting Pitcher Overview:
We have a five game Main Slate on FantasyDraft tonight and we have some potential rain issues in Boston which could cause problems between the Red Sox and Yankees while most of the games across the US will start to see some warmer temperatures after weeks of sub-optimal baseball weather.
The one big news item to keep an eye on today is whether or not any suspensions are delivered to the Rockies, specifically Nolan Arenado, as there is potential for Gio Gonzalez ($19.8K) to see a watered down Rockies line-up today that could be missing Arenado and Charlie Blackmon who has sat out the last few days due to injury. My interest in Gio is completely line-up dependent but considering Vegas has him as a -175 home favorite and the Rockies have the lowest team total on the slate, could they be trying to tell us to expect the Rockies JV line-up today?
I am probably one of the biggest Gio haters when it comes to DFS as he tends to be way over-priced as a better real life pitcher than a DFS asset but he was exceptional pitching in Washington last year as he had a 2.76 home ERA with a 24% K rate while limiting home runs to 0.89 HR/9. Gio struck out 6 and 7 batters over his first two games and if we get a Rockies line-up today without Arenado AND Blackmon it is going to be tough to ignore him as an SP1 today on a short slate.
Jose Berrios ($21.5K) is the defacto "ace" on this short slate with the raw talent that frankly no other arm possesses here today. Berrios is a bit more volatile than we would like from an ace but hey even the "safe" options we thought we were paying up for yesterday showed they too have the ability for a rough outing.
Berrios was dominant in his opening start as he struck out 6 batters in a complete game shutout against the Orioles but came crashing back in his second outing as he gave up 5 ER to the Mariners. If you dig into that game a bit more it would seem like he had a bit of bad luck as his .417 BABIP from that game would reflect and when you consider he did not walk a batter and struck out 7, there is a safer floor than maybe we realize.
Berrios, like Gio is a -175 home favorite and also like the Nationals starter was a materially better pitcher at home last season as his 2.41 ERA, 26% K rate and 24% hard contact rate would suggest.
The metrics show that Gio and Berrios are the top two strikeout arms on this slate (which is telling you all you need to know after we had all our big time studs pitching the last few days) and are the only real overwhelming favorites on the Main Slate. There is merit to locking in both of these arms today on FantasyDraft as you would still have over $7.3K per batter which is more than enough in my opinion and you can safely sidestep the mediocre options in your line-up.
On a one pitcher site I would expect Berrios to be the chalk and rightfully so but again keep an eye on the news with the Rockies as if suspensions/injuries keep the big bats out, then I think you can make the case to build around Gio instead.
SAN FRANCISCO, CA – MAY 29: Ryan Zimmerman /
MLB DFS – Hitting Overview:
With a smaller slate and no big run totals expected today per the early Vegas data the two highest projected spots it at only 4.6-4.7 runs with the Nationals and Twins bats coming in at the top of the heap.
The Nationals will likely be the most popular of the stacks today and with 70+ degree temperatures and the wind blowing out at 17-20 MPH, there is merit to stacking against Chad Bettis and the Rockies. The one interesting thing with Bettis is that he is a right-hander with significant extreme splits during his career so stacking the right-handers is actually our best course of action here today.
In his career, Bettis has a 1.47 HR/9 to RHB with a .74 HR/9 rate to LHB and when you take him out of Coors field the gap widens even more with a 1.57 HR/9 versus a .59 HR/9 rate. Trea Turner ($9.4K), Anthony Rendon ($9.4K) and Ryan Zimmerman ($7.6K) are the key bats here to target with the splits in mind and with the Rockies needing 6 innings from their pen yesterday, you could get the added benefit of facing a team with tired arms.
Now, you can obviously add lefty bats like lead-off man Brian Goodwin and Bryce Harper to the stack but there is a part of me that wonders if this is how you differentiate from the field as many will just see the big total here, the wind blowing out and fire up the traditional lefty versus righty match-ups. It is scary to fade a bat like Harper on a short slate but there is some merit to going with the right-handed bats only to attack the more vulnerable side of Chad Bettis.
The Twins have a run total in line with the Nationals but the price points on FantasyDraft sit at a significant discount and with a match-up against Lucas Giolito, who has surrendered 8 runs, 7 walks and is sporting a 9% K rate so far in two starts this season. Giolito in his career has given up 1.5 HR/9 to RHB and 1.8 HR/9 with similar 32%+ hard contact rates so you can mix and match the handidness here when working on a Twins stack.
You can easily roll out a 3-4-5 stack here of Miguel Sano ($7K), Eddie Rosario ($5.4K) and Logan Morrison ($5.6K)Â for an average cost of $6K per player which works out perfectly if you want to pay up at pitcher and still get some high-end Nationals bats.
Lastly, I am going to keep riding the Angels bats for as long as they are outside of their home ballpark and today you can aggressively target the left-handed bats here against a pitcher in Ian Kennedy who gave up a 2.24 HR/9 rate to LHB last season with a massive 47.1% hard contact rate. The Angels have a slate leading 6 runs per game so far this season and today especially the left-handed bats seem reasonably priced as we can lock in guys like Kole Calhoun ($5.6K), Luis Valbuena ($6.3K) or pay up a bit to Shohei Ohtani ($8.5K) who will be in the DH spot tonight for the Angels. Ohtani has gone 7 for 16 with 3 HR's against RHP so far this season and with his next start not until Sunday, we can feel free to fire him up as a hitter for the next few days.
ARLINGTON, TX – APRIL 11: Shohei Ohtani /
MLB DFS Sample Line-Up and Slate Overview: Main Slate
The line-up below is meant to be illustrative only to further back-up the logic laid out in previous slides and is not meant to be an optimal line-up or a roster you simply plug and play on your own!
More from FanSided
SP: Jose Berrios ($21.5K)
SP: Gio Gonazalez ($19.8K)
IF: Trea Turner ($9.4K)
IF: Anthony Rendon ($9.4K)
IF: Ryan Zimmerman ($7.6K)
OF: Shohei Ohtani ($8.5K)
OF: Kole Calhoun ($5.6K)
OF: Miguel Sano ($7K)
Util: Eddie Rosario ($5.4K)
Util: Logan Morrison ($5.6K)
Slate Overview:Â This five game Thursday Main Slate seems relatively straight forward as we really only have two "solid" pitching options in Berrios and Gio and frankly the price points are not elevated enough where it hinders your line-up construction to roster both. The Twins bats really become one of the reasons you can afford that route while still paying up for a big time stack like the Nationals or Angels. Keep an eye on the Rockies news today as we mentioned to see if we get any suspensions and whether or not Charlie Blackmon steps back into the line-up. Enjoy your day of MLB DFS and we will see you back here on Friday.
Best of luck in your MLB DFS contests across FantasyDraft, FanDuel and DraftKings and stay tuned to Fantasy CPR for all the latest DFS news and analysis!