MLB DFS Picks and Pivots – Friday April 13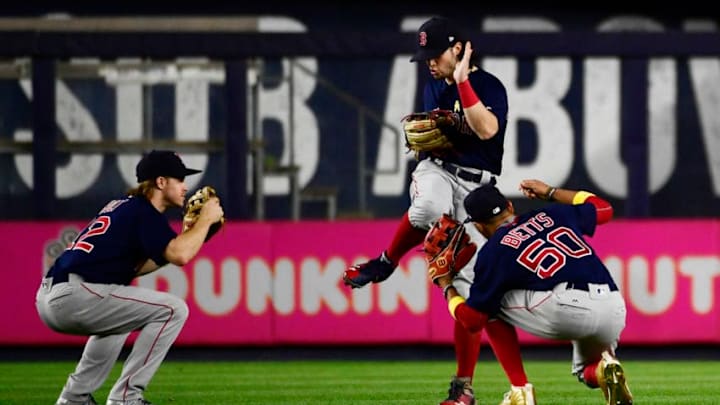 NEW YORK, NY - SEPTEMBER 01: (L-R) Brock Holt /
NEW YORK, NY – SEPTEMBER 01: (L-R) Brock Holt MLB DFS /
Welcome to the Friday edition of MLB DFS Picks and Pivots, a fantasy baseball column focused on helping you find the best core lineup for this slate of DFS action!
For those of you finding us for the first time, the concept behind MLB DFS Picks and Pivots is to give you a first look at the day's MLB DFS slate, including our top picks, plays and pivots, using FantasyDraft pricing as a reference, to help you build your best line-up and win big
Picks and Pivots is not a simple "best plays" column but rather it focuses on slate strategy and roster construction to help give you insight into how I will look to play this slate.
Thursday's MLB DFS slate once again was dominated by pitching as only 7 players went for over 20 fantasy points on FantasyDraft with 5 of those 7 being starting pitchers. Jose Berrios (39) was the chalk play at SP and frankly it was one of those scenarios if you didn't eat the chalk you had no chance of landing over the cash line. A handful of value SP2's including Rick Porcello, Nick Tropeano, Chris Stratton and Chad Bettis all had solid nights putting up 25+ FP while the two big bats on the night were Mike Trout (24) and DJ LeMahieu (42) who blasted two home runs against the Nationals as the top scorer on the slate.
Picks and Pivots is not a simple "best plays" column but rather it focuses on slate strategy and roster construction to help give you insight into how I will look to play this slate. The goal of this article is to dig through the slate, highlight our top plays and  help you identify the best slate strategy across your MLB DFS line-ups.
If you are looking to try out a new DFS site, head on over to FantasyDraft and enter my referral code for 10% rake back on your entries.
As always, we will look to update our final lineup thoughts throughout the day on our twitter account @FantasyCPR so make sure to give us a follow for all the late breaking lineup news.
Without further ado, let's get into today's slate!
HOUSTON, TX – APRIL 07: Gerrit Cole /
MLB DFS – Starting Pitcher Overview:
Welcome to a Friday MLB DFS slate where we have a full slate with temperatures warming up around the country which could mean we start to see the offenses in baseball start to put up some crooked numbers.
On the mound on this slate there is one obvious top choice in Gerrit Cole ($22.9K) who has been flat-out incredible in his first two starts for the Astros. In two starts, Cole has pitched 14 innings with a crazy 22:3 K to walk rate with a massive 41% strikeout rate and a near 20% swinging strike rate.
Cole's career numbers clearly have never been this high so there is a bit of take these two games with a grain of salt but it is hard to ignore how dominant he has looked thus far and as a -240 home favorite against a Rangers team he already beat this year and struck out 11 batters in the process, he becomes the SP1 to build around.
The Rangers have also been hit by the injury bug and will be without Rougned Odor and Elvis Andrus meaning this line-up gets that much weaker and you are looking at a starting line-up for Texas that includes the likes of Jurickson Profar, Drew Robinson, Ryan Rua and Ronald Guzman at the bottom of the order. Not only is their big time run prevention in this spot as the Rangers have the lowest implied team total on the board but the strikeout upside is just massive again here for Cole. In their first meeting, Cole struck our Robinson, Rua and Joey Gallo 7 times and now you take out one of the Rangers best hitters in Elvis Andrus out and this line-up becomes one we want to attack today.
Rather than pay up for my SP2 on this slate, I am going to look to go with more of a high/low approach as there are some great offenses to target today and some intriguing punt option at SP that put together a roster build I love early on.
Andrew Heaney ($11.8K) is my favorite SP2 tonight as he makes his season debut for the Angels against a Royals team we just saw Nick Tropeano shut down last night. Heaney has struggled with injuries, pitching only six starts over the last two seasons but this is a talented arm that has demonstrated strikeout upside throughout his early career
The fact that Heaney was able to throw 87 pitches in his previous rehab start makes me feel comfortable there is no limited pitch count although expecting anything much more than 90 pitches would seem aggressive as the Angels will not push Heaney much coming off a string of injury plagued seasons.
Throughout his career, Heaney has shown K rates in the 20-22% range with a double-digit swinging strike rate and he has always had the ability to limit hard contact and power to LHB which should help neutralize the two big bats in the Royals line-up in Lucas Duda and Mike Moustakas. The box score from Tropeano last night is basically the blueprint for what I want here as he went 6.2 innings, throwing 88 pitches, giving up 0 ER and striking out 6 for the win.
SAN FRANCISCO, CA – MAY 29: Ryan Zimmerman /
MLB DFS – Hitting Overview:
One of the reasons I want to go a bit more high/low with my pitching is that we have a ton of great hitting spots on the board with four teams already sporting run projections of 5 or higher.
The Red Sox are the top offense according to Vegas as they have a 6 run projection and will take on a SP in Chris Tillman who has been, well not so great this year. In 2018, Tillman has pitched 9 innings, giving up 9 ER while striking out only 3 batters as compared to 8 walks while giving up 32% hard contact and generating only 5% swinging strikes.
What does that all mean? Tillman's inability to miss bats, walk batters and induce hard contact is the exact recipe for a stack and the Red Sox line-up on FantasyDraft just feels WAY too cheap to me today. There are only three players on Boston priced at $8K or above with J.D. Martinez ($9.1K), Mookie Betts ($9K) and Rafael Devers (8K) and you can easily add in cheaper options like Andrew Benintendi ($7.4K) and Mitch Moreland ($6.6K) which would allow you a projected 1-5 lineup stack today with the day-to-day status of Hanley Ramirez.
To be fair to Chris Tillman, the reason we are picking on him should not just be his first two starts but we can extract this to last season where the numbers are continuously ugly as his 14%K rate versus an elevated 11% walk rate with a 2.32 HR/9 rate and 37.7% hard contact rate show you this is the premier spot to stack up today.
The Nationals may have let me down last night but I am going right back to the well with the right-handed bats in Nationals park against LHP Kyle Freeland today, specifically Anthony Rendon ($8.6K) and Ryan Zimmerman ($7.6K) who just wear out LHP. Last season these two both sported ISO's over .310 with wOBA's over .425 as Rendon specifically was top 10 against LHP in both marks across all of Major League Baseball. Nationals Park is one of the best in the league for right-handed power and with temperatures in the high 70's and winds blowing out at nearly 15 MPH – I am all in on these two Nationals right-handers today!
ANAHEIM, CA – AUGUST 23: Andrew Heaney /
MLB DFS Sample Line-Up and Slate Overview: Main Slate
The line-up below is meant to be illustrative only to further back-up the logic laid out in previous slides and is not meant to be an optimal line-up or a roster you simply plug and play on your own!
More from FanSided
SP: Gerrit Cole ($22.9K)
SP: Andrew Heaney ($11.8K)
IF: Ryan Zimmerman ($7.6K)
IF: Anthony Rendon ($8.6K)
IF: Mitch Moreland ($6.6K)
OF: J.D. Martinez ($9.1K)
OF: Mookie Betts ($9K)
OF: Andrew Benintendi ($7.4K)
Util: Rafael Devers ($8K)
Util: George Springer ($9K)
Slate Overview: Before I even looked at pricing today I knew my goal was to build around Cole and the Red Sox bats as the underlying match-up/metrics back up everything Vegas is putting out here early on. Now let me be clear – this is not a sneaky build – this is the chalk pitcher and stack in all likelihood but in baseball I will play the best plays 100 times out of 100 and let the variance of MLB DFS work in my favor over the course of a season. As I mentioned, the pricing on the Red Sox bats is extremely conducive to a stack here if you are willing to drop down at your SP2 and Heaney is the guy that really makes this whole build work. Enjoy your day fo Friday MLB DFS and we will see you back here on Saturday!
Best of luck in your MLB DFS contests across FantasyDraft, FanDuel and DraftKings and stay tuned to Fantasy CPR for all the latest DFS news and analysis!