Maple Leafs' missed opportunities, Kadri suspension are lessons in discipline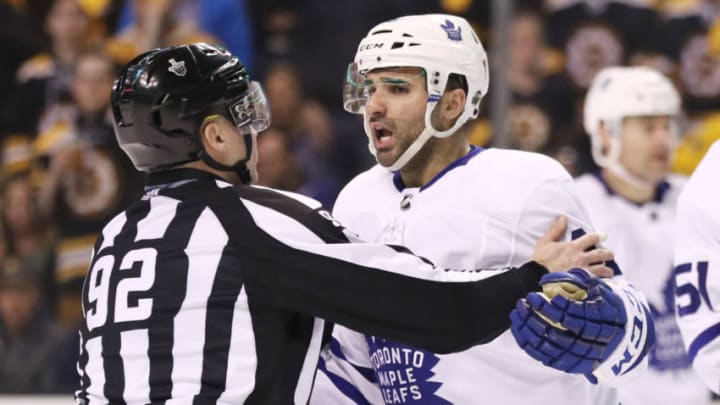 BOSTON, MA - APRIL 12: Nazem Kadri /
With the conclusion of Game 1, the Toronto Maple Leafs' missed opportunities and the Nazem Kadri suspension provide key lessons in the importance of discipline.
UPDATE: Nazem Kadri has been suspended three games by the NHL.
Make no mistake: the Toronto Maple Leafs' loss to the Boston Bruins on Thursday night was an ugly one. As any dedicated fan of the organization will attest, the Buds' performance — or lack thereof — inevitably sparks unfavorable memories of the not-so-distant past.
Most disappointing, perhaps, is the worm that lies beneath the surface of last night's outcome. It's a timely reminder of a reality that envelops the franchise, but one that Leafs fans are now left to confront in a rather abrupt fashion — a confirmation of the fact that, to the dismay of many, the shadow of May 13, 2013 continues to loom large over #LeafsNation.
It's in the midst of moments like these that I'm reminded of Mike Babcock's often quoted statement about the process of ushering forward a culture of winning. Like last night's defeat, it's a tough — albeit necessary — pill to swallow: "If you think there's no pain coming, there's pain coming".
And so the sun rises. A new day promises challenging lessons for a young roster that's still in its relatively early stages of mastering the overarching complexities of the Stanley Cup playoffs. After all, a good team not only learns how to win big games, but also demonstrates a degree of maturity in taking accountability for their losses.
That sense of responsibility starts with exerting control.
It's a point of critique that can be levied toward just about anyone that clocked in big minutes, but one that ultimately begins with the Leafs' power play. Auston Matthews, Mitch Marner, Patrick Marleau, James van Riemsdyk, Tyler Bozak and everyone in between were simply not good enough. Unexpectedly, the Buds paid a heavy price, as quick goals from David Backes and David Pastrnak capped a second period that the Leafs had largely dominated. Fans, in turn, were left asking the painful question of "what if?"
While missed opportunities will rightfully envelop the talk circuit of Leafs media until Saturday night, it's important to note that errors of this nature are fixable. Babcock and co. are experts at marrying calmness with command in difficult situations. Marner is capable of quarterbacking units in need of a pick-me-up. It's beyond likely that Matthews has a number of big goals in him. And yes — this is still the same team that finished second in power play percentage over the course of the regular season.
Bury just one of those close calls and the momentum stays in the Leafs' court. It's a different game altogether.
The Nazem Kadri incident, however, is a totally different beast.
To the dismay of many a Leafs fan, the Buds' no. 2 center tallied 17 minutes of penalty time in the third period.
First was a two minute boarding obstruction against the Bruins' Tommy Wingels. Then disaster struck. Just minutes after being released from the sin bin, Kadri opted to strain the edges of an even more dangerous path, as a late hit — again on Wingels — resulted in a five minute major for charging, coupled with a 10 minute game misconduct. A David Krejci power play goal followed, and Game 1 was put away for good.
I'd like to be as clear as possible — Kadri is, without a doubt, my favorite Leaf. His ability to draw penalties is among the best in the league and the edge to his game is much needed against a team like Boston. Under Babcock, Kadri's style of play has greatly improved — as such, I firmly believe that, in due time, he can work his way into serious consideration for the Selke Trophy. Above all, his willingness to combine opportune scoring with an ability to frustrate opponents in the defensive end renders him loved by fans and despised by adversaries.
That said, last night's blunder was nothing short of inexcusable.
While part of me recognizes the sincerity of Kadri's defense — he was, after all, making his presence felt following a hit that could have seriously injured the Leafs' top regular season performer — I'm nevertheless reminded of the player that I watched throughout those Randy Carlyle-led years. That is, the very player against whom charges of unruly behavior were raised — fairly at times, unjustly at others — on a recurring basis.
The very player who really should be past this sort of thing.
In his postgame comments, Babcock summed up the Kadri incident best. Admitting that he had not yet closely reviewed the late hit, the Leafs' commander-in-chief was careful with his words: "Bottom line is you've always got to be disciplined at all times. I think emotion is real important in the game, but it's got to be controlled".
In other words, Kadri's edge is a sure staple of Toronto's game — and it won't be going away any time soon. Nevertheless, his emotion must be channeled in a smarter manner. If Kadri truly wants to become a Selke candidate, then this must be the last time that he confronts the league's disciplinary arm.
(As per the NHL's Player Safety Twitter account, a hearing has been scheduled. Results are pending.)
For now, it's up to the Buds to translate the hard lessons of Thursday night into direct action. There's little doubt that the plausibility of Kadri's absence shall leave a void in the Leafs' lineup. Missed chances, by extension, add another dimension to the matter.
But with Saturday night comes the promise of redemptive possibilities. Now, more than ever before, is an opportunity for Tomas Plekanec — often despised by Brad Marchand — to assert his value in the Leafs' lineup. A win can fundamentally reshape the tone of the series. A loss will only add a whirlwind of pressure.
Expect the Buds to come out roaring. With or without Kadri, they'll have something to prove to the hockey world.
Next: NHL Power Rankings: 30 Best C of All-Time
For more from the NHL playoffs, make sure to follow FanSided and stay tuned to our NHL hub for all the latest news and results.