DraftKings Main MLB Picks April 14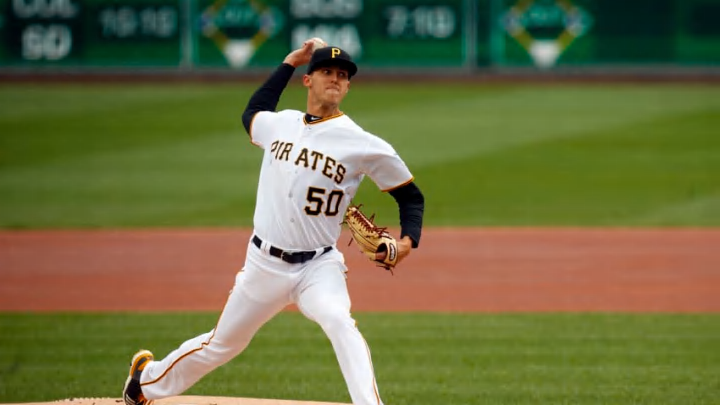 PITTSBURGH, PA - APRIL 02: Jameson Taillon /
SEATTLE, WA – MARCH 29: The United States National Anthem is performed before an opening day game between the Cleveland Indians and the Seattle Mariners at Safeco Field on March 29, 2018 in Seattle, Washington. (Photo by Stephen Brashear/Getty Images) /
DraftKings Main MLB Picks April 14: Scherzer is worth the price.
The main slate only has six games tonight since DraftKings exiled the 6:05 Eastern first pitch between the Phillies and Rays to showdown or pick em modes only. We also don't have the star power that the early pitchers have. There are still plenty of solid options though.
More from DraftKings
The only game really threatened by rain tonight is Kansas City. It will be raining in Seattle too, but Safeco has protection from rain. You have to in Seattle. Trust me on this one.
We will provide you with several options to build your lineup here. Want to spend all your money on pitchers and play bargain bats? We will highlight who is worth the money. Want to punt arms and pay up for the big boppers? We can help you with that as well, and everything in between!
These tips are based mostly on past performance. This is a nice tool for building a lineup, but should not be the only pieces of information you use. Stacking against a bad pitcher is always a good idea!
For you first time players, if you would like a free $20 in DraftKings dollars, use this link for the referral bonus with your first deposit of $5 or more! Then continue reading for tips on how to turn those DraftKings dollars into more!
Next: DraftKings Pitcher Plays
LOS ANGELES, CA – OCTOBER 31: Rich Hill #44 of the Los Angeles Dodgers reacts during the second inning against the Houston Astros game six of the 2017 World Series at Dodger Stadium on October 31, 2017 in Los Angeles, California. (Photo by Harry How/Getty Images) /
Top Tier:
Jameson Taillon ($12,000): Wow, talk about inflation! Taillon is easily the best pitcher on the night slate, and he gets to face a Marlins offense with very little star power. Taillon was dominant against Cincinnati in his last start, and looked really good in his first start against the Twins. I have no problem paying this for Taillon tonight. There is plenty of value to compensate, and he is going to be far better than any other pitcher on the slate except for maybe Hill.
Rich Hill ($9,700): Hill has held Arizona to a paltry .188 average in 48 at bats with just one homer and four runs to go with a whopping 16 strikeouts. The strikeout potential here puts Hill right up there with Taillon, but Taillon's very favorable matchup gives him the slight edge. It's closer than the price suggests though.
Middle Tier:
Jake Junis ($7,900): The Angels are a good team, but Junis has pitched 14 scoreless innings against he Tigers and Mariners so far this year. Not only that, but he has allowed just four hits while striking out nine! That kind of dominance wont continue against the Angels, but there is still potential with Junis pitching this well.
Garrett Richards ($7,100): Okay, whose idea was this? Even those of us that closely follow baseball could be confused by this. Of the 12 pitchers going tonight, three of them have last names beginning with Richard. Rookie Trevor Richards of the Marlins, Garrett Richards here, and Clayton Richard (hold the "s") of the Padres. Make sure you pick the right one to use and the other two to stack against. This is the one to use against the struggling Royals offense.
Bargain Pitchers:
Marco Gonzales ($6,500): Gonzales did a good job of shutting down Oakland late last year. Going against Kendall Graveman affords him a nice shot at a win. There is very little strikeout upside, and there is risk involved here. However, this is the only cheap option I would even consider tonight.
SAN FRANCISCO, CA – APRIL 10: Buster Posey #28 of the San Francisco Giants hits an rbi sacrifice fly scoring Austin Jackson #16 against the Arizona Diamondbacks in the bottom of the six inning at AT&T Park on April 10, 2018 in San Francisco, California. (Photo by Thearon W. Henderson/Getty Images) /
Top Tier:
Suprisingly, Eric Hosmer is the one that has hit Derek Holland hard. Hosmer is 7-16(.438) with a walk, a double, a homer, two runs scored, and two RBI against the veteran lefty. Christian Villanueva is worth a look here against a lefty as well.
Buster Posey is 12-29(.414) with three walks, two doubles, two homers, six runs scored, and nine RBI in his career against Richard. It's worth it to spend on a catcher here.
Middle Tier:
Mike Moustakas is 3-8 with two walks, a double, a run scored, and a RBI against Garrett Richards.
With Trevor Richards taking the hill for the Marlins, I like all of the Pirates left handed bats, and am considering a stack. It would start with Josh Bell. Colin Moran is in play as well, and they are both very affordable.
For those of you that don't believe in the early success of Jake Junis, there is a stack option here because the Angels peppered him last year. Albert Pujols is 2-3 with a homer and two RBI off of Junis.
Yasmani Grandal is 5-10 with four walks, a double, a homer, four runs scored, and two RBI already against Taijuan Walker. Cody Bellinger is 2-6, but has no counting stats.
Bargain Shoppers:
The Mets as a whole have hit Chase Anderson pretty hard. Adrian Gonzalez is 9-18 with five walks, two doubles, a homer, five runs scored, and three RBI. On top of that, he is one of the cheaper first base options out there!
Look out for the really cheap Evan Longoria against gopher baller Clayton Richard. At $3,200, this price looks low for Evan.
TEMPE, AZ – FEBRUARY 22: Ian Kinsler #3 of the Los Angeles Angels poses during Los Angeles Angels Photo Day at Tempe Diablo Stadium on February 22, 2018 in Tempe, Arizona. (Photo by Gregory Shamus/Getty Images) /
Top Tier:
Ian Kinsler is finally looking healthy, and is off to a fast start in L.A. Kinsler is also 2-6 with a solo homer and two runs scored in his career against Jake Junis.
Corey Seager is 4-9 with a homer, two runs scored, and four RBI in his career against Taijuan Walker.
Robinson Cano is 7-22(.318) with two walks, a triple, a homer, five runs scored, and three RBI in his career against Kendall Graveman. Sooner or later, Graveman will stop allowing the big inning. Seattle is only hitting .224 against him, but has nine runs in just 58 at bats. Cano's homer is the only long ball though.
Middle Tier:
Starlin Castro is one of only four current Marlins to face Jameson Taillon. Castro walked and hit a three run homer off of Taillon in his only game against him.
Bargain Shoppers:
Adam Frazier looks like a great option against Marlins rookie Trevor Richards.
Orlando Arcia is mired in a horrid slump, but his only at bat against Matt Harvey ended with a solo homer. Eric Sogard is 1-3 with two walks and a two run homer off of Harvey.
Next: Top Outfield Plays
NEW YORK, NY – APRIL 13: Yoenis Cespedes #52 of the New York Mets drives in a run with a single in the first inning against the Milwaukee Brewers during their game at Citi Field on April 13, 2018 in New York City. (Photo by Al Bello/Getty Images) /
Top Tier:
Yoenis Cespedes is 1-2 with a double and a run scored off of Chase Anderson. Juan Lagares is 3-5 with a solo homer, and he is just $2,700. Michael Conforto is only 1-5 against Anderson, but that hit is a two run homer.
A.J. Pollock has the only home run off of Rich Hill for Arizona, but it is also his only hit in ten at bats. There isn't enough upside for me to pay the high price attached to Pollock.
Justin Upton is only 1-3 against Jake Junis, but the hit is a three run homer.
More from FanSided
Middle Tier:
It feels unfair using the red hot Gregory Polanco against rookie Trevor Richards. It's not, so fire up Polanco and Corey Dickerson as two of your four Pirates!
Lorenzo Cain is 1-3 with two walks and two runs scored in his career against Matt Harvey. Hernan Perez is worth a look if he is in the lineup. Perez is 2-3 with a solo homer off of Harvey.
I'm really liking all of this cheap right handed power for the Padres against Derek Holland. Hunter Renfroe is off to a slow start, but has power like the best of them. Jose Pirela isn't much of a power guy, but he has some, and is off to a good start.
Bargain Shoppers:
If Gorkys Hernandez cracks the lineup here, I want him in mine as well. Hernandez is 7-11(.636) with a double and a run scored against Clayton Richard, and he only costs $2,400! Andrew McCutchen is worth a look if you have more capital. McCutchen is 4-10 with three walks, a homer, four runs scored, and three RBI against Richard in his career. Hunter Pence is only 4-20, but he has a homer and five RBI against Richard.
If Joc Pederson finds himself in the starting lineup, he could be a sneaky play against Taijuan Walker. Pederson is 5-11 with a walk, two doubles, three runs scored, and a RBI against Walker.
Next: Early DraftKings MLB Picks
Good luck out there, and check out our picks for FanDuel baseball, along with our PGA picks. Still in NBA mode? No worries, we have the NBA DFS covered for the playoffs as well!