Nashville Predators take 2-0 series lead in strong offensive showing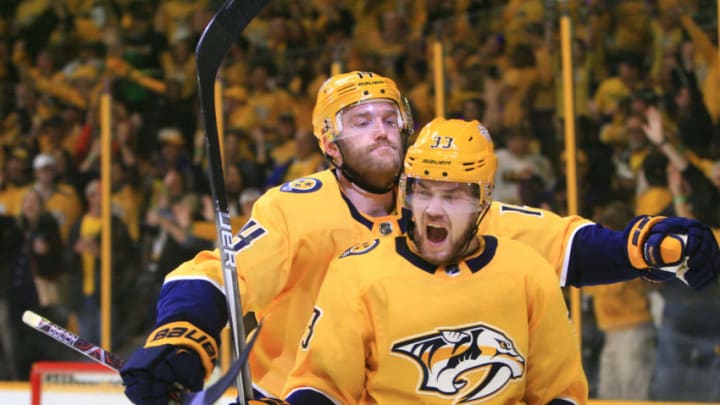 NASHVILLE, TN - APRIL 14: Nashville Predators defenseman Mattias Ekholm (14) embraces Nashville Predators right wing Viktor Arvidsson (33) following Arvidsson's second period goal during Game Two of Round One of the Stanley Cup Playoffs, held on April 14, 2018, at Bridgestone Arena in Nashville, Tennessee. (Photo by Danny Murphy/Icon Sportswire via Getty Images) /
There is a reason the Nashville Predators were the best team in the league this season. They showed it all on Saturday when they beat the Avalanche to go up 2-0 in their series.
Nashville stumbled out of the gate allowing a goal on their first shot against to Gabriel Bourque. It looked like this could have been Colorado's game and they could steal a win in Nashville. Near the end of the first period, the Predators showed signs of life and started to pick up their pace of play. It didn't take long once the second period started for Nashville to tie the game. After the Predators added their second goal to go up 2-1 they showed their dominance and took over.
One of the biggest advantages of the Predators is their depth they can roll all four lines throughout the game. This will pay major dividends as the playoffs get deeper and their top players stay fresh. Their depth was evident Saturday afternoon. They had five goals scored by five different players.
An area Nashville will need to improve on heading to Colorado will be their slow starts. A fast team like the Avalanche at home could bury a slow-starting team. If Nashville can start the game like they end the game, it will be a short series.
The Colorado Avalanche played a good game. They used their speed well, played decent defense and scored four goals. It is impossible to talk about the Avalanche without mentioning the play of Nikita Zadorov. He has been a one-man wrecking crew laying out big hits everywhere on the ice. Not only has he been physical he has contributed offensively. He added an assist Saturday to go along with his goal from game one.
As per usual this season, Nathan MacKinnon was a bright spot for the Avalanche as well. He picked up a goal, an assist and was flying all over the ice. The good news for the Avalanche is they have not gotten blown away either game. Now they are heading home for the next two games where they will be hoping to even the series.
Next: Which NHL mascot would you want in a bar fight?
Looking ahead to game three both teams have adjustments to make. Nashville needs to have a better start to their game. They will also need to work on staying aggressive even when they have a lead. The Predators let Colorado hang around too much on Saturday when they easily could have slammed the door shut. Colorado must stay out of the penalty box to get a win.
The Predators really gained their footing on the power play and they were able to take the game over. If the Avalanche can play discipline and limit penalties, they may be able to keep the Predators off their game.