MLB DFS Standouts: April 16th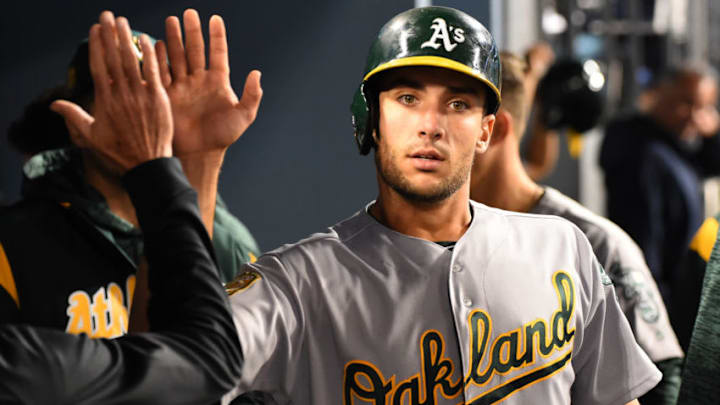 LOS ANGELES, CA - APRIL 11: Matt Olson /
MLB: LOS ANGELES, CA – APRIL 11: Matt Olson /
MLB DFS Standouts: April 16th
Tonight's MLB slate features 10 games, with Toronto (5.4), Oakland (4.7), New York (4.6), Tampa Bay (4.6), Chicago (4.5), and Milwaukee (4.5), holding the best projected team totals. With expensive pitchers like Jacob deGrom and Aaron Nola available, finding ways to save salary will be crucial on tonight's slate. We'll be aiming to highlight MLB DFS standouts from the perspective of batted ball data, line movement, batter splits, and stolen base upside.
MLB DFS Standouts: Batted Balls Stats
Matt Olson – DK $4000, FD $3500
Matt Olson has struggled at the plate in his last few appearances and his current price is a reflection of that. At $4000, he's $500 cheaper than he was to start the season. However, the discount may not be totally warranted, as his batted ball stats remain similar to his normal averages. In the last 15 days, his distance is up 13 feet, his exit velocity is up 1 MPH, and his hard hit percentage is down 3%, over his yearly average.
MLB Batter Splits
Oakland will host the White Soxs tonight, and outfielder, Matthew Joyce, may draw the lead offs spot as he'll be facing the righty, Reynaldo Lopez. Joyce is much better against right-handed pitching. He currently holds a .363 wOBA split (.114 better than when facing a lefty) and a .259 ISO split (.168 better than when facing a lefty).
Marcell Ozuna is another batter who could be in for a productive night given his matchup with right-handed pitcher, Tyler Chatwood. Ozuna, a righty, holds reverse splits, which should favor him in this spot. He currently holds a .374 wOBA split (.035 better than when facing a lefty) and a .231 ISO split (.105 better than when facing a lefty).
MLB: Line Movement
Tommy Pham – DK $3600 , FD $4500 – Dexter Fowler $4000, FD $3400
St. Louis will be on the road tonight to face off with their division rival, the Chicago Cubs. The Cubs opened this game as a -140 favorite, but now sit as only a -122 favorite. In addition to the movement on the Cardinals, the total has also increase by a half of a run, from 8 runs to 8.5 runs. The Cardinals are in the middle of the pack in terms of projected team totals, so they may have the reduced ownership that is appealing in tournaments.
Blake Snell should be a popular option tonight after coming off of a 10 strikeout performance against the Chicago White Sox. Tampa Bay opened this game as a -155 favorite, and they now sit as a -168 favorite. In addition to the movement on the side, the total has dropped by a half of a run, from 8.5 runs to 8 runs. Snell has a K/9 of 8.938 and given Texas' strikeout numbers against left-handed pitching, this may be a good spot to back the less expensive Blake Snell.
MLB Stolen Base Upside
Base runners in the PHI/ATL game
Base stealers such as: Cesar Hernandez, Ender Inciarte, and Ozzie Albies, should be in an advantageous position to swipe a bag, as Aaron Nola and Julio Tehran are susceptible to allowing stolen bases. Both pitchers are right-handed and both allowed over 20 stolen bases last year. Teheran allowed 26 stolen bases (2nd most) with a stolen base percentage of 81%. Nola allowed 21 stolen bases (4th most) with a stolen base percentage of 91%.
Best of luck in your MLB DFS contests and stay tuned to Fantasy CPR for all the latest DFS news and analysis!