Kings vs. Golden Knights live stream, Game 4: TV schedule, online and more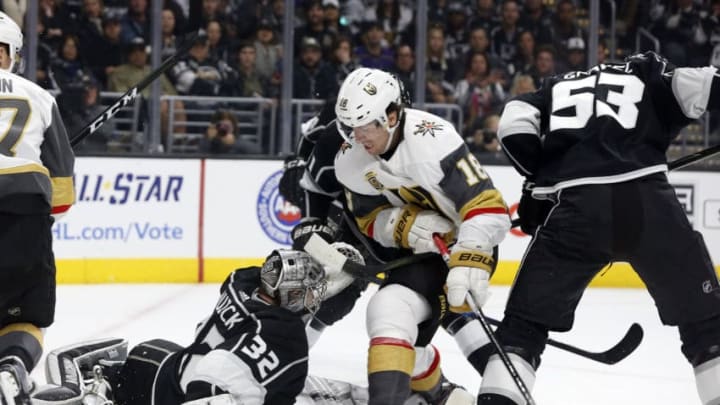 LOS ANGELES, CA - DECEMBER 28: Los Angeles Kings goalie Jonathan Quick (32) makes a save on a shot from Vegas Golden Knights right wing James Neal (18) during the game on December 28, 2017, at the Staples Center in Los Angeles, CA. (Photo by Adam Davis/Icon Sportswire via Getty Images) /
A preview of the Vegas Golden Knights and Los Angeles Kings Game 4, where Vegas looks to continue its improbable run with a first-round sweep of L.A.
Well, well. What have we here?
The Vegas Golden Knights have been the story of the NHL season. Despite the feel-good vibes, though, the Kings were a trendy pick to upset the Pacific Division champions in the first round. Their experience, starpower and good late-season form seemed like a tough combination for the league's newest team.
Now, the Golden Knights are one win away from a series sweep.
In a dramatic, chippy, riveting Game 3 at the Staples Center, Vegas tallied three third-period goals to erase the L.A. lead, held on for a 3-2 win and went up three games to none in their first-ever playoff series. Away from the desert and without the dreaded "Vegas flu" to hinder them, many predicted a bounce-back performance for John Stevens' men.
But the L.A. offense sputtered again, and Jonathan Quick faltered in the final frame. Can L.A. avoid the embarrassment of a first-round sweep to the NHL's newest franchise?
They'll need to find some scoring, and fast. Quick has been absolutely stellar so far this series, but he's getting precious little help from his teammates. Hart Trophy candidate Anze Kopitar finally found the back of the net in the waning moments of Game 3—he delivered in a crucial moment, though it wasn't enough.
All 60 minutes of Game 4 will be a crucial moment. Can Kopitar and the Kings come through?
Vegas Golden Knights vs. Los Angeles Kings
Date: Tuesday, April 17
Time: 10:30 p.m. ET
Location: Staples Center, Los Angeles
TV: NBCSN
Live stream: Fubo TV. Sign up now for a free trial.
If anything, L.A.-Vegas was considered one of the best matchups of the first round. Whoever the prognosticators picked, they usually had the series going six or seven games. But with Vegas' momentum, I'm not betting against them in LA on Tuesday.
Scoring has been at a premium all series long, with Marc-Andre Fleury matching Quick save for save. One would have thought a low-scoring series would favor the Kings, who fielded one of the league's best defensive units all season long. But the speedy, flashy Knights have shown they can gut out victories when necessary.
Heck, their leading scorer William Karlsson has managed just one point in three games! Vegas is rolling out line after competitive line, and the Kings can't seem to keep up. Game 3 was a better showing from them, but I think they know which way the wind is blowing here.
Next: 30 best NHL goaltenders of all time
As the NBC broadcasters mentioned, Drew Doughty said in December there was "no way" Vegas would be the better team by the end of the season. At this point, it looks like Doughty spoke too soon. Give me Vegas on Tuesday, 3-1.
For more from the NHL playoffs, make sure to follow FanSided and stay tuned to our NHL hub for all the latest news and results.