The Vegas Golden Knights are hosting a pool party tonight while you're stuck in the snow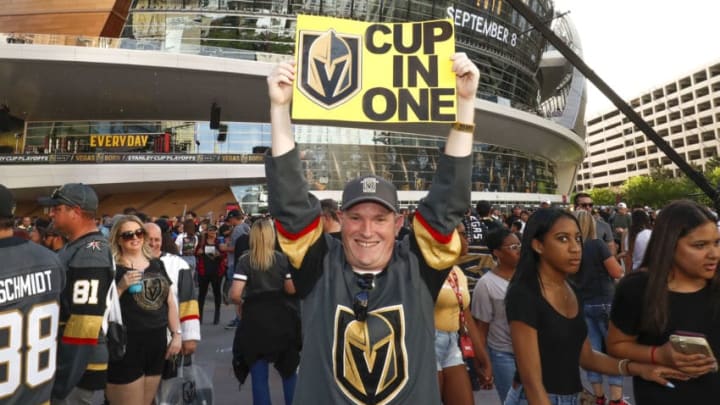 LAS VEGAS, NV - APRIL 11: A fan holds up a sign outside of T-Mobile Arena prior to Game One of the Western Conference First Round during the 2018 NHL Stanley Cup Playoffs between the Los Angeles Kings and the Vegas Golden Knights on April 11, 2018 in Las Vegas, Nevada. (Photo by Jeff Speer/NHLI via Getty Images) /
If you are in the greater Las Vegas area tonight, do yourself a favor and watch the game poolside at Mandalay Bay.
Most of us hockey fans are currently watching the NHL playoffs in our respective houses, bundled up with extra layers, under blankets, with the heat turned up and the fireplace on, etc. You get it. We're in the midst of the worst "spring" we've seen in a long time. In fact, it's insulting to winter to call this spring.
The recent snow and ice storms that are pummeling Canada and the northern United States have us in a perplexed state, wondering why we feel the sudden urge to set up our Christmas trees. We're in the middle of winter. Again. Here's a tweet that accurately sums up what is going on:
While his face shows joy, inside he feels sadness and despair like the rest of us. He's left wondering why the hell there is a sheet of ice over his car this late in April.
If you are in Las Vegas, you don't have these problems. You haven't seen snow this year. You are probably pretty happy with your life, and the only problem you currently have is figuring out which swimsuit/jersey combination to wear to the Mandalay Bay pool for tonight's hockey game. Yes, you read that right.
Here we are, looking like Jon Snow and his buddies traveling north of the wall to battle White Walkers in blizzard conditions, while Vegas gets to hang out poolside, drink-in-hand, watching playoff hockey. The last time I was this consumed by jealousy I was looking at the first kid who brought a Tamagotchi to school in grade four, thinking, I need this in my life.
If you are still unsure about attending the game poolside at a resort in Vegas, here's what Mandalay Bay has to offer:
"Mandalay Bay Resort and Casino is set on 120 lush acres featuring Mandalay Bay Beach, a tropical pool paradise with real sand. The Mandalay Bay Events Center, award-winning restaurants, exhilarating entertainment, unique shopping, Shark Reef Aquarium and the recently expanded 2-million-square-foot Mandalay Bay Convention Center combine to make Mandalay Bay a distinctive Las Vegas resort destination."
The only thing Canada has to offer right now is frozen hell. We haven't seen "real sand" in what feels like years. The only thing "exhilarating" up here is trying not to put your car in the ditch on your way to work. We can't offer a "Shark Reef Aquarium," but you can probably find a lot of pissed-off birds wondering why in god's name they flew back North so early.
Two birds perch on a snow-covered branch of a tree during a storm in Washington, DC, March 21, 2018.The fourth Noreaster in less than three weeks, Winter Storm Toby, is throwing a fresh blanket of snow just as spring begins. The storm caused heavy damaged in the south with hail, high winds and tornadoes. / AFP PHOTO / David GANNON (Photo credit should read DAVID GANNON/AFP/Getty Images) /
"Gee, Michael. If only you'd listened to me when I said that we should consider waiting a week or two before flying back."
"Linda, I've already apologized. You were right, okay? Now help me shovel this tree branch."
Vegas, we envy you. Enjoy your hot weather, your poolside game, your shark tank and most importantly, your unstoppable hockey team. The Knights are up 3-0 on the Los Angeles Kings and they look to close out the series tonight. Here's to hoping that Mandalay Bay pool party has one more reason to celebrate.
Look for more stellar play tonight from Marc-Andre Fleury, "The Real Deal" James Neal and the rest of the Knights. At this point, you're insane to bet against this team.
Next: 20 hockey smiles that prove teeth are overrated
The Golden Knights and Kings play game three of their series tonight at 10:30 p.m. ET (7:30 p.m. poolside in Vegas). Here are the details if you are lucky enough to attend.
For more from the NHL playoffs, make sure to follow FanSided and stay tuned to our NHL hub for all the latest news and results.