Avalanche vs. Predators live stream, Game 4: TV schedule, online and more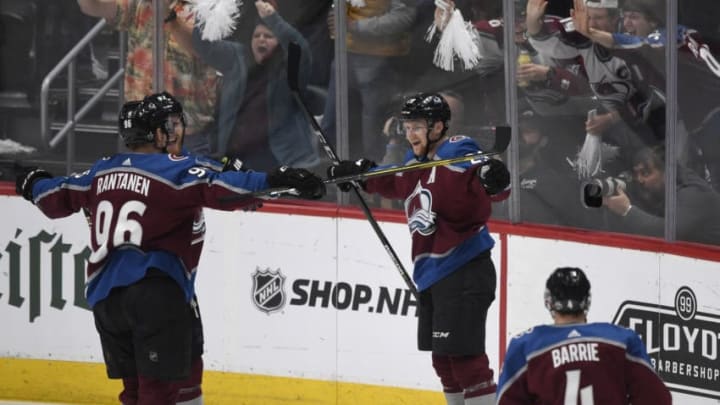 DENVER, CO - APRIL 16: Colorado Avalanche center Nathan MacKinnon /
The Colorado Avalanche will head into Game 4 on Wednesday night with a chance to tie the series at home. How will the Nashville Predators handle the sudden pressure? Check below for full TV listings, times and where to stream the game.
Before Game 3 came and went between the Colorado Avalanche and the Nashville Predators, we detailed key areas that the Avalanche would have to focus on to keep things interesting. For one, their defense had to be much better than it was in Game 2. Aside from an expected onslaught by Nashville in the third on Monday night, the Avs were solid. They held Filip Forsberg in check, Kyle Turris remained a non-factor and they didn't allow the number of odd man chances we've been getting accustomed to through the first couple.
Just as well, goaltender Jonathan Bernier had to be efficient and make key saves when his team needed them the most. While the Predators put three behind him, there was nothing egregious on his part that should force the Avalanche to lose faith in his ability for Game 4. In fact, their confidence and his should be restored. After a few poor outings, Bernier came back with 29 saves on 32 shots. Though it wasn't a dazzling effort, it was enough to allow his club's offense to keep their foot on the gas and drive this win home.
Speaking of offense, Gabriel Landeskog and Mikko Rantanen had their best performances so far. Nathan MacKinnon will often garner the headlines (he had two goals), but Landeskog and Rantanen tallying five points brought this team one step closer to knotted up. That has to continue on Wednesday.
Colorado Avalanche vs. Nashville Predators
Date: Wednesday, April 18
Time: 10:00 p.m. EST
Location: Pepsi Center, Colorado
TV: NBCSN
Live Stream: Fubo.TV. Sign up now for a free trial.
Now the ball rolls to Nashville. How are they going to respond after being dumped 5-3? For one, goalie Pekka Rinne certainly has to be better. On Monday night, he gave up four goals on 15 shots and was pulled for Juuse Saros. Saros played really well in stopping all 18 he faced, but the bottom line is that Rinne is the guy who will make or break the Predators' chances at a Cup. He was marvelous in Game 1, but has posted a sub-.900 save percentage in back to back tilts while surrendering 10 in three nights. He's a Vezina candidate and one of the best in the NHL, so we expect he'll get back on track. But it has to be soon.
Finally, the Predators need to remain calm. Game 3 slipped away fairly early for Nashville. They were down 4-0 in a blink and began taking silly penalties out of frustration. Particularly P.K. Subban, who seemed intent on turning Nathan MacKinnon into a punching bag. In total, the Preds took 16 minutes in penalties. Colorado didn't capitalize on their power play opportunities, but Nashville shouldn't expect to be so careless and continue to get away with it.
For them, cooler heads absolutely have to prevail. They need to remember how they got here, why they were the best team in the NHL, and that they're still leading this series. With that said, they had chances at the end of Game 3 to make a comeback, chances they may not have found had Colorado scored on the man advantage. Don't lose the game because of frustration.
Players to watch
Colorado: Gabriel Landeskog
Landeskog was dynamite in Game 3. His goal and two assists was the fuel Colorado needed to keep this series close. Too often he was absent on the road in Nashville, and if the Avalanche want to take Game 4, he'll have to be just as good as he was on Monday. Look for the Predators to make a concerted effort to keep him and Rantanen in check on Wednesday.
Nashville: Austin Watson
Watson is having a great series for these Predators. He tallied another goal in Game 3, and he has one in each so far to go with four points. You know when this dude is on the ice. For Nashville to pick up a win in Denver, Watson will need to be once again be a spark plug. They can't expect him to carry the offense through six or seven games, as guys like Kyle Turris continue to wade through muddy waters, but his effort and overall play is pulling them along at the moment. He might have to keep pulling until others find a groove.
Next: 30 best NHL goaltenders of all time
For more from the NHL playoffs, make sure to follow FanSided and stay tuned to our NHL hub for all the latest news and results.