Adrien Broner down to last chance against Jessie Vargas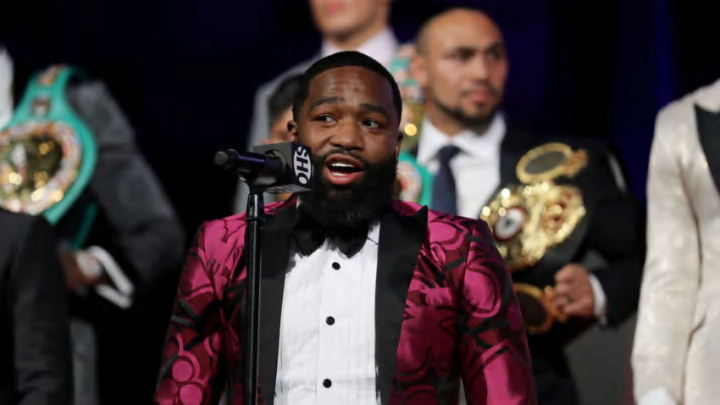 NEW YORK, NY - JANUARY 24: Adrien Broner addresses the media during the 2018 Showtime Championship Boxing Event at Cipriani 42nd Street on January 24, 2018 in New York City. (Photo by Abbie Parr/Getty Images) /
Five years ago, Adrien Broner was a rising star who looked like the next Floyd Mayweather Jr. Today, he has three losses on his record and badly needs a victory.
In 2012, Adrien Broner was on top of the world. This is the year that Broner won the WBC world lightweight title. He dominated Antonio DeMarco and stopped him in the eighth. Broner looked unstoppable. That was a long time ago, and things have changed.
He followed his victory over DeMarco with an equally impressive TKO win over Gavin Rees. Broner looked so good that I wrote a piece for Bleacher Report speculating that he could rise to the same level of fame and skill as Floyd Mayweather Jr. I was wrong.
In June of 2013, Broner struggled with Paulie Malignaggi. He won a split decision but looked very vulnerable in the process. Broner started to believe the hype that I and numerous boxing writers heaped on him. As his praises increased, his progression receded.
Broner believed he was Mayweather. He looked up to Mayweather and referred to him as big brother. Broner learned how to be flashy and arrogant from Mayweather, but he didn't follow his mantra of hard work and dedication.
As much trash talk as Mayweather has dished out over the years, his work in the gym never ceased. The same can't be said for Broner.
Reality came crashing down on Broner in December of 2013 in the form of Marcos Maidana. Broner didn't take Maidana seriously. Instead, he tried to publicize his "About Billions" tagline and promotional company. His ego grew out of control, and it cost him dearly.
Maidana dropped Broner in rounds two and eight. He also gave Broner the worst beating of his life. AB lost a one-sided decision and was embarrassed in front of the entire world.
Broner claimed that he learned from his mistakes against Maidana and strung together three consecutive victories. He won all of the bouts by unanimous decision. Broner looked good at times, but he didn't look like the same boxer who savagely beat down DeMarco several years prior.
Broner tasted defeat again against Shawn Porter in 2015 and most recently against Mikey Garcia in 2017. After both losses, he claimed that he wasn't focused and that we didn't see the best he had to offer.
Currently, Broner has a record of 33-3, with 24 knockouts. He's fighting Jessie Vargas on Saturday, April 21. Broner vs. Vargas is the main event, but if Broner loses, his days as a headliner will likely be over.
He's only 28, but his act has gotten old. If Broner loses to Vargas, it will be the first time in his career where he's logged back-to-back losses. He has looked great in the gym, so there should be no excuses this time around.
Vargas is no slouch. His record is 28-2 with 10 KOs. He's also 28 years old and is a three-time world champion. He lacks punching power, but he's a skilled boxer. His size might give Broner problems. He is 5-foot-10, which makes him four inches taller than Broner.
In order to win, Broner needs to be the more active boxer. This has been an issue for Broner in the past. According to CompuBox (via The Sweet Science), Broner only landed 88 punches in his loss to Shawn Porter. In comparison, Vargas landed 104 punches in his loss to Manny Pacquiao in 2016 according to CompuBox (via Bleacher Report).
If Vargas can land 104 punches against Pacquiao, he will likely land significantly more on Broner. Broner needs to let his hands go to win. If he doesn't, he will have another unimpressive loss on his record.
Next: Canelo-GGG rematch off after Alvarez withdraws
Sometimes fighters do great things when they are desperate. Broner is desperate now, or at least he should be. If he isn't, then his career might end on Saturday night.