Yves Edwards concerned about Frankie Edgar's quick turnaround at UFC Atlantic City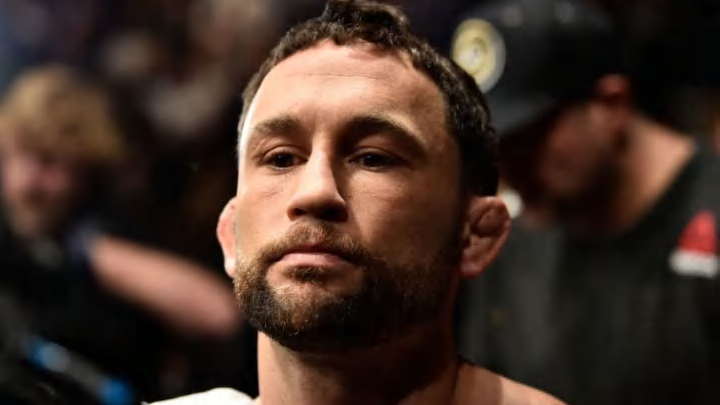 LAS VEGAS, NV - MARCH 03: Frankie Edgar prepares to fight Brian Ortega in their featherweight bout during the UFC 222 event inside T-Mobile Arena on March 3, 2018 in Las Vegas, Nevada. (Photo by Jeff Bottari/Zuffa LLC/Zuffa LLC via Getty Images) /
Add Yves Edwards to the list of people who believe Frankie Edgar is coming back too quickly as he breaks down Saturday night's co-main event in Atlantic City.
The UFC returns to action this weekend in Atlantic City for UFC Fight Night 128. In the night's co-main event, fans will witness a featherweight scrap between a pair of UFC veterans carrying a variety story lines into the Octagon.
Saturday night's card, which takes place at Boardwalk Hall, will feature New Jersey's own Frankie Edgar rematching Cub Swanson in front of his hometown crowd. In their initial fight, Edgar finished Swason with a thrilling fifth-round submission in November 2014.
One of the biggest topics of discussion heading into the fight is the quick turnaround of 'The Answer,' who was finished for the first time in his career last month against Brian Ortega at UFC 222. Since then, both fans and pundits have expressed concern regarding Edgar returning so quickly to the Octagon after such a violent finish.
Related Story: Top 200 UFC fighters of all-time
Among those names are FS1 broadcaster and UFC veteran Yves Edwards.
"It definitely concerns me," Edwards told FanSided MMA. "I think it's too soon, but I think it's too soon for anybody. If anybody can do this, Frankie Edgar can. But, the problem with that is when you get knocked out, you're supposed to suffer a suspension and that could range from 90-180 days depending on the severity of the knockout.
"Since his last fight, it was less than that and he's been taking shots at the gym while preparing for this fight. You usually don't get knocked out in practice because of all the padding, plus you're going with your teammates and your friends and they're not trying to kill you."
Edwards, who will be joined in studio by Megan Olivi and Jimmy Smith on Saturday night, is a big believer in putting fighter safety at the forefront in the sport of MMA. However, the pen went to paper for both guys and Edgar's quick turnaround could provide some openings for the 34-year-old Swanson.
"It scares me in the sense that there's a lot of information about head trauma, the fact that you're getting punched in the head and with a guy like Cub Swanson, that's his best opportunity to win this fight," continued Edwards. "He has to win by knockout against Frankie Edgar, or he has to beat him up for the entire three rounds and stop the takedown. It's a concern for Frankie's health, but this fight should be fun, should be exciting like the first one. I'm fighter first and fighter's health first. I'm looking forward to this fight but I'm a little shocked that Frankie is able to step back in so soon."
Related Story: 10 MMA fights that have to happen in 2018
While the quick return by Edgar has been a focus, there is a lot on the storyline side of things when it comes to Swanson, who recently re-signed with the UFC following his most recent fight against, coincidentally enough, Ortega in December.
Edwards believes, despite Edgar winning their first matchup rather convincingly a little over three years ago, there are a lot of motivating factors for Swanson.
"The fact that he has lost to Frankie Edgar, that's something he's definitely going to want to get back," Edwards said of Swanson. "Every fighter knows that when you're fighting someone you've lost to before, you have that experience against him, you know what his strengths are versus his. You also know what his strengths are versus yours because he knows everything Frankie used against him to win that fight. I'm sure Cub has been in the gym working on things.
"One thing I remember about the first fight was that Frankie was forcing the closed guard on Cub and he had a hard time getting back to his feet and pushing away to get some space. He's been working with TJ Dillashaw so you know his conditioning is going to be better and Cub's always had good conditioning anyway. But I think Frankie is the king of that. He knows about the conditioning, he has to get off of his back and he knows that now. We'll see how he's sured those things up."
Related Story: 6 most memorable Conor McGregor quotes of all-time
The featherweight division has had a fresh coat of paint put on it since Conor McGregor was stripped of the title, which is now held by Max Holloway. Ortega is the clear-cut No.1 contender in the division. From there, a great performance by either fighter on Saturday night could put them in a prime position to be next in line, even coming off of losses in their previous fights.
In the opinion of Yves Edwards, a win could mean more in the ascension of the 145-pound divisional ladder for one over the other.
"I think it's a big positive if Cub Swanson wins this fight," Edwards said. "For Frankie, I just think it keeps him level with where he's at. Frankie's putting more risk out there because, first, he won the first fight, and second to that is the fact that he just got knocked out for the very first time."