MLB DFS Picks and Pivots – Saturday April 21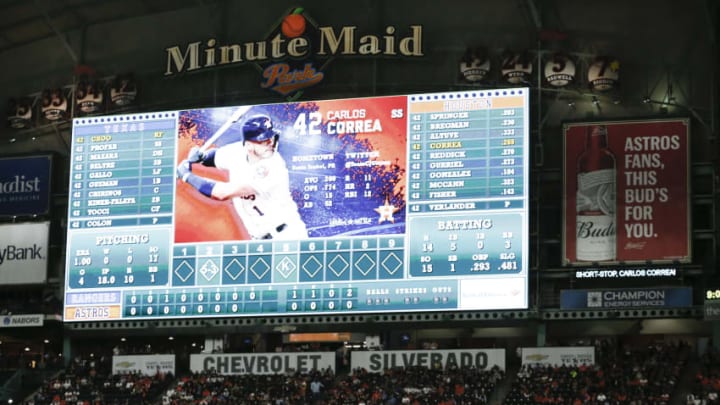 HOUSTON, TX - APRIL 15: Bartolo Colon /
NEW YORK, NY – APRIL 16: Aaron Judge #99 of the New York Yankees rounds the bases after he hit a solo home run in the second inning against the Miami Marlins at Yankee Stadium on April 16, 2018 in the Bronx borough of New York City. (Photo by Elsa/Getty Images) MLB DFS /
Welcome to the Saturday edition of MLB DFS Picks and Pivots, a fantasy baseball column focused on helping you find the best core lineup for this slate of DFS action!
For those of you finding us for the first time, the concept behind MLB DFS Picks and Pivots is to give you a first look at the day's MLB DFS slate, including our top picks, plays and pivots, using FantasyDraft pricing as a reference, to help you build your best line-up and win big
Picks and Pivots is not a simple "best plays" column but rather it focuses on slate strategy and roster construction to help give you insight into how I will look to play this slate.
Friday's MLB DFS slate was dominated by bats which considering it was a night with Max, Kershaw, Verlander and Thor on the hill really shows you how great the hitting performances were on this night. The Cubs bats exploded for 16 runs in Coors Field and the Astros went off for a 10 spot against James Shields but it took some cheap arms like my man Matt Koch or a near perfect Tyson Ross to give you the salary room to pay for all these bats and help you take home some big time pay days!
Picks and Pivots is not a simple "best plays" column but rather it focuses on slate strategy and roster construction to help give you insight into how I will look to play this slate. The goal of this article is to dig through the slate, highlight our top plays and help you identify the best slate strategy across your MLB DFS line-ups.
If you are looking to try out a new DFS site, head on over to FantasyDraft and enter my referral code for 10% rake back on your entries.
As always, we will look to update our final lineup thoughts throughout the day on our twitter account @FantasyCPR so make sure to give us a follow for all the late breaking lineup news.
Without further ado, let's get into today's slate!
MLB DFS /
MLB DFS – Early Slate Pitching
The five game early slate lacks a whole lot of top-tier pitching and truthfully there are more bad options I want to attack than actually roster. With that in mind there is every reason to simply eat the chalk and pay up for the top arm in Carlos Martinez ($21.1K) who is a massive -220 home favorite against a Reds team he just faced in Cincinnati and struck out 11 batters over 7 innings of work. The Reds offense is a mess right now as they have the lowest ISO versus RHP, the third lowest wOBA and strike out at the 12th highest rate so it is not surprising to see them with the lowest projected run total on the board for the early slate. C-Mart is the cash game staple and the best SP1 on this slate and honestly it is not overly close.
The SP2 discussion is a bit more wide open but the price on Aaron Nola ($20.5K) is a non-starter for me and I am not overly interested in taking a guy like Marcus Stroman in Yankee Stadium. That really leaves me with two high strikeout arms that I am considering with Mike Clevinger ($19.7K) and Danny Duffy ($15.9K) who are both on the road facing the Orioles and Tigers respectively.
Over the last two years, Clevinger has the highest K rate of any arm on the entire slate (26.5%) and will take on an Orioles team that strikes out at the highest rate in baseball this year against RHP (27.7%). As we saw last night with Trevor Bauer, the strikeout upside is there but so is the risk as the Orioles line-up is full of pop that makes Clevinger more of a GPP only pivot play for me. The one red flag here is Clevinger's K rate is down to only 20% this season so far, which is a steep drop from his 27% rate last year and his swinging strike rate is down over 3% so there is not only considerable risk with his opponent but also with his form to date this season that leaves him as a secondary option in my player pool.
Duffy meanwhile is someone I was looking to attack initially this season as his velocity was down and he looked significantly more hittable but the last two games we have seen a totally different pitcher on the mound. Duffy's fastball velocity was sitting at 91-92 in his first two starts but his average velocity the last two starts has spiked significantly with 92.9 and 93.6 against the Mariners and Blue Jays and not shockingly the K rate climbed too with a 30% and 30.6% K rate in those outings.
The sample size may be small early in the year with only 85 plate appearances but it is worth nothing that in 2018 the Tigers are striking out at the third highest rate against LHP (29.4%) so I would much rather drop down to Duffy as my SP2 where I can not only get significant salary savings but also chase what I believe to be some of the biggest K upside on the slate.
One note – Duffy is pitching on only three days rest after throwing 100 pitches in his last outing so there is some risk here. Jordan Montgomery ($14.7K) is a viable pivot with Smoak being out of the line-up for Toronto as a -153 home favorite against a Toronto team that has seen their projected run total drop to 3.8 since the relase of their line-up.
BALTIMORE, MD – APRIL 20: Jason Kipnis /
MLB DFS – Early Slate Hitting:
Do you play for the Indians? Are you in today's line-up? If the answer to those questions is yes than welcome to my stack against Chris Tillman today friends. There is a reason Vegas has the Indians with  5.2 team total which is the highest on the slate (and may not be high enough) as Tillman is the most attackable pitcher on this slate with some simply brutal early season numbers.
So far this year Tillman has a 4.6% K rate and a 15.4% walk rate (that is not the ideal ratio FYI) with a 37.7% hard contact rate and has given up 10 walks and 15 ER in only 11 innings of work so far. last season the metrics do not get any better for old Chris as he gave up 1.63 HR/9 to LHB and 2.82 HR/9 to RHB so this is a spot especially on FantasyDraft where I think you take advantage of the ability to roster up to 6 hitters from one team and load up on the Indians.
I think you can make the case for every single batter in this line-up today and a 1-6 stack of Francisco Lindor, Jason Kipnis, Jose Ramirez, Edwin Encarnacion and Yonder Alonso is absolutely in play but as we saw with the Yankees stack last night do not be afraid to look at the bottom of the order and even work a wrap-around stack with someone like Bradley Zimmer in the 9 hole as a way to differentiate yourself from others who go this chalky, albeit correct route on the early slate.
My goal is to go heavy on the Indians stack here which means for my remaining roster spots I am looking at cheaper one-off plays and after watching the Yankees and Blue Jays slug it out last night I see no reason not to go back to the well here with temperatures creeping up to 60 degrees today in NY with winds blowing out to RF at 10+ MPH.
I do not want to necessarily stack against an extreme ground ball arm like Marcus Stroman but I have no issue targeting him with one-offs in this powerful line-up for the Yankees with my favorite salary saver being Aaron Hicks ($6.7K) who profiles quite well against Stroman. Over the 2017-2018 seasons, Hicks has a .213 ISO versus RHP and with his 45% FB rate and 31% hard contact rate he looks like someone who can combat the extreme ground ball tendencies of Stroman.
In the same price point, you can look to a power one-off like Chris Davis ($6.3K) and try to take advantage of Mike Clevinger's 1.6 HR/9 rate to LHB last season. Davis as a team leading .229 ISO versus RHP over the last two seasons and Clevinger relies on heavily on his fastball (nearly 53% of the time) at around 93MPH which is a pitch type Davis has destroyed in recent years with a .277 ISO and 41% hard contact rate. If you are looking for a one-off play with multi-homerun upside, than Davis is your boom or bust play in this price range.
MLB DFS /
MLB DFS Sample Line-Up and Slate Overview:
The line-up below is meant to be illustrative only to further back-up the logic laid out in previous slides and is not meant to be an optimal line-up or a roster you simply plug and play on your own! 
More from FanSided
SP: Carlos Martinez ($21.1K)
SP: Danny Duffy ($15.9K)
IF: Edwin Encarnacion ($9.3K)
IF: Jose Ramirez ($9.2K)
IF: Francisco Lindor ($9.1K)
OF: Michael Brantley ($7.3K)
OF: Bradley Zimmer ($6.8K)
OF: Chris Davis ($6.3K)
Util: Aaron Hicks ($6.7K)
Util: Yonder Alonso ($8.3K)
Slate Overview: I am going to try to simplify this early slate as best as I can – Carlos Martinez is the best arm on the slate and the Indians against Tillman are the top stack. It may be chalky but these are the right plays and I think you can find small ways to differentiate like using Bradley Zimmer or other lower order bats in the Indians line-up as part of your stack and look for one-offs with substantial power upside like Davis/Hicks to try to separate yourself from the field.
HOUSTON, TX – APRIL 15: Bartolo Colon /
MLB DFS – Main Slate Overview
Holy pitching slate! Listen if you want to play Chris Sale, Jacob deGrom or Stephen Strasburg you already know those guys are studs and there is a reason they are priced where they are today as they have the three highest K rates on the board. The challenge much like last night with Max/Kershaw is that we have some high-octane offenses against bad pitchers we are going to want exposure to so there is merit in dropping down when picking our arms tonight.
There are two arms in the mid-range that I believe are viable targets that not only have upside but also give you the salary savings ti pay up for some of the big bats today. After Matt Koch was able to navigate a weak Padres line-up last night, I think we can go back to this match-up with a much more talented arm in Zack Godley ($16.9K) who had a 26.3% K rate last season and we saw that upside recently with a 9 K performance against the Giants. The early season return on Godley have been mixed with two solid outings (both 7 innings with 1 ER or less) mixed in with a 6 walk, 5 ER beating against the Dodgers last time out but let's be clear – this Padres line-up is nowhere near as scary as the Dodgers. Although the Padres do have Wil Myers back in the line-up this is still a team that strikes out at a 27.4% clip against RHP which is second most in all of baseball. Godley is a huge -175 favorite and with Clayton Richard on the other side of this game, I expect the Arizona bats to bounce back tonight and give Godley some run support.
Speaking of solid home favorites against weak offenses – Garrett Richards ($15.6K) is another strong mid tier option as a -200 home favorite with a solid K rate (27.3%) so it checks basically all the same boxes as Godley. The Giants are striking out at a 24% clip versus RHP this season which is 12th most in all of baseball so there is more strikeout upside in San Francisco than maybe we are used to in previous years and by pairing Richards/Godley together I believe you have a safe cash game floor with K upside that will keep you competing with the bigger arms on the slate with the hope your bigger dollar bats make the difference.
Offense wise we have a game in Coors Field and after the Cubs went off last night I expect the masses to flock this way once again. You can always make the case for the fade of the Cubs bats against LHP Tyler Anderson, especially with the lefties like Rizzo/Schwarber but the righties are all worthwhile investments. Anderson is a good pitcher but he does give up HR to RHB as evidenced bu his career 1.38 HR/9 rate but he is also a 50% ground ball pitcher at home versus righties so he is not an all-in gas can as he has been able to limit hard contact to 29% in his career at Coors. Kris Bryant and Javier Baez are both elite plays here and if Albert Almora ($5.9K) is hitting at the top of the line-up again this price point on FantasyDraft is a free square. The Cubs put up 16 runs last night and are loaded with right-handed bats so the slate leading run total of 5.2 is warranted and by dropping down at SP, you have the ability to load up here tonight.
The Cubs bats are the chalk but they are not my favorite spot to spend up on as we get the Angels right-handed heavy team against Derek Holland, a pitcher who has given up a 45% hard contact rate and 8 ER in only 11 IP versus RHB. Mike Trout and Justin Upton both have insane numbers against LHP and with so many high-end arms and the Coors bats I wonder if they get overlooked here tonight.
Lastly, as a one-off – Paul Goldschmidt ($8.4K) at home versus a soft tossing lefty in Clayton Richard feels like a lock and load – I do not care how cold the Arizona offense is – this is one of the best individual plays on the board as Goldy is a mediocre 10 for 27 against Richard in his career (note the sarcasm).
MLB DFS /
MLB DFS Sample Line-Up and Slate Overview:
The line-up below is meant to be illustrative only to further back-up the logic laid out in previous slides and is not meant to be an optimal line-up or a roster you simply plug and play on your own! 
More from FanSided
SP: Zack Godley ($16.9K)
SP: Garrett richards ($15.6K)
IF: Paul Goldschmidt ($8.4K)
IF: Kris Bryant ($10.1K)
IF: Javier Baez ($9.2K)
OF: Mike Trout ($11.1K)
OF: Justin Upton ($9K)
OF: Albert Almora ($5.9K)
Util: Willson Contreras ($8K)
Util: Domingo Santana ($5.8K)
Slate Overview: Another slate with top end pitching and elite hitting spots so you are going to have to choose. Personally I think there are enough solid mid-range pitching options that allow you to stack up the Cubs and other top bats that I think that is the route I will likely go at first glance but stay tuned to my Twitter @2LockSports and I will update my thoughts as the day goes on!
Best of luck in your MLB DFS contests across FantasyDraft, FanDuel and DraftKings and stay tuned to Fantasy CPR for all the latest DFS news and analysis!