Greek Freak becomes a God, Bucks even series with Celtics 2-2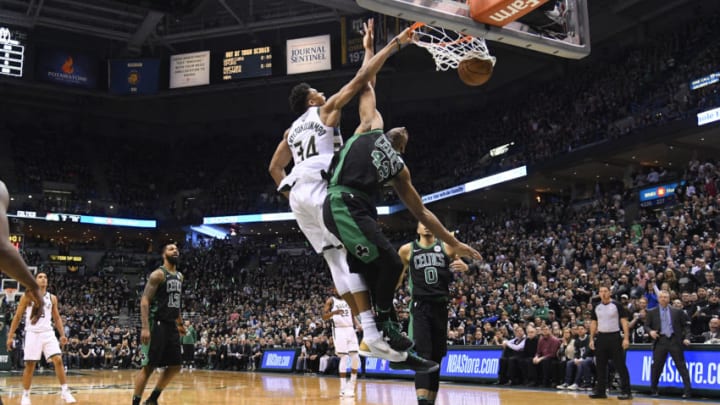 Milwaukee, WI - APRIL 22: Giannis Antetokounmpo /
If you're not having fun watching Boston-Milwaukee, then you need to start paying closer attention after Game 4.
Frenzied is a way to describe the series between the Milwaukee Bucks and Boston Celtics, but it doesn't do the drama justice. Through four games, we're tied dead even as 2-2 and there's still no way to predict which way the series will break.
If Game 4 is any indication, the Bucks are going to be a hard out; whether that be for Boston or beyond. The way Giannis Antetokounmpo is playing right now, Milwaukee is a scary sight and are right back in their series against Boston with a tremendous grip on the momentum heading into Game 5.
Things head back to Boston, which could dull the razor sharp edge Milwaukee has, but the Bucks are buzzing in a big way.
Before we start breaking down Game 5, let's take a look back and appreciate how bananas Game 4 was.
Takeaways
Milwaukee is so much fun. I'm old enough to remember when we all thought of the Bucks the way we look at Philadelphia (kinda). While the Sixers could very well be the best team in the Eastern Conference right now, thanks in large part to how much fun they are to watch, the Bucks deserve some credit too. Everyone is swooning over the 76ers — rightfully so — but there are so many fun elements to the Bucks that we should all be appreciating.
Beyond Giannis Antetokounmpo turning it up to another level (and killing a man on national television), Milwaukee has stormed back in this series thanks to the rest of the cast. The resurrection of Eric Bledsoe has been key, Jabari Parker is utilizing floor space, and even Thon Maker is getting his. Kris Middelton remains criminally underappreciated, and Malcolm Brogdon is weirdly an afterthought at times. But when they all turn it on at the same time, and give us a game like we saw on Sunday, there's no other way to feel about the Bucks than thoroughly entertained.
 More Playoff Jaylen Brown, please. If there's been a revelation this year, it's that Jaylen Brown is the future in Boston. Kyrie Irving and Gordon Hayward going down with injuries should have crippled this team, but Brown has lifted them up and put them on his back like a veteran far beyond his years. Playoff Jaylen is more than just his production in the series — or in Game 4 — it's about how he's keeping the Celtics afloat. From draping his arm around teammates to keep them calm to giving advice in real time from the bench; Jaylen is the living embodiment of that I'm-The-Captain-Now meme, and it's working for the Celtics.
What you do see in the box score is his insane stat lines, one that begins to make the argument that Boston belongs to Brown.