FanDuel Lineup and Picks for Sunday, April 22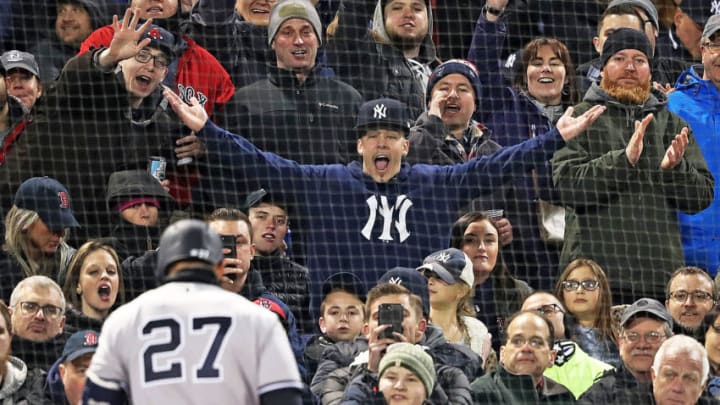 BOSTON - APRIL 10: A New York Yankees fan reacts after Giancarlo Stanton strikes out for the second time in the game. The Boston Red Sox host the New York Yankees in a regular season MLB baseball game at Fenway Park in Boston on April 10, 2018. (Photo by Jim Davis/The Boston Globe via Getty Images) /
BALTIMORE, MD – APRIL 21: Jose Ramirez #11 of the Cleveland Indians hits a solo home run in the sixth inning during a baseball game against the Baltimore Orioles at Oriole Park at Camden Yards on April 21, 2018 in Baltimore, Maryland. (Photo by Mitchell Layton/Getty Images) /
Third Base, High End Spend
Jose Ramirez,$3,900
.333/.333/.667 with 0 HR in 6 at-bats
The Indians third baseman is starting to heat up a little bit, having not taken a zero since the seventh of this month. Today, he gets a righty pitcher that is scuffling as far as getting lefty hitters out. You could viably make a stack of just lefties, but Ramirez might be my favorite. Hie's far too good of a hitter to continue to produce at a low rate and Cashner is allowing a .300 average, 1.028 OPS and a .437 wOBA this season. That's definitely a situation that the Indians and Ramirez can exploit. Cashner is also giving up fly balls over 65 percent of the time. That's not a good match against a good hitter in Camden Yards.
Also Consider – Alex Bregman, $4,000
Mid-Range
Miguel Andujar, $2,900
N/A
The Yankees appear to have a plethora of young guns on their hands, what with Gleyber Torres being called up today and one of the hottest bats in the last five days already in the lineup in Miguel Andujar. He's been racking up FanDuel points lately with at least 18 in his last five games. his splits aren't very reliable to this point in the major leagues and it's not a good idea to take much from them. For what it's worth, Andujar hasn't hit lefties well but Jamie Garcia doesn't worry me too much. He's sure to be popular today seeing as how he's under $3,000 and he's another great way to get a Yankee in your lineup.
Also Consider – Ryan Flaherty, $3,000
Value
Johan Camargo, $2,000
N/A
One would think the Braves would want to put Carmago back in the lineup after a good game on Saturday. He's certainly not going to bring much power and isn't on the best side of his splits but he's still sitting at minimum price today. Wheeler isn't a pitcher we should run to the hills and if you absolutely need a punt option Camargo fits the bill. You never know if the Atlanta offense has a good game just how big a part of it he could be.
Also Consider – Brian Anderson, $2,600