Justin Verlander reminds White Sox fan he's the king of the clap back (Video)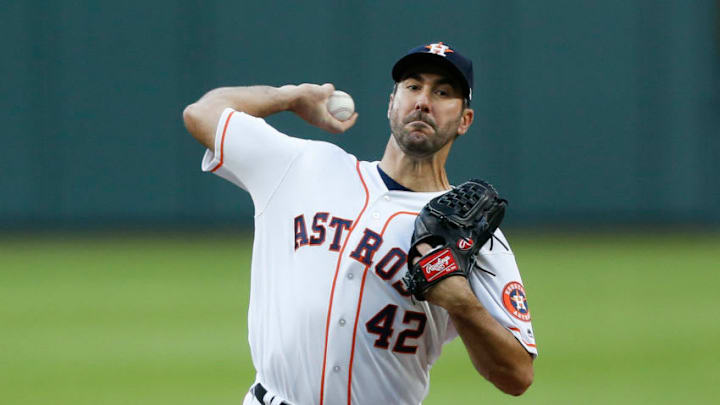 HOUSTON, TX - APRIL 15: Justin Verlander /
Justin Verlander had the perfect response to a fan that was giving him a hard time as the Astros took on the Chicago White Sox.
Last night the Houston Astros were on the road taking on the Chicago White Sox. Chicago, who is now 4-13, found themselves down early to the defending champion Houston Astros. The Astros put up 10 runs in the first four innings.
Since the game was virtually over after two four-run innings to start things off the Sox fans began to do the only thing left to do for entertainment. No, it wasn't the wave, the fans began to get on Justin Verlander's case.
One fan, in particular, was taunting the Astros and Justin Verlander. Finally, Verlander had seen enough and he decided to take matters into his own hands.
After being told that both he and the Astros "suck" Verlander held up signs that read "No, you suck". I can't think of a better response out of Justin Verlander in that situation.
So many times, fans get on players and the players just sit there and take it for no reason. But, when players troll right back it usually sparks hilarity. One of the all-time best troll moves was from Tony Gwyn Jr.
Although nothing will ever compete with Tony Gwynn Jr's response, you have to tip your cap to Verlander who had a great response. It's hard to tell the 15-4 Astros they suck, especially when they beat your White Sox by nine runs.
Verlander did not pitch last night, but he did have the White Sox's number on Friday night. He went six scoreless only allowing two hits along the way. The 'Stros won that one 10-0 as Verlander went to 3-0 on the season with a 1.10 ERA.
Verlander's been a great addition to the Houston Astros. Since arriving to the team midway through last year he is 8-0 with a 1.08 ERA in 10 starts. He was also 4-1 in the playoffs for Houston last year with a 2.48 ERA. In the ALCS alone, Verlander was 2-0 with a 0.56 ERA in 16 innings pitched.
Next: 25 TV Dads that would make elite MLB managers
Last night was a win for the ballplayers and the hecklers were sent home embarrassed once again. A word to the wise, don't heckle when your team has been outscored 20-1 in the series so far, it never ends well.