DraftKings daily picks: Fantasy basketball lineup – April 25, 2018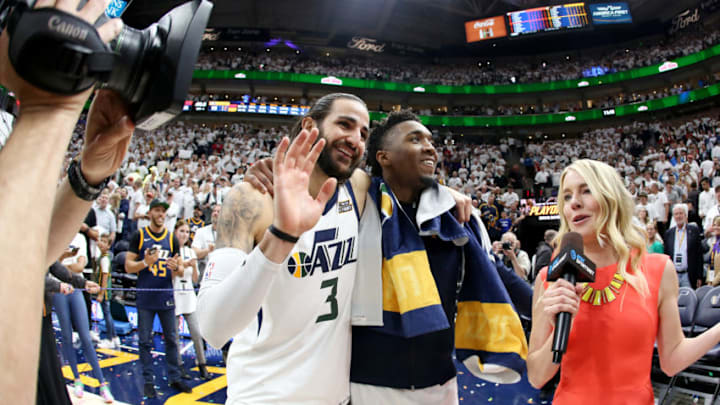 SALT LAKE CITY, UT - APRIL 23: Ricky Rubio /
SALT LAKE CITY, UT – APRIL 23: Ricky Rubio #3 and Donovan Mitchell #45 of the Utah Jazz after the game against the Oklahoma City Thunder in Game Four of Round One of the 2018 NBA Playoffs on April 23, 2018 at vivint.SmartHome Arena in Salt Lake City, Utah. NOTE TO USER: User expressly acknowledges and agrees that, by downloading and or using this Photograph, User is consenting to the terms and conditions of the Getty Images License Agreement. Mandatory Copyright Notice: Copyright 2018 NBAE (Photo by Melissa Majchrzak/NBAE via Getty Images) /
Jazz-Thunder (Jazz Lead 3-1)
This game will go one of two ways. Either the Thunder will respond from literally getting hit in the mouth in Game 4 and make this game competitive. Or Utah will weather an early storm, punch them in the mouth again (hopefully, not literally this time) and that'll be all she wrote for Oklahoma City.
Donovan Mitchell is the one guy you can trust in this game. He's over performed all series and the Thunder have no answer for him. He'll score at will and grab plenty of rebounds.
Even with Russell Westbrook promising to shut Rubio down, he still managed to hit value. His scoring was down, but he was able to find open guys and rebound. Rubio and Mitchell have been a strong pairing all series and there isn't much in the Thunder defense to make me believe they'll have an answer in Game 5.
Joe Ingles found his rhythm in Game 3 and that carried over to Game 4. As the first wave of the Thunder defense fell apart, Ingles was able to get the open looks he wasn't getting in the first two games.
Derrick Favors and Rudy Gobert were solid in Game 4, but if Steven Adams remains on the floor, their value takes a hit. Gobert should be good for value, I'm less confident in Favors' ability to deliver.
On the Thunder side, it's a train wreck. Westbrook has looked lost on offense and failed to get hit teammates involved in Game 4. He'll bring energy and fire in Game 5, but with him, that's not necessarily a good thing. Paul George and Steven Adams are good to at least hit value. There is no reason to take Carmelo Anthony, who has forgotten how to shoot.
No one on the Thunder bench really stands out as even a punt option.
It's very possible the Thunder offense is on fire for one night and they're able to take this game. Given that most people are counting them out, I almost expect it. But their defense won't be fixed overnight and Utah's guards should be able to run wild again.