LeBron James beats the Pacers at the buzzer: 3 takeaways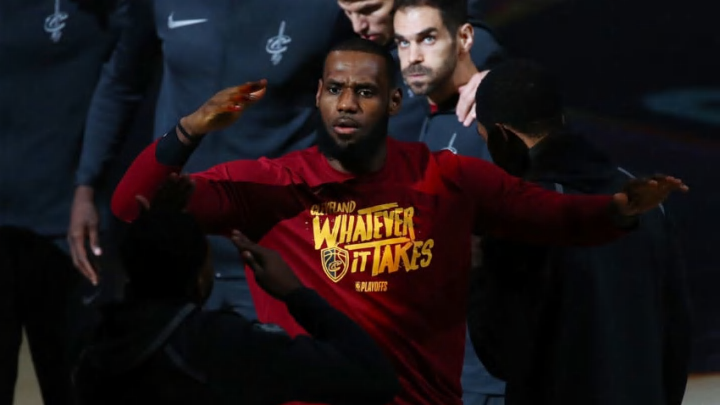 CLEVELAND, OH - APRIL 25: LeBron James /
The Pacers battled back and gave the Cavaliers all they could handle. But in the end, they didn't have enough to stop LeBron James.
This is familiar territory for the Pacers. Play LeBron tough. Steal a game. Build some momentum. Allow hope to seep in. Shake your head ruefully at Lance Stephenson. Watch LeBron beat you with his LeBron-ness.
At one point, the Pacers led this series 2-1. They've dropped the last two games and Game 5, in particular, will haunt them. Cleveland's shooters were off (again) in the first half and they took a seven-point lead into halftime. LeBron continued his one-man supernova and turned that seven-point lead into an eight-point deficit at the end of the third.
Indiana closed the gap again and tied the game at 95-95 on a Domantas Sabonis jumper with 33 seconds left. A LeBron turnover on the next possession gave Indiana a chance to play for the win.
Nope.
LeBron blocked Oladipo's potentially game-winning layup, pinning it to the glass. Cleveland recovered possession, called timeout, and LeBron calmly drilled a 3-pointer at the buzzer.
Like I said, familiar territory.
Takeaways
LeBron was magnificent. It may get lost in the shuffle of his historic resume, especially because of the stakes in a first-round Game 5, but this was one of LeBron's best playoff performances. He scored 44 points on 24 shots, and went a perfect 15-of-15 from the line. He added 10 rebounds, eight assists and a superhuman play on both offense and defense in the final five seconds to win the game.
The rest of the Cavs were not. This kind of summed up the Cavs first half.
J.R. Smith, Kevin Love, Jeff Green, Jose Calderon, and Jordan Clarkson are all shooting under 40 percent from the field in the series. Kyle Korver and Love are the only Cavaliers shooting better than 35 percent on 3-pointers. It may not matter against Indiana, but LeBron can't win a title by himself — just ask Jamario Moon and Ira Newble. If the Cavs are really going to make a run at this someone, and more likely, everyone, is going to have to step up.
Next: The Encyclopedia of Modern Moves
Oladipo is not himself. In the last four games of this series, three of which have been Cleveland wins, Oladipo is shooting 30.9 percent from the field, 22.6 percent on 3-pointers and has committed 16 turnovers. His performance this season, especially shooting, was so far ahead of his career norms that even if you accepted that he improved significantly, it seemed obvious that at least a little bit of regression was waiting. What an awful time for it to hit.