NBA Playoffs 2018: Oklahoma City Thunder vs. Utah Jazz Game 5 live stream: Watch online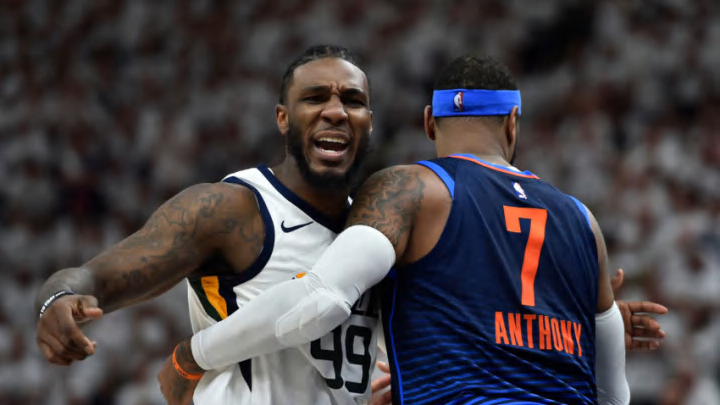 SALT LAKE CITY, UT - APRIL 23: Jae Crowder /
The Oklahoma City Thunder will host the Utah Jazz on Wednesday night. Here is how to watch this Western Conference NBA playoff game online via live streaming.
Wednesday night's slate of NBA playoff games will feature four games, including Game 5 of what has been an energetic series between the Oklahoma City Thunder and Utah Jazz. After a massive performance from Paul George carried the Thunder to a Game 1 win, the Jazz have rattled off three consecutive wins to take a commanding series lead.
Game 4 on Monday night got chippy, with seven combined technical fouls and one ejection issued to the two teams. Joe Ingles and Paul George visibly went back-and-forth several times; Russell Westbrook injected himself into a few altercations; Rudy Gobert expressed some unveiled disdain for a hard foul by Raymond Felton; Jae Crowder got tossed for an elbow to the face of Steven Adams, who somehow remained expressionless.
Tipoff for Game 5 is scheduled for 9:30 p.m. Eastern (8:30 p.m. Central) on April 25, 2018 at Chesapeake Energy Arena in Oklahoma City, OK. In addition being broadcast on NBA TV, the Thunder feed will also air on Fox Sports Oklahoma, while AT&T SportsNet will carry the Jazz broadcast. The game can also be streamed online via NBA League Pass and FuboTV.
Date: Wednesday, April 25, 2018
Time: 9:30 p.m. EST
Location: Oklahoma City, Oklahoma
Venue: Chesapeake Energy Arena
TV Info: ATTSN-RM, FSOK, NBA TV
Live Stream: Watch live on FuboTV. Sign up now for a free seven-day trial.
Next: All live stream info in one place
Coming into this series, the two teams stacked up fairly evenly with one another. The Jazz and Thunder had the fifth- and seventh-best point differentials in the NBA, and finished with an identical win-loss record. Utah's crisp, unselfish style offered a fascinating balance to Oklahoma City's star power.
But over the last three contests, these squads have left little doubt as to which one is the superior team. Utah has outscored the Thunder by a combined 19 points in the second half since Game 2, thanks in large part to lopsided fourth quarter in Game 3. Rookie Donovan Mitchell leads all players in scoring for the series at 27.5 points per game, with 8.5 rebounds and 1.3 steals to boot. Utah's defense has been unsurprisingly stingy since Game 1, having not allowed more than 102 points in any of the last three games, and Rudy Gobert has controlled the interior with force. Ingles has scorched OKC from deep several times, and is shooting almost 47 percent from deep in the series. Ricky Rubio is playing arguably the best basketball of his career.
Aside from George – 27 points and six rebounds per game – the Thunder's best players have yet to play up to their own standards. Russell Westbrook, despite averaging over 21 points and nearly 12 rebounds, is shooting a just 36.7 percent from the field and a ghastly 21.4 percent from 3-point territory. Carmelo Anthony has been only marginally more efficient. Those figures must improve if Oklahoma City is to have any chance of staying alive.