Cleveland Browns fans are going to love BreakingT's newest shirt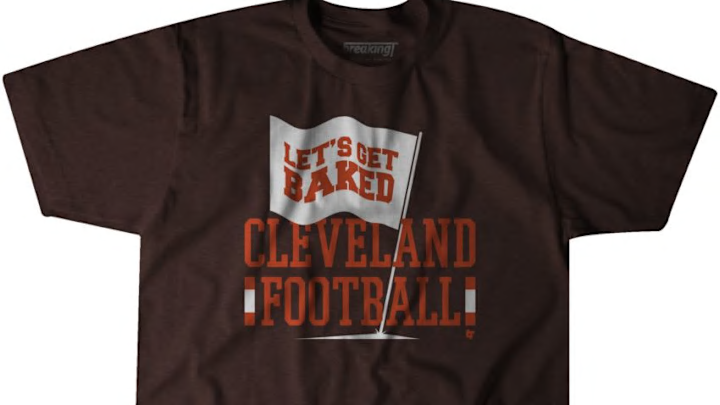 Cleveland Browns fans now have their quarterback of the future. With Baker Mayfield drafted, now it's time to gear up with our friends at BreakingT.
The Cleveland Browns spent the No. 1 overall pick in the NFL Draft on Oklahoma quarterback Baker Mayfield. Mayfield was a polarizing figure in college, but it's difficult to deny his overall skill.
In short, nothing matters when you're winning. And winning is something Mayfield did at a prolific clip at Oklahoma. Now the Cleveland Browns are hoping he can do the same in the NFL.
He'll likely compete with Tyrod Taylor in year one, with the presumed plan being for Mayfield to take over the offense in year two or three.
The age of taped-over Browns jerseys is hopefully over. Mayfield looks to be the guy. And now it's time for fans to get this excellent t-shirt from BreakingT.
BreakingT /
It's high time Cleveland found a new quarterback.
Orange and white graphics pop on this heather brown t-shirt, which is made from a premium, lightweight blend of 60 percent cotton and 40 percent polyester. These shirts are designed to last, so it will stay comfortable for years to come.
Screened in the USA, this t-shirt is only available at BreakingT. It retails for just $25 – a small price to pay for a look this awesome. The shirt channels the moment Mayfield planted the Sooners' flag on rival turf. Only now his flag is planted across the state of Ohio.
A pro-tip for buyers: BreakingT recommends that men size up and women size down when purchasing in order to achieve an ideal fit.
Don't wait. Get yours now and tell the world who you're rooting for.