DraftKings Early MLB Picks April 26: Is Thor worth the price?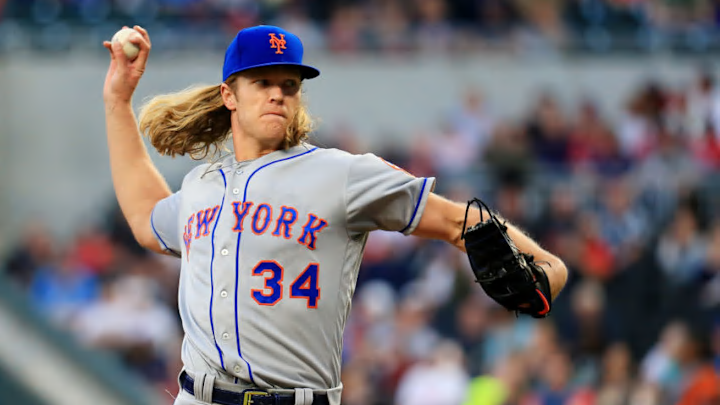 ATLANTA, GA - APRIL 20: Noah Syndergaard /
NEW YORK – OCTOBER 07: A Minnesota Twins flag and a New York Yankees flag blow in the wind prior to Game One of the ALDS during the 2009 MLB Playoffs at Yankee Stadium on October 7, 2009 in the Bronx borough of New York City. (Photo by Jim McIsaac/Getty Images) /
DraftKings Early MLB Picks April 26: Is Thor worth the price?
We have five games on an already truncated slate this afternoon. This starts early, so make sure you have your lineups set! There doesn't seem to be any rain in the forecast this afternoon, and this even split on a travel day gives us plenty of options.
More from DraftKings
There is no threat of rain this afternoon, but wind could be a factor in New York and Philly. The wind is blowing out to right in Yankee Stadium at 14 MPH. The wind is also blowing out to right in Philly at about the same rate.
These tips are based mostly on past performance. This is a nice tool for building a lineup, but should not be the only pieces of information you use. Stacking against a bad pitcher is always a good idea!
For you first time players, if you would like a free $20 in DraftKings dollars, use this link for the referral bonus with your first deposit of $5 or more! Then continue reading for tips on how to turn those DraftKings dollars into more!
Next: DraftKings Pitcher Plays
ST. LOUIS, MO – APRIL 10: Carlos Martinez #18 of the St. Louis Cardinals delivers a pitch against the Milwaukee Brewers in the first inning at Busch Stadium on April 10, 2018 in St. Louis, Missouri. (Photo by Dilip Vishwanat/Getty Images) /
Top Tier:
Noah Syndergaard ($11,600): I'm not sure Thor is worth this price tag. The current Cardinals are hitting only .238 against Thor, but they have four homers and ten runs in just 63 at bats. The 20 strikeouts make sure that Thor will retain a solid score, but there is some risk involved here. That said, Thor pitched well, giving up two runs in seven innings in his only career start in Busch Stadium.
Carlos Martinez ($11,200): The Mets are hitting a decent .243 against Martinez with five homers and 13 runs in 111 at bats. However, he only has 21 strikeouts! These numbers are pretty pedestrian by any standards, so if you are going to pay up for a pitcher, it should be Thor.
Middle Tier:
Sean Newcomb ($8,700): That's a hefty price tag on Newcomb, but he did look good in his only start against the Reds last year. Newcomb has a solid 3.74 ERA on the season. Considering the park he plays in, I don't see Newcomb really getting shelled in Cincy. This is also a park that caters to left handed power, so Newcomb will have the platoon advantage, and his teammates get to tee off on Homer Bailey. Newcomb is a solid SP2 option today.
Jordan Montgomery ($7,800): Montgomery struggled some against the Twins last year, but most of the damage was done on one pitch. Montgomery has done a better job so far this year of avoiding that one lethal pitch. The Twins hit lefties pretty well, but Montgomery is pitching pretty well, and has a great shot at a win against Kyle Gibson.
Bargain Pitchers:
Michael Fulmer ($6,900): How did Fulmer get this cheap? If you take out the disaster at Cleveland, Fulmer has only allowed three runs over 20.1 innings this season. Pittsburgh is solid, but this park is almost as pitcher friendly as his home digs, and Fulmer has dominated the Pirates so far. The current Pirates are only hitting .156 against Fulmer in 32 at bats with just one run and five strikeouts. There is serious potential here. Fulmer is my favorite SP2 option today.
Homer Bailey ($5,500): You aren't going to get a lot of strikeouts out of Bailey, nor do you get a strong offense supporting him. What you do get is someone that has quietly pitched well at home this year, posting a 2.77 ERA in two home starts. The Braves have some talent, but they aren't a lineup of mashers. There is decent potential for Bailey at a price this low.
Matt Koch ($4,500): You know, Koch looks really cheap here. He allowed just one run on two hits with striking out four in his first start against the Padres. Yeah, the Padres aren't great, but this was at Chase Field, which is just as unkind to pitchers as Philly is. There is solid potential here for Koch so long as you accept that he is going to give up a couple of runs.
PHOENIX, AZ – APRIL 21: Paul Goldschmidt #44 of the Arizona Diamondbacks hits an RBI triple during the seventh inning of the MLB game against the San Diego Padres at Chase Field on April 21, 2018 in Phoenix, Arizona. The Arizona Diamondbacks won 6-2. (Photo by Jennifer Stewart/Getty Images) /
Top Tier:
Freddie Freeman is 4-14 with a walk, three runs, and a RBI so far against Homer Bailey. Those numbers aren't great, but Freeman holds the platoon advantage in a lefty friendly park.
Paul Goldschmidt is 2-6 with a homer and two RBI against Ben Lively so far. This could be a pretty high scoring game, but if you are going to work a stack, I would stack Arizona before the Phillies.
Middle Tier:
Miguel Cabrera seems too cheap here. Miggy is 6-17(.353) with three walks, a double, a homer, two runs, and four RBI in his career against Ivan Nova. Jeimer Candelario is 1-2 with a walk so far.
Miguel Sano is the one that hit that mistake pitch against Jordan Montgomery last year. He crushed it for a three run homer.
Jose Martinez is perfect in his career against Thor. He has two singles, a homer, two runs, and two RBI against Syndergaard. Yadier Molina is also worth a look if he is in the lineup. Molina is 3-9 with a double, a homer, two runs, and two RBI off of Thor.
Bargain Shoppers:
Josh Bell and Colin Moran have both doubled off of Michael Fulmer in three plate appearances. They could get some more extra bases today without putting a strain on your spending elsewhere.
Whether the Reds start Mesoraco or Barnhart, both will be a solid answer to Braves lefty Sean Newcomb this afternoon.
Adrian Gonzalez is only 4-17(.235) against Carlos Martinez, but he has four walks, a double, a homer, two runs, and five RBI against him.
ST. PETERSBURG, FL – APRIL 22: Brian Dozier #2 of the Minnesota Twins connects on a foul ball during the third inning of the game against the Tampa Bay Rays at Tropicana Field on April 22, 2018 in St. Petersburg, Florida. (Photo by Joseph Garnett Jr. /Getty Images) /
Top Tier:
Brian Dozier is the big lefty killer in the Twins lineup. He has a walk, a double, and a run in three trips to the plate against Jordan Montgomery so far. Dozier is a solid play anytime a lefty is on the mound, especially in a hitters park.
Middle Tier:
As much as Matt Koch looks like a strong play, he still carries risk. Taking Cesar Hernandez leading off a lineup that has exploded for big games at time this year is not a horrible idea.
I'm not completely opposed to using a guy like Paul DeJong here, but don't get too carried away. I would be surprised if Syndergaard didn't turn in a quality start. He isn't going to give up enough runs to warrant a stack.
Bargain Shoppers:
Most DFS players will punt the middle infield positions so they can pay for outfielders and pitching. Dixon Machado and Jose Iglesias are two solid punts today. Machado is 1-2 with a RBI off of Ivan Nova so far. Iglesias is 2-8 with a double, a run, and a RBI.
If Jose Reyes is in the lineup, he may be worth a look. Reyes is 4-13 with a double, a steal, and a solo homer against Carlos Martinez.
Next: Top Outfield Plays
PHILADELPHIA, PA – APRIL 21: Rhys Hoskins #17 of the Philadelphia Phillies hits a three run home run in the bottom of the sixth inning against the Pittsburgh Pirates at Citizens Bank Park on April 21, 2018 in Philadelphia, Pennsylvania. The Phillies defeated the Pirates 6-2. (Photo by Mitchell Leff/Getty Images) /
Top Tier:
Kyle Gibson has a 7.20 career ERA in two starts at Yankee Stadium. He has only faced three current Yankees, but I'm definitely on Aaron Judge here. Giancarlo Stanton is worth a look too. Brett Gardner is 3-9 with two walks, a double, a triple, and four runs in his career against Gibson.
Rhys Hoskins is definitely near the top of my list against Matt Koch. Odubel Herrera is worth a look as well against the young righty.
More from FanSided
Middle Tier:
Nick Castellanos is 3-7 with a triple and four RBI already in his career against Ivan Nova.
Yoenis Cespedes is 5-15 with a walk, a double, a homer, and three RBI so far in his career against Carlos Martinez. Jay Bruce is only 4-20, but he has two doubles and two solo homers off of Martinez.
Gregory Polanco has driven in the only Pittsburgh run against Michael Fulmer on a RBI double. That counts for something, right?
It could take Ronald Acuna a little bit to get adjusted to the majors, but I would be willing to bet that he saw pitchers better than Homer Bailey at AAA this year. I also like Nick Markakis for the same price. He is 2-3 with a RBI against Bailey so far.
Bargain Shoppers:
Both Billy Hamilton and Adam Duvall are struggling, but they are cheap and about the only Reds I would feel comfortable using against Newcomb.
Chris Owings is 1-2 with a walk and a solo homer already in his career against Ben Lively. Lively has struggled at times this year, so putting A.J. Pollock or David Peralta out there are good ideas as well.
Next: Main Slate DraftKings MLB Picks
Good luck out there, and check out our picks for FanDuel baseball, along with our PGA picks. Still in NBA mode? No worries, we have the NBA DFS covered for the playoffs as well!