FanDuel MLB Daily Lineups: Friday April 27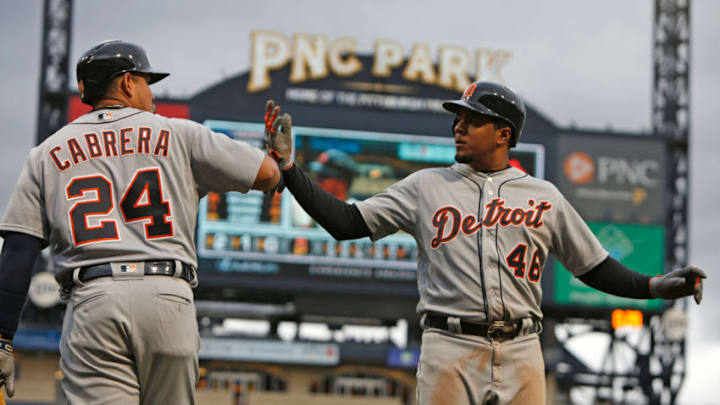 PITTSBURGH, PA - APRIL 25: Jeimer Candelario /
FanDuel MLB: CINCINNATI, OH – APRIL 26: Ronald Acuna Jr. #13 of the Atlanta Braves hits a RBI double in the 8th inning against the Cincinnati Reds at Great American Ball Park on April 26, 2018 in Cincinnati, Ohio. (Photo by Andy Lyons/Getty Images) /
Welcome back to the FanDuel MLB Daily Lineups column. This is the Friday, April 27th edition. We're a fantasy baseball column focused on helping you build a DFS MLB optimal lineup for each slate.
Unfortunately we weren't able to get an article out yesterday, but if you follow us on twitter, you hopefully had a fantastic Early Only FanDuel MLB slate like we did. Stacking the Braves and Diamonbacks bats against the Phillies and Reds paid off in a huge way.
We even had Sean Newcomb, who gave up four earned runs, but lasted six innings and piled up seven strikeouts for a 27 FanDuel MLB points win. Some FanDuel MLB owners may think, a 27 point pitcher result will get you know where.
But Freddie Freeman, Ozzie Albies, Nick Ahmed, Ronald Acuna Jr., and David Peralta gave us an additional 156.6 FanDuel MLB points. In fact, we ended the slate with over 200 points. This is one of the primary reasons we highly recommend offensive stacks. When teams are ripping a pitcher, the entire lineup tends to benefit, and value pops up along with verifying expensive plays.
After a horrendous Tuesday, we have been on fire since. Hopefully that can carry into the Friday FanDuel MLB Main slate. We're fading the All-Day play as it only adds the game in Chicago, where the Cubs are playing their typical early afternoon home game at Wrigley Field.
Before we get there, a reminder to never take a DFS MLB optimal lineup as 'bible' for your personal lineup each day. Use the suggestions as guidance. Also, make sure you follow final lineup thoughts throughout the day on our twitter account @FantasyCPR or me @mattymcmatt17 look for late breaking lineup news.
Weather Note: Yesterday was generally a great day for baseball weather. For the most part, that appears to carry into tonight's FanDuel MLB Main slate. The two exceptions are potential delay risks in Pittsburgh and Boston due to rain or thunderstorms.
That means the Rays, Red Sox, Cardinals, and Pirates do have some delay risk. The Mariners and Indians also have a slight risk in Cleveland. So, with weather-related considerations addressed, let's get to the top pitching options…
FanDuel MLB: ATLANTA, GA – APRIL 21: Pitcher Jacob deGrom #48 of the New York Mets throws a pitch in the second inning during the game against the Atlanta Braves at SunTrust Park on April 21, 2018 in Atlanta, Georgia. (Photo by Mike Zarrilli/Getty Images) /
FanDuel MLB: Top Pitcher Main Slate
Over the last two days, we've paid up for some pitchers and it worked out, and we've avoided expensive pitchers, and it worked out. But we've also had super expensive plays like Chris Sale and modestly expensive plays like Dylan Bundy completely bomb.
For that reason, it appears everyone will forget Max Scherzer had 52 FanDuel MLB points a couple of days ago and are now assuming paying up for a pitcher is a mistake. We disagree. There are just too many great pitcher plays on the board tonight, and fading them all seems like a good way to lose your cash and GPP plays.
Corey Kluber ($11,200) has been pitching fairly well this season, including a 13 strikeout and 73 FanDuel MLB point result against the Tigers in early April. However, his 34 point and four K outing against the Orioles five days ago was underwhelming. Still, you're paying for at least 30-40 FanDuel MLB points, and his ceiling is enormous. But, he has the Mariners tonight, and we don't like that match-up.
Luis Severino ($10,200) has a tough Angels lineup in Los Angeles, and Zack Godley ($9,100) has an underrated Nationals lineup in Washington, D.C. this evening. Sean Manaea ($8,900) pitched a no-hitter this season, but will he do it against the Astros in Houston? Very unlikely.
There are some solid mid-salary range pitching plays like Aaron Nola ($8,400), Hyun-Jin Ryu ($7,800), and a young Reynaldo Lopez ($7,400) against the Royals. But Nola is facing a hot Braves offense, Ryu is inconsistent and often has injury concerns, and Lopez is still developing his control. Ryu and Lopez are solid GPP plays, but for cash we're paying up.
Jacob deGrom ($10,600) has the best match-up, by far, of any starting pitcher tonight. The Padres lineup isn't terrible, but they're on the low-end of the league average in scoring, and deGrom is hurling in a pitcher-friendly PetCo park tonight. For cash games, we have to pay up for deGrom. If you can't quite afford him (we can), our next best bet for cash games is Stephen Strasburg ($10,100).
FanDuel MLB: PITTSBURGH, PA – APRIL 25: Jeimer Candelario #46 of the Detroit Tigers celebrates with Miguel Cabrera #24 after hitting a home run in the sixth inning against the Pittsburgh Pirates during game one of a doubleheader at PNC Park on April 25, 2018 in Pittsburgh, Pennsylvania. (Photo by Justin K. Aller/Getty Images) /
FanDuel MLB: Top Hitting Stacks Main Slate
Frankly, there are lots of hitting stacks you could target tonight. While there are plenty of top-heavy pitchers starting on the mound tonight, we also have several struggling pitchers to target. Some stacks we like but won't focus on tonight are the Phillies against Julio Teheran, Yankees against Andrew Heaney, and Rangers against Marcus Stroman.
While their ERA's are terrible, WHIP is often overlooked. It's a key stat, as getting a walk or generally getting on base and scoring a run once or twice a game is a valuable FanDuel MLB point result. And all of those pitchers are struggling with some of the worst WHIP's among starting pitchers in baseball tonight.
Derek Holland actually has a solid 1.10 WHIP this season, but he's also 0-3 and is giving up five runs per game. Holland has already faced the Dodgers in San Francisco this season, and gave up three runs in five innings, allowing six hitters on the base-path. That was when the Dodgers lineup was cold!
The Dodgers bats are heating up, and their FanDuel MLB salary is still dirt-cheap. For example, Matt Kemp ($2,700) is hitting .312 in 21 games with nine runs, 12 RBI's, and four home runs, yet his salary continues to remain sub-$3K. Also, Kemp is typically hitting fourth or fifth in the lineup, perfect value with a Dodgers stack.
With the lefty starting on the mound, we expect Yasiel Puig ($2,800) to be back in the lineup as well, along with Kike Hernandez ($2,700) and of course Cody Bellinger ($3,800). Because of Holland's so-so start, and the Dodgers bats struggling out of the gate, along with the other eye-popping stacking options, we also think the Dodgers could be low-owned tonight.
So how do we afford deGrom and a modestly priced Dodgers stack with another offensive play? The Tigers facing Chris Tillman in Baltimore. Dixon Machado ($3,000) is often hitting second in the lineup for the Tigers and brings a four-game hitting streak into tonight's slate. Jose Iglesias ($2,500) is an efficient, but not sexy, nine-spot hitter at the SS position for the Tigers. And we still have plenty of money for one of the top bats in the lineup, Nicholas Castellanos ($3,800).
FanDuel MLB: LOS ANGELES, CA – APRIL 24: Corey Seager #5 of the Los Angeles Dodgers flys out during the fifth inning of a game against the Miami Marlins at Dodger Stadium on April 24, 2018 in Los Angeles, California. (Photo by Sean M. Haffey/Getty Images) /
FanDuel MLB: Summary and Example Lineup
Before we recap the lineup thoughts, we have another play in mind tonight. Yes, we're stacking Tigers and Dodgers bats, but we're going to throw a red-hot J.T. Realmuto ($3,100) into the utility spot as well.
The best Marlins bat in the lineup right now is facing a struggling Tyler Anderson, a left-handed pitcher, in Miami tonight. Realmuto has at least two hits in three of his last four games, and three home runs in his last two games. With this match-up, we think it's worth taking another shot with Reamluto tonight, regardless of the other plays.
At the pitcher position, there's an overwhelming list of great pitching plays, but several are trap-plays. For cash games, we think Jacob deGrom is your best play. We'd maybe pivot to Stephen Strasburg if you really like a more expensive offensive stack and just can't afford deGrom. Also, Lopez and Ryu are out favorite moderately priced GPP plays.
With that summary in mind, here's a look at a sample lineup for the Main FanDuel MLB slate on Friday, April 27th:
P          Jacob deGrom ($10,600)
C/1B   Cody Bellinger ($3,800)
2B       Dixon Machado ($3,000)
3B       Kike Hernandez ($2,700)
SS       Jose Iglesias ($2,500)
OF      Nicholas Castellanos ($3,800)
OF      Yasiel Puig ($2,800)
OF      Matt Kemp ($2,700)
UTIL   J.T. Realmuto ($3,100)
Remaining Salary: $0
Note: This is a recommended lineup after discussing our top options for today. You should use this as a guide, and provide your own input when building FanDuel NHL lineups.  We are not telling you, or selling you, to use this lineup.
Next: MLB DFS Picks and Pivots
Best of luck in your FanDuel MLB contests and stay tuned to Fantasy CPR for all your DFS news and analysis across MLB, NBA, NHL, and EPL this spring!