DraftKings daily picks: Fantasy basketball lineup – April 28, 2018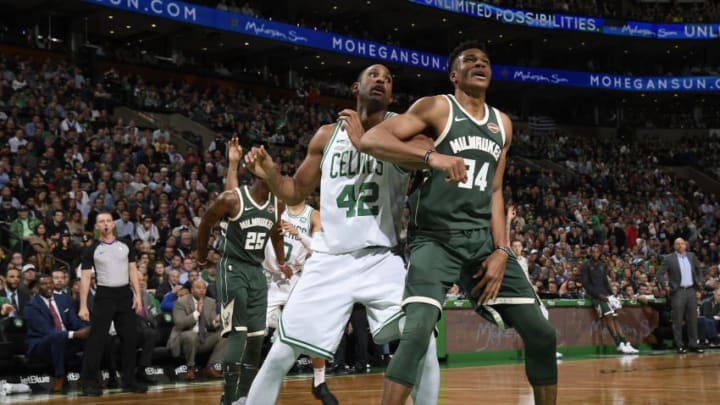 BOSTON, MA - December 4: Giannis Antetokounmpo /
FanDuel, NBA Playoffs 2018: 5 most interesting player matchups - Photo Credit: BOSTON, MA - December 4: Giannis Antetokounmpo #34 of the Milwaukee Bucks and Al Horford #42 of the Boston Celtics await the ball on December 4, 2017 at the TD Garden in Boston, Massachusetts. NOTE TO USER: User expressly acknowledges and agrees that, by downloading and or using this photograph, User is consenting to the terms and conditions of the Getty Images License Agreement. Mandatory Copyright Notice: Copyright 2017 NBAE (Photo by Brian Babineau/NBAE via Getty Images) /
Bucks-Celtics (Series Tied 3-3)
The only player I didn't cover on the previous slides who may make an impact is Semi Ojeleye. And if Game 6 is any indication, it won't be much of an impact.
Game 7 is a time to take guaranteed value. That means Antetokounmpo and Horford if you're looking for guys to build your roster around. I absolutely love Horford at his salary. Marcus Smart and Marcus Morris are two guys who will elevate their game at home in Game 7 as well. Both are nice low cost options who should hit value and have a relatively high ceiling.
The young players like Tatum, Rozier, and Brown are more of a question mark. They've all stumbled at various points in this series, but they've also been big impact players. They're going to get plenty of minutes and opportunities, but one of them will probably fall short of value. If I had to take a guess, I'd say it will be Tatum
No salary feels too high for Giannis. He's the best player on the court and sometimes Game 7 just comes down to that. He's going to have a monster game. Everyone else on Milwaukee is up in the air. Middleton and Parker have been the two most consistent players. Bledsoe and Brogdon probably aren't worth it unless you're in a pinch.
Pelicans-Warriors (Series Tied 0-0)
Much like guaranteed value is the best option in Game 7, it's also the strategy in Game 1.
I mentioned the April 7 game throughout the previous slides, but I'd be foolish not to point out that it has little bearing on Game 1. The Pelicans were fighting for their playoff lives. The Warriors were coasting and still figuring things out with Durant at the helm and Quinn Cook as their starter.
Steph Curry's status puts a monkey wrench into everything, especially on the Warriors side. If he doesn't play, you know you're getting guaranteed value from Durant, Thompson, Draymond Green, and probably Andre Iguodala. But if Curry plays, the ceiling for those guys lowers a bit.
That's assuming Curry is effective.
The Pelicans looked unstoppable in the first round, but this is a much better team they're up against. Still, they have guys at a reasonable salary. Mirotic is the x-factor for me. He's been rolling, and while I expect his hot streak to continue, I also acknowledge that he can go cold in an instance. And with Draymond in his face all game and the Warriors crowd fired up, Mirotic will have to prove his mental toughness.