Hockey-loving good dog Mr. Chow takes in Sharks game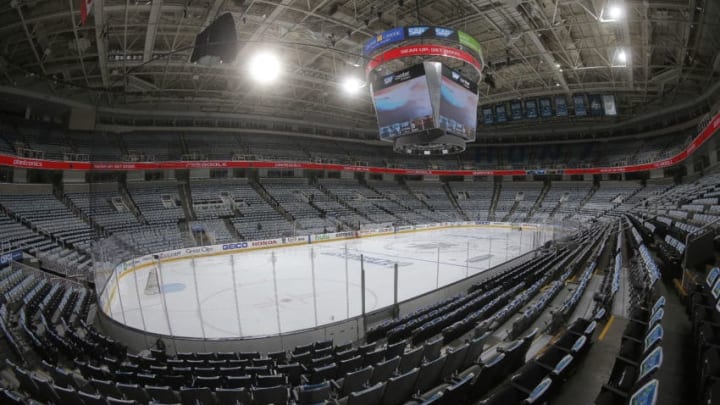 SAN JOSE, CA - APRIL 18: A general shot of the arena prior to the game between the Anaheim Ducks and San Jose Sharks in Game Four of the Western Conference First Round during the 2018 NHL Stanley Cup Playoffs at SAP Center on April 18, 2018 in San Jose, California. (Photo by Rocky W. Widner/NHL/Getty Images) *** Local Caption *** /
The Vegas Golden Knights weren't the only guests of the San Jose Sharks in Game 2, as we have found a hockey-loving dog in Mr. Chow. 
Late on Monday, April 30, the San Jose Sharks hosted the Vegas Golden Knights in Game 2 of the Stanley Cup Playoffs. However, the first expansion team in the modern era to make the postseason (and get a first-round sweep) weren't their only guests. Among them were a ton of Sharks fans. But let's discuss by far the most important fan there — Mr. Chow, the hockey-loving good dog.
Props to whoever brought their dog to a Stanley Cup Playoff game. They say in life, family comes first. The hockey family is huge and diverse. Every good family needs to have a dog. Mr. Chow is that dog.
It's unclear what kind of dog Mr. Chow is, but he appears to be a Cairn terrier. Or at least a terrier of some kind. Regardless, Mr. Chow seems very calm and composed, unlike most of his human counterparts.
Back in 2016, when the Sharks made their first-ever Stanley Cup Finals appearance, the team rallied behind a cat. That cat was a stray. Eventually, she got adopted by then-Sharks forward Patrick Marleau. and got the name Jo Pawvelski. If a black cat can help San Jose get to the Stanley Cup Finals, why can't Mr. Chow? Unlike black cats, terriers don't bring bad luck.
Next: Each NHL Team's Biggest 'What If' Moment
There are two universal goods in this world. Obviously, hockey is one of them. But the second? Dogs. Mr. Chow hopes to help cheer (bark? yelp?) the Sharks on to success. Perhaps even more success than his female feline counterpart Jo Pawvelski was able to. Hopefully, Mr. Chow brings some good luck to the Sharks, as they are tied with the Golden Knights one to one in their second-round series.
For more from the NHL playoffs, make sure to follow FanSided and stay tuned to our NHL hub for all the latest news and results.