Each MLB team ranked by watchability in 2018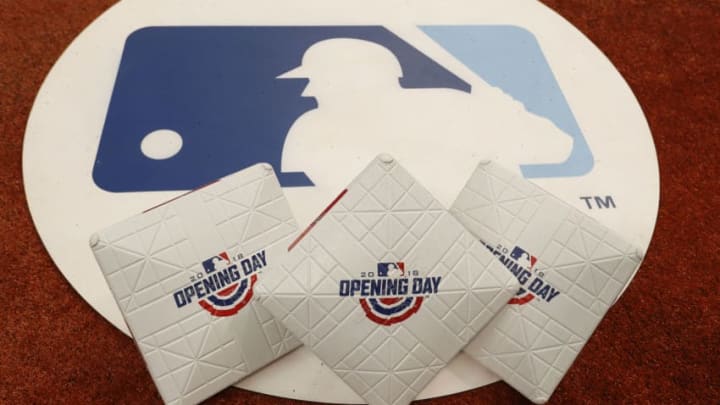 ST. PETERSBURG, FL - MARCH 29: The bases with the 'Opening Day' logo displayed on the on deck circle before the MLB game between the Boston Red Sox and Tampa Bay Rays on March 29, 2018 at Tropicana Field in St. Petersburg, FL. (Photo by Mark LoMoglio/Icon Sportswire via Getty Images) /
PHILADELPHIA, PA – APRIL 10: Joey Votto /
Number 29: Cincinnati Reds
The Cincinnati Reds are a bad baseball team. They haven't made the playoffs since being a Wild Card team in 2013 and they haven't won one playoff series in my lifetime, this isn't exactly a hot take calling them unwatchable.
Let's start with the pitching. Their "Ace" is veteran Homer Bailey who's career high in wins came in 2012 when he went 13-10 on a 97 win team. In the past three years leading up to this season, Bailey has pitched in 26 games combined. Not a lot of action going on in the rotation to get eyeballs to the screen.
Their best position player is by far Joey Votto. The five-time all-star is the big draw to the team. In 20 games this year Votto is hitting .243 with no homers.
Votto, a career .312 hitter and a player who has a career 55.4 WAR is a legend from this 2010's decade. That being said, Votto who I respect a lot, is one of the more boring stars in the league. He walked 134 times last year. One of his main criticisms is focusing on the walks instead of trying to drive in runs.
Sure, they also have Billy Hamilton who shows off his speed it's not nearly enough to move the needle for the Cincinnati Reds.
They play in a bandbox, and they only have 11 home runs so far this year. That's dead last in the league. It's not really a mystery as to why this team has the worst record in baseball.
ST. PETERSBURG, FL – APRIL 22: Adeiny Hechavarria /
Number 28: Tampa Bay Rays
It's a sorry sight for MLB fans in Florida. At 30th we had the Marlins and the Tampa Bay Rays are coming in at 28th. Luckily for the state of Florida, most of the people there are displaced fans of teams from the North, like the Yankees for instance.
This past offseason the Tampa Bay Rays traded the best player their franchise has ever had; Evan Longoria.
The Rays haven't been a playoff team since 2013, and they're in the process of a rebuild after a somewhat surprising mediocre record of 80-82 last year.
Arguably their biggest surprise has been C.J. Kron this year, who was brought in from the Angels to play first base. An otherwise mediocre career player has five dingers to date leading the team. Their best offensive player is a washed up Carlos Gomez, clearly, that's not putting butts in the seats in Tampa.
The saving grace for this team is getting to watch Chris Archer every five days. Archer's a two time All-Star for Tampa, and despite having an ERA north of six, he's a quality pitcher that is worth tuning in for.
The Rays aren't going anywhere and there's not really a plan here when it comes to the rebuilding process. There's not a lot to get excited over for Rays fans, that's shown in the attendance as they average just over 15,000 people a night at the Trop.
If the Rays are rocking the alternative baby blue uniforms tune in, otherwise it's not worth your time.