Each MLB team ranked by watchability in 2018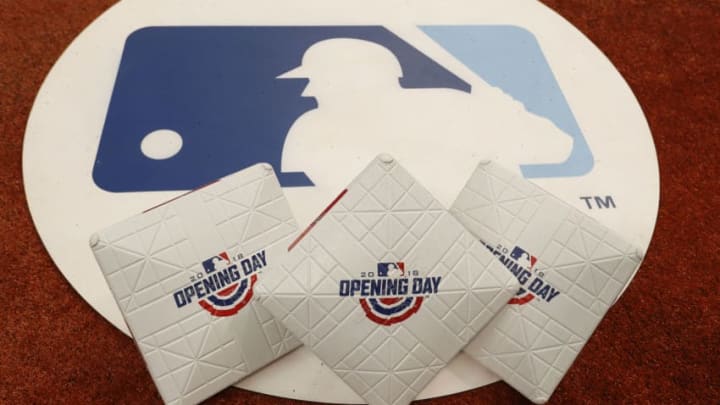 ST. PETERSBURG, FL - MARCH 29: The bases with the 'Opening Day' logo displayed on the on deck circle before the MLB game between the Boston Red Sox and Tampa Bay Rays on March 29, 2018 at Tropicana Field in St. Petersburg, FL. (Photo by Mark LoMoglio/Icon Sportswire via Getty Images) /
OAKLAND, CA – APRIL 16: Jonathan Lucroy /
Number 23: Oakland A's
This may come as a hot take to some, but Billy Beane is the most overrated General manager in almost all of sports. The movie Moneyball was made about a team that couldn't get out of the first round, which is wild in its own way.
The point is, Beane's teams normally aren't any good, or at least they aren't much fun. Through 23 games the A's are 12-11 just a tad over .500 but are nowhere near remotely interesting.
Khris Davis with six homers, and coming off back to back 40 homer seasons gets paid like half his value at $10.5 million. Their total payroll is $67 million dollars. Outside of Davis, it's a bunch of mediocre players on cheap deals or younger guys they haven't had to get paid yet.
Are we really supposed to get excited because of Jed Lowry and his .357 average and his early home run pop to start off the year?
The A's play in an ancient half football – half baseball stadium, they can't compete with their league-lowest payroll, and they wear yellow alternate jerseys. What from that screams watchable?
The saving grace is certainly Davis in this spot, but even their own fans don't consider them watchable. They draw 19,000 people on average to a stadium that has a 55,945 capacity.
They get the benefit of the doubt because at least they're over .500 but ranking them 23rd might even be too high for Oakland.