NBA 2k League fans should care a lot about the HyperX sponsorship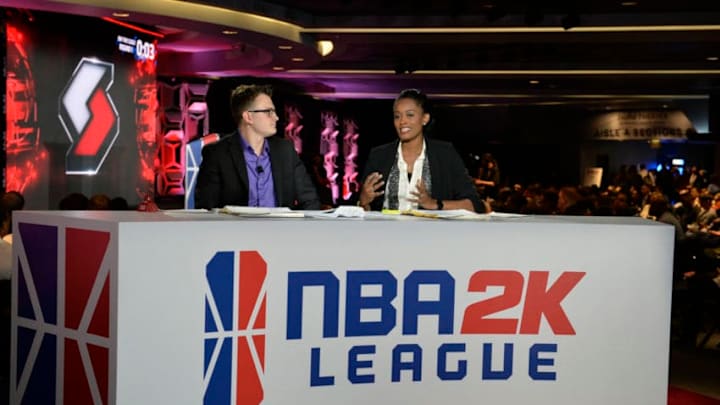 NEW YORK, NY - April 4: Jamie 'Dirk' Ruiz and Swin Cash commentates the 2018 NBA 2K League Draft on April 4, 2018 at the Hulu Theatre at Madison Square Garden in New York City. NOTE TO USER: User expressly acknowledges and agrees that, by downloading and/or using this photograph, user is consenting to the terms and conditions of the Getty Images License Agreement. Mandatory Copyright Notice: Copyright 2018 NBAE (Photo by David Dow/NBAE via Getty Images) /
The NBA 2k League's players will spend their season wearing HyperX headsets during competition. It's a good move for a young esports league trying to establish itself.
As the "new kid on the block" among professional esports leagues, it's important for the NBA 2k League to look every bit the part of a serious competitive venture in the gaming world. To that end, it was crucial for the league to secure for its players the same tech that experienced esports leagues provide for their gamers. So far, that's been accomplished.
On top of securing partnerships with Alienware and Twitch, the NBA 2k League announced on Monday that a deal to put HyperX headsets on all 102 of its players has been reached.
Not only will HyperX provide headsets for the entire season, which begins on Tuesday, May 1 with "The Tipoff" tournament, but will offer fan giveaways throughout the season as well. HyperX signage will be featured prominently in the NBA 2k League Studio as well.
The deal is an expansion of supporting the league for HyperX. It already had franchise-level sponsorships in place with 76ers GC and Mavs Gaming. It was more important for the NBA 2k League to secure a deal with HyperX, however, than vice-versa.
HyperX has already been supporting esports athletes and teams for over a decade, with its roster of 500 sponsored-entities including franchises like G2 Esports that fans will be familiar with. Among the esports community which the league hopes to gain a following, it might have been a bad optic for the NBA 2k League to begin competition wearing a lesser brand of headset.
"We want NBA 2K League players to have best-in-class equipment, and when it comes to headsets, HyperX is second to none," said Brendan Donohue, NBA 2K League Managing Director in a press release. "Communicating with teammates during play is vital for success and partnering with HyperX will allow our players to compete at their best."
Next: WWE Stars Who Had The Best Acting Careers
In order to win over serious esports fans, it was crucial for the NBA 2k League to look every bit the part of a serious competitive esports league at first sight. With HyperX on board, that aesthetic is achieved.