Supergirl season 3, episode 16 live stream: Watch online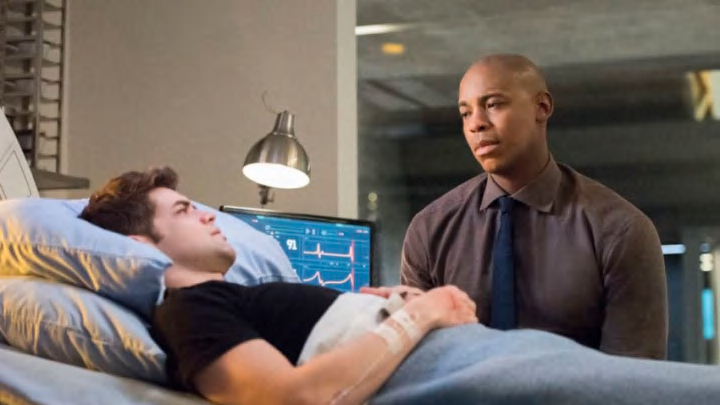 Supergirl -- "Of Two Minds" -- Image Number: SPG316b_0340.jpg -- Pictured (L-R): Jeremy Jordan as Winn and Mehcad Brooks as James Olsen/Guardian -- Photo: Dean Buscher/The CW -- © 2018 The CW Network, LLC. All rights reserved. /
Supergirl returns with a brand new episode on Monday, and we've got all the details you need to watch Supergirl online for the new episode, "Of Two Minds."
When you strip away all the garbage in Supergirl and you look past the plotholes, you get down to the very core of the show — Kara Danvers doing her very best to protect her friends and family. While the show tends to remind us of that with cliches or fleeting glimpses of her true character underneath, "In Search of Lost Time" (aptly titled) gave us a few great moments for the character.
If you haven't had a chance to catch up with last week's episode, here's our Supergirl recap and review of "In Search of Lost Time."
Of course, it goes way beyond her emotional takedown of Mon-El. She also put in a lot of time in the training room to get her footwork right and stayed by M'yrnn's side when Martian Manhunter had to step into battle. And if you think about it, those choices are part of Kara's humanity and showcase her vulnerability way better than tearing down Supergirl's fortitude with love triangles and heartache.
So, here's the synopsis for "Of Two Minds," courtesy of TV Guide:
"Supergirl and Imra have different ideas on how to stop the third Worldkiller, Pestilence. However, when both Alex and Winn are seriously injured by Pestilence, Supergirl and Imra team up to stop the destruction."
Instead of pointing out the super obvious by saying that Supergirl and Imra will put their differences aside to stop the threat — because Supergirl always gives people the benefit of the doubt and offers a second chance, if not four — The CW should've mentioned that this episode will bring Lena Luthor to the DEO.
If you're ready for the brand new episode, then here are all the details you need to watch the Supergirl live stream:
Date: Monday, April 30
Time: 8:00 p.m. ET
Episode: "Of Two Minds"
Channel: The CW
Live Stream: Watch live on Fubo TV. Sign up now for a free seven-day trial. You can also watch on The CW website or app.
Next: Best live streams to watch sports and TV shows
New episodes of Supergirl air every Monday at 8:00 p.m. ET on The CW. Don't forget to check back after the episode airs for our Supergirl recap and review right here on FanSided.