Who is the Tampa Bay Lightning astronaut?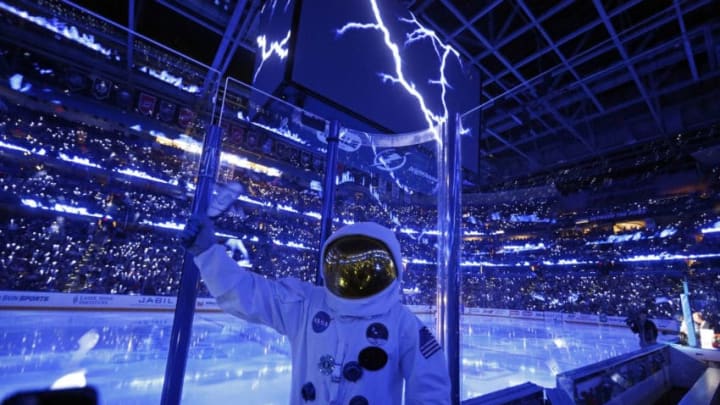 TAMPA, FL - MAY 12: A Tampa Bay Lightning fan dressed as an astronaut cheers with fans prior to Game Six of the Eastern Conference Semifinals against the Montreal Canadiens during the 2015 NHL Stanley Cup Playoffs at Amalie Arena on May 12, 2015 in Tampa, Florida. (Photo by Mike Carlson/Getty Images) /
So what's up with that astronaut who's always at Tampa Bay Lightning games?
Sports fans are a special breed. They dress up for games and often make themselves look silly just to support their team. There might not be a more visible NHL fan during the Stanley Cup Playoffs than the famous Tampa Bay Lightning astronaut.
He first gained fame back during their playoff run in 2014-15. You can only wear an astronaut suit for so long until everybody notices and starts talking about you. Soon, he became "that crazy astronaut guy."
Believe it or not, the spaceman has a name — Rocketman.
The Lightning's Rocketman is actually a mascot for Malektronic LLC, a company that provides portable sound systems. So whenever the Lightning's most famous fan gets on TV, that's basically free advertising. Considering he sits in the front row and it's kind of hard to miss a crazy guy wearing a spacesuit, that's a lot of free publicity.
Rocketman made his debut in early February 2015. But it wasn't until March 25, 2015, against the Florida Panthers, that people really started noticing him. If you want to meet Rocketman in real life, it'll be very hard, seeing as how multiple people wear the spacesuit.
Malektronic CEO Ben Malek used to be a huge Chicago Blackhawks fan. Naturally, the Internet found this out because the Internet finds out everything embarrassing about people. This became an issue back in 2015, when the Lightning played the Blackhawks in the Stanley Cup Finals. However, give Malek some credit. He announced he was still supporting the Lightning 100 percent.
Next: Every NHL Team's Mount Rushmore
Why did they go with an astronaut? It might have something to do with NASA being in Florida. Whatever the reason, the astronaut is seen all the time on national television. And he's quickly winning over the NHL world, if he hasn't done so already.
For more from the NHL playoffs, make sure to follow FanSided and stay tuned to our NHL hub for all the latest news and results.