Despite bitter round one loss, the upstart Pacers have a bright future ahead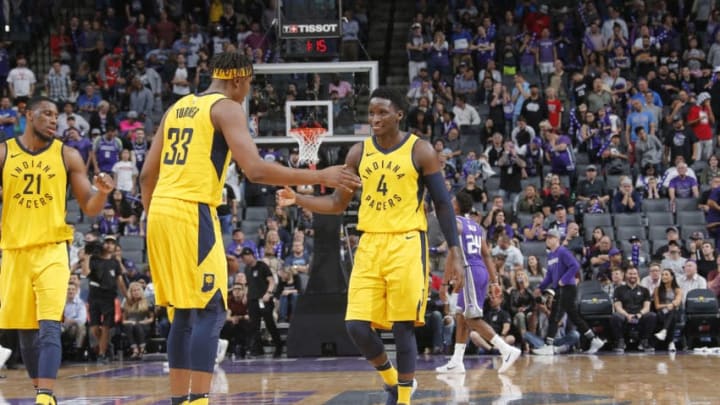 SACRAMENTO, CA - MARCH 29: Victor Oladipo #4 and Myles Turner #33 of the Indiana Pacers high five during the game against the Sacramento Kings on March 29, 2018 at Golden 1 Center in Sacramento, California. NOTE TO USER: User expressly acknowledges and agrees that, by downloading and or using this photograph, User is consenting to the terms and conditions of the Getty Images Agreement. Mandatory Copyright Notice: Copyright 2018 NBAE (Photo by Rocky Widner/NBAE via Getty Images) /
When the Pacers traded Paul George for Victor Oladipo and Domantas Sabonis last summer, they seemed to be consigning themselves to a future of utter mediocrity. Most sportsbooks slotted their over/under win mark in the low 30s. These projections seemed appropriate given the fact that the Pacers had put together an unproven, seemingly unexciting young core of Victor Oladipo and Myles Turner and surrounded them with a collection of veteran castoffs.
10 months later, Kevin Pritchard looks like a genius and the Oladipo-led Pacers look poised to become a staple of the Eastern Conference playoffs for years to come.
Although their close defeat at the hands of LeBron's Cavaliers is a bitter pill to swallow, not all playoff exits are created equal. While a team like OKC might be entering crisis mode after its round one defeat, the Pacers have so much to be proud of and build upon. I'm not sure that anyone left that series with the impression that the Cavs were a better team. That's an especially shocking result when one considers what we thought of these teams before the season. Cleveland was favored to reach the NBA Finals again and Indiana wasn't even thought of as a potential playoff team. Instead we found them locked in a total war in the East's four versus five matchup.
Read More: 76ers-Celtics is a battle for the future
One of the best players of all time had to submit one of his greatest ever performances to defeat this Indiana squad. That's a hell of an achievement.
After entering the season with no expectations and little upside, the Pacers have found a new cornerstone to build around. Oladipo became a star and will almost certainly the win Most Improved Player of the Year award. He transformed himself into an All-NBA level guy last season. Better still, Oladipo is under contract for three more years at the bargain price of $21 million per year. With such a talented player on a below market deal, the Pacers have one of the league's best assets. And Oladipo is turning 26 in just a few days. He'll be a Pacer as he enters his prime years.
Indiana also has two young big men in Myles Turner and Domantas Saboins that will be a major part of the team moving forward. After a promising rookie season, Turner has become somewhat of a frustrating player. He has so many clear talents, but disappears from games all too often. Yet he only just turned 22! I'm not abandoning the Turner bandwagon just yet! Sabonis, who didn't get all that much playing time in OKC and didn't play well when he did, is looking like a promising young talent.
An underrated part of Indiana's 2017 offseason was its ability to maintain cap flexibility moving forward. The Pacers didn't break the bank to sign anyone last year, pursuing veterans on team friendly deals. Bojan Bogdanovic and Darren Collison are on two year deals that pay about $10 million annually. But both of those deals are only partially guaranteed next season. That makes them attractive trade chips or easily disposable if the Pacers want to open up cap space quickly. With cap space contracting around the league, fewer teams will be able to sign free agents. Indiana can create max space easily, especially if it stretches Al Jefferson.
Actually luring a max-level guy to Indiana would be a different matter, of course, since the Pacers don't have much of a history with signing big time free agents. Even so, they will be competing with fewer teams in free agency this summer, and that matters. After putting up such a strong showing  in the playoffs, perhaps a star will consider signing with the Pacers. Quite ironically, a star wing like Paul George would be a fantastic fit for this team. Although that bridge has presumably burned down.
Next: Thunder's flameout ends a disappointing season
In any case, you can't help but feel good if you're a fan of the Pacers. The team has rebounded so quickly from the PG trade, staying relevant and avoiding a multi-year rebuild. This is the best position the franchise been in since the halcyon days of the Vogel era, when the Pacers were battling the Heat in the Conference Finals. Kudos to Kevin Pritchard for putting this squad together.