The Whiteboard: Why are we talking about Kyrie Irving?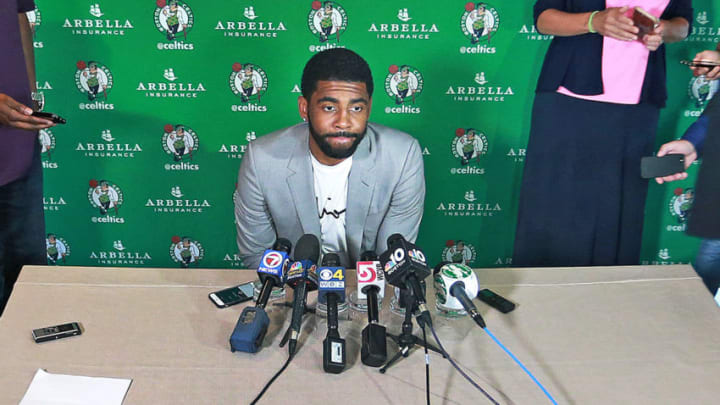 BOSTON, MA - JUNE 12: Boston Celtics guard Kyrie Irving meets with reporters at the Boston Harbor Hotel on June 12, 2018. (Photo by Jim Davis/The Boston Globe via Getty Images) /
Kyrie Irving is a topic of conversation in the NBA all of the time. Most of the conversations about him are unnecessary.
Kyrie Irving famously says that he is not convinced the Earth is round, or that it is not flat. That seemed like an interesting story when it was first reported, months and months ago. Now it feels sad and damaging to thousands of young Kyrie fans who might be "doing their own research" on the topic on Instagram.
This ill-informed skepticism is a problem in itself, but the fact that a new headline from a new reporter who got Kyrie to say a new thing that contradicts proven science pops up every few weeks is a problem, too. Haven't we heard enough by now?
At least there used to be weeks without pointless Kyrie Irving conversation. Now his contract is a talking point as well, because technically the Boston Celtics could extend it. They would love to, but he will obviously refuse to do that, because of extension rules in the collective bargaining agreement limit how much extensions can be worth.
Even if Kyrie would like to remain a Celtic, the logical path to him doing so is waiting until his contract is up and re-signing then. Talking about that decision now is inevitable, but reporting on Kyrie not wanting an extension as if it means anything substantial about his future with Boston is disingenuous. It's just an obvious business decision for him not to want his deal to be extended.
This isn't to say Kyrie Irving is not worth talking about. He is! He's an electric player who has had some of the better postseason moments in recent memory. Kyrie is likely a missing piece to unlock Boston's true postseason potential.
So let's talk about his fit with Gordon Hayward and the new, proven versions of Jayson Tatum and Jaylen Brown, or his injury rehab or even his full-length feature film instead! Anything besides the flat Earth and the contract extension.
Next: How to build the best $15 NBA team on Twitter
#Content you can't miss
The darkest timeline; Nick Dudukovich looks at what the Cavs should do if LeBron decides to leave
This can only go well; Brad Berreman covers how the Kings are looking to get creative with the second overall pick
Things are Heating up; Ira Winderman reports that LeBron went to spend some time in Miami before the Eastern Conference Finals
Not too shabby; Kevin Pelton ranks the 50 greatest teams of all time, and the modern Warriors pop up often
From coach to president; Matias Weilmann breaks down talk that Gregg Popovich could retire by 2020
Could be a superstar; Gerald Bourguet looks at the plusses and minuses of drafting Deandre Ayton with the first overall pick