Where will LeBron James sign? Decision reportedly coming Tuesday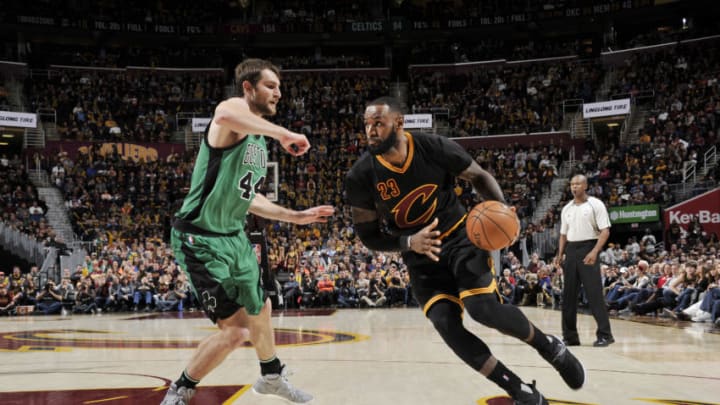 CLEVELAND, OH - DECEMBER 29: LeBron James #23 of the Cleveland Cavaliers drives to the basket against Tyler Zeller #44 of the Boston Celtics during a game on December 29, 2016 at Quicken Loans Arena in Cleveland, Ohio. NOTE TO USER: User expressly acknowledges and agrees that, by downloading and/or using this photograph, user is consenting to the terms and conditions of the Getty Images License Agreement. Mandatory Copyright Notice: Copyright 2016 NBAE (Photo by David Liam Kyle/NBAE via Getty Images) /
The LeBron James Decision appears to be nearing a close, with reports surfacing that the official announcement as to his next destination will come Tuesday.
While the rest of the NBA got on it with its lives last night in a total frenzy of deals, including Paul George and Chris Paul re-upping to massive extensions with the Oklahoma City Thunder and Houston Rockets respectively, there's still the matter of where LeBron James will take his talents to next.
It's an ongoing saga reminiscent of 2010 when James eventually spurned the Cleveland Cavaliers to leave for the Miami Heat, and we've been treated to rumor after rumor about what he'll do next. The consensus for the better part of two or three weeks has been that he'll head out to the coast to join the Los Angeles Lakers.
Or maybe he'll stay in Cleveland this time around. Now it looks like those rumors of him traveling instead to the Philadelphia 76ers could start holding water.
Oh, and the timetable? Expect this all to be over by Tuesday, according to FSI's Nick Wright.
So has he truly made up his mind? We're less than two days from finding out. What's interesting in all of this is that as of Saturday, June 30, teams clearly don't seem to be waiting around to hear what James has planned. It's a much separate story from the one we were subject to some eight years ago when LeBron held the entirety of the league hostage during the offseason.
Much of that has to do with cap space, a lot of it has to do with the nature of the league. There's no time to twiddle thumbs while others are improving. Unless of course, you're the Lakers or 76ers.
Next: The 20 different emotions of Gregg Popovich
Which isn't to say that teams wouldn't use the plow to clear space if he wanted to come aboard, but they certainly are learning to get on with their own grind. Check back for more as this story develops.