Is Cristiano Ronaldo really going to Juventus?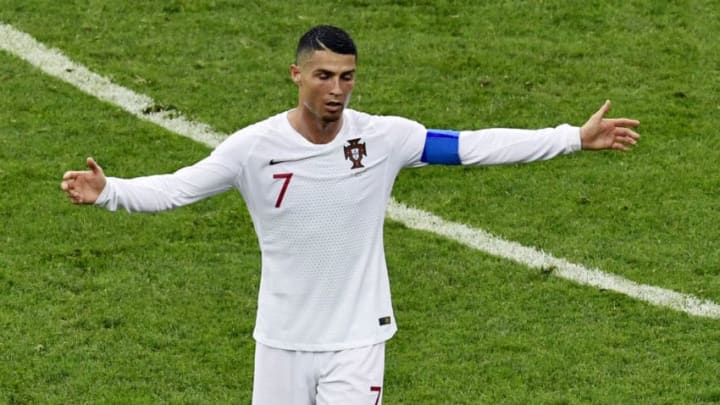 Portugal's forward Cristiano Ronaldo reacts during the Russia 2018 World Cup round of 16 football match between Uruguay and Portugal at the Fisht Stadium in Sochi on June 30, 2018. (Photo by PIERRE-PHILIPPE MARCOU / AFP) / RESTRICTED TO EDITORIAL USE - NO MOBILE PUSH ALERTS/DOWNLOADS (Photo credit should read PIERRE-PHILIPPE MARCOU/AFP/Getty Images) /
Rumors began swirling Tuesday that Cristiano Ronaldo would be joining Juventus, but can they be trusted?
Cristiano Ronaldo seems to be linked with a move away from Real Madrid every summer, with Manchester United and PSG the most commonly suggested destinations. On Tuesday, however, rumors began swirling that Ronaldo has sealed a deal with Juventus worth $116 million.
The news was first reported by El Chiringuito TV. The report has already been widely aggregated, but not many alternative sources have confirmed the news. The question, then, is whether this is really happening, or if this is another silly season special?
https://twitter.com/elchiringuitotv/status/1014176943518806016
Ronaldo's departure is no longer as farfetched an idea as it once was. Real won their third Champions League in a row last season, but their squad is aging and could use a refresh. Getting Ronaldo, and his massive salary, out of the way is an obvious first step.
Even so, Juventus seem a strange destination. The Old Lady has a total stranglehold on Serie A, having won seven scudettos in a row, but has struggled in the Champions League, going out to Real last season in the quarterfinals.
Next: The best player on every team at the World Cup
Juve are also probably in need of something of a reboot themselves. The core of the team, outside of Paulo Dybala, is all over or approaching the age of 30. Ronaldo, great player though he is, doesn't help them get any younger.
Perhaps they think one year of Ronaldo is all they need to get over the hump in the Champions League, but that's a big gamble for the reported fee. Not to mention their players are nowhere near as good as Real Madrid's.
All in all, given the unlikeliness of the move, coupled with the fact no other legitimate sources have corroborated the story, you should probably be skeptical Ronaldo will be a Juve player next season. Still, stranger things have happened.