Biggest winners and losers of NHL free agency 2018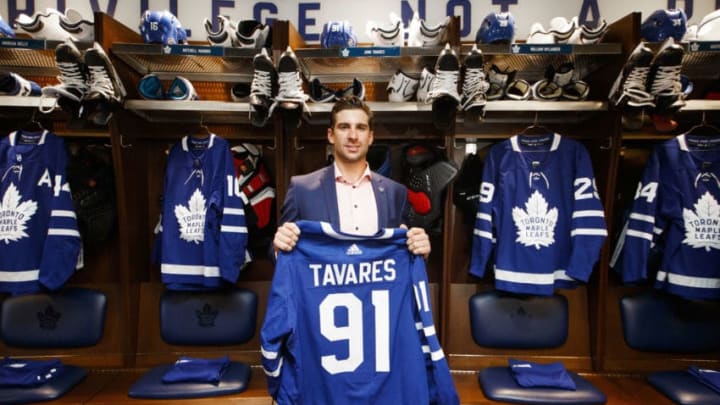 TORONTO, ON - JULY 1: John Tavares #91 of the Toronto Maple Leafs, poses with his jersey in the dressing room, after he signed with the Toronto Maple Leafs, at the Scotiabank Arena on July 1, 2018 in Toronto, Ontario, Canada. (Photo by Mark Blinch/NHLI via Getty Images) /
ST. LOUIS, MO. – APRIL 09: St. Louis Blues rightwing David Perron (57) passes the puck while pressured by Colorado Avalanche leftwing Gabriel Landeskog (92) during an NHL game between the Colorado Avalanche and the St. Louis Blues on April 09, 2017, at the Scottrade Center in St. Louis, MO. The Blues won, 3-2. (Photo by Keith Gillett/Icon Sportswire via Getty Images) /
Winner: St. Louis Blues
Despite playing for the Vegas Golden Knights last year, finding a picture of David Perron in a St. Louis uniform was relatively simple.
As a matter of fact, it was really easy.
That's because this is the third separate occasion in which Perron and the Blues decided to partner up. Talk about soulmates.
After being drafted by St. Louis in 2007, Perron played six years for the Blues before being traded to the Edmonton Oilers. A few years later, in 2016, he was brought back via free agency, only to be selected by Vegas in last year's expansion draft.
For the Golden Knights, Perron led the team in assists with 50 and had a career-high 66 points, so the fact he drew interest from the Blues again is no shock. What is surprising, though, is the value of Perron's new deal.
As originally indicated across the league, the agreement between Perron and the Blues is worth $4 million per season for the next four years. Considering the nature of the previously mentioned Sven Baertschi contract ($3.36 million), it's fair to say St. Louis re-signed the forward for well below market value.
Adding to their list of acquisitions, Tyler Bozak, Chad Johnson and Jordan Nolan each announced they would be joining Perron in STL.
Although Bozak is the most noteworthy of the three above-mentioned moves, the signing of goaltender Chad Johnson also deserves credit.
Come October, Johnson will likely find himself behind fellow goalie Jake Allen on the depth chart. However, given the impact Carter Hutton had as a backup for the team last year, getting a new reputable backup goalie was a must for St. Louis.
In 173 appearances, Johnson has a career record of 78-61-15 and a solid .910 save percentage. In spite of his role mainly as a backup, the 32-year old has topped 17 wins on multiple occasions as well.
After losing a solid goaltender and a veteran centre, St. Louis reversed their losses by bringing in new individuals to fill the voids. Moreover, St. Louis also managed to re-sign its best restricted free agent this summer, Robby Fabbri. In sum, the St. Louis Blues put themselves in position to thrive during the 2018-19 regular season.