NHL Free Agency: Grading the Maple Leafs' signings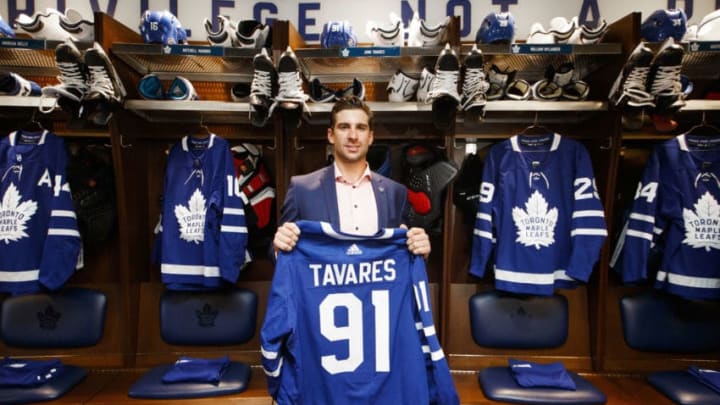 TORONTO, ON - JULY 1: John Tavares #91 of the Toronto Maple Leafs, poses with his jersey in the dressing room, after he signed with the Toronto Maple Leafs, at the Scotiabank Arena on July 1, 2018 in Toronto, Ontario, Canada. (Photo by Mark Blinch/NHLI via Getty Images) /
TORONTO, ON – FEBRUARY 22: John Tavares #91 of the New York Islanders skates with the puck against the Toronto Maple Leafs during the first period at the Air Canada Centre on February 22, 2018 in Toronto, Ontario, Canada. (Photo by Kevin Sousa/NHLI via Getty Images) /
John Tavares
Signing John Tavares could've been the only move the Leafs made in free agency, and they still would've won the offseason. Not only did this prove that the Leafs have successfully rebuilt a winning culture that players will want to join, it showed how savvy of a negotiator Kyle Dubas is. Even at $11 million per year, Tavares took a hometown discount by turning down more money from the New York Islanders and San Jose Sharks.
With Nylander's contract, and Auston Matthews and Mitch Marner expected to get new deals signed before next season, the Leafs could be looking at upwards of $35 million spent on four forwards. Trying to navigate that would be a daunting task for most teams, but not when you have a cap wizard like Brandon Pridham.
Last season, center depth was a weak point for the Leafs. This season, Nazem Kadri is their third-line center. This signing made the Leafs Stanley Cup favorites, and it's not hard to see why. The formula for the Washington Capitals and Pittsburgh Penguins' Cup success was their strength down the middle. While rolling out four lines is good, the more proven path to success is having a top six that can overwhelm you offensively and a third line that can play a shutdown role.
There's no need to question how Tavares' fit with the Leafs — he can play in any system. While defense remains a concern with this team, they don't have to go out and acquire a high-end defenseman. It's better to tweak the system and trust in the internal development of guys like Holl, Timothy Liljegren and Andreas Borgman.
Next: All 30 NHL Franchises Ranked By All-Time Greatness
This signing gives the Leafs their own version of Sidney Crosby and Evgeni Malkin. While some tried to argue that going after Erik Karlsson would've been the better move, the likelihood of landing Tavares — without losing any valuable assets — was always going to be higher. This was a no-brainer.
Grade: A+